25 Nut-Free Lunchbox Ideas
Does your child have a nut allergy, or does your child's school require allergy-friendly lunches? We get how that can seem stressful. That's why we put together this guide of 25 Nut-Free Lunchbox Ideas. They're delicious, easy to make, and recipes the entire family will love!
Nut-Free Lunches Shouldn't Be Stressful
One of the biggest questions we get each year during back to school is for nut-free lunch ideas. School has many challenges for students who deal with life-threatening food allergies. Planning and communication are the keys to a safe school experience. With peanut and nut allergies on the rise in recent years, many schools have issued a ban on nuts and nut butter in lunchbox and classroom snacks.
While some ban only peanut butter, I've heard from an increasing number of people that anything resembling peanut has also been banned, including sun or soy butter.
I've lived with a nut allergy my whole life. Thankfully, that is not something my boys have to deal with.
I understand the frustrations fellow parents have about not being able to send certain items in their kids' lunchboxes to school. This can be especially frustrating for those kids who will only eat a PB&J. But it's important to note how severe and life-threatening a nut allergy can be.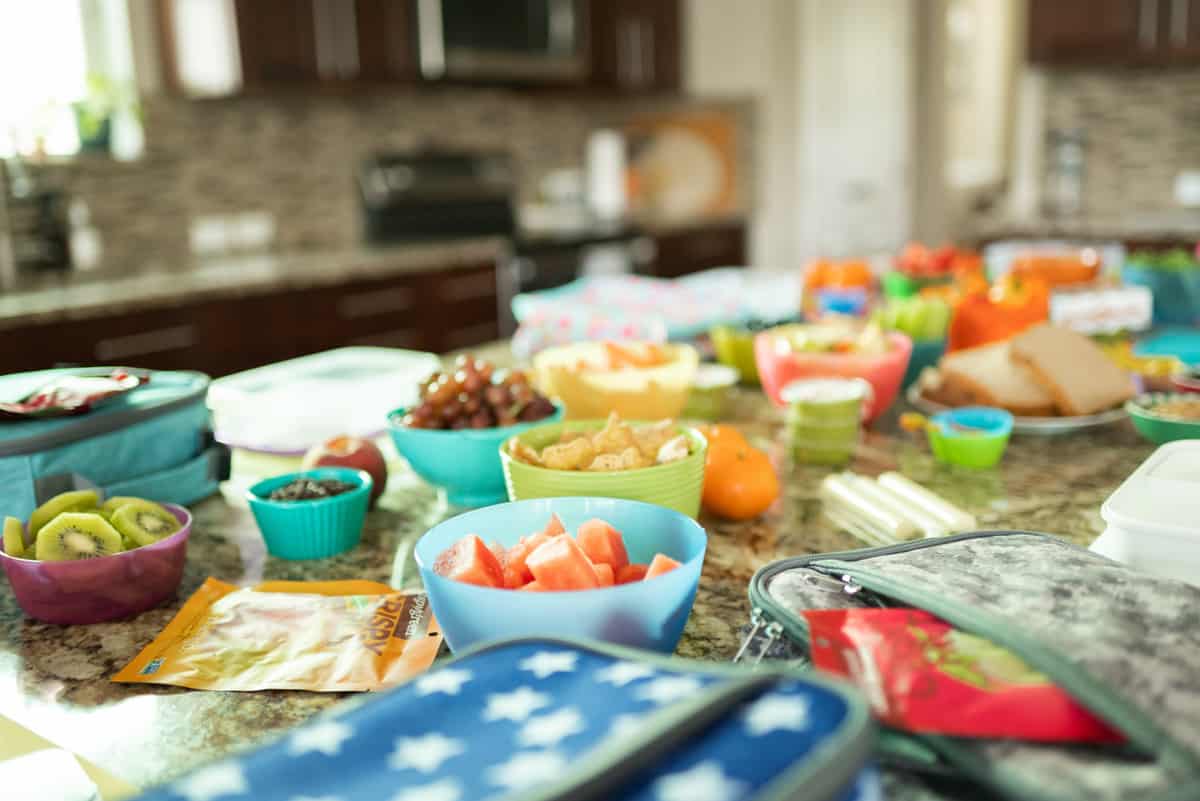 Over two million children with food allergies will attend school this fall. Some schools have procedures in place to deal with food allergies. Many do not. Parents need to advocate for their food-allergic children to keep them safe and included in school activities. Advance planning and regular communication with the school are key.
Every person with food allergies is unique and has special needs. Parents should ask themselves the following questions as they prepare to approach school officials:
How sensitive are my child's food allergies?
Some people with food allergies are so sensitive that they may have an allergic reaction if a food protein is in the air. Simply smelling a peanut butter sandwich or wheat pasta boiling in a kitchen area may be enough to set off a reaction. For others, getting a food substance on their skin can cause a reaction. Communicating, but not exaggerating, a child's allergic response is most helpful to the school.
Is my child able to carry his/her life-saving medication?
Epinephrine auto-injectors are the medication of choice to treat an allergic reaction. Consider where this medication should be stored in case a child needs it. An allergic reaction can become fatal in minutes. Students as young as kindergarten have carried their medications safely, often in a waist-pouch. If the student is not ready to carry his/her medication, think about safe places for it to be stored, such as the nurse's office or with the classroom teacher.
What type of Food Allergy Plan is needed with the School District?
The common options for a written plan are an Individualized Healthcare Plan(IHP), a 504 Plan, or an Individualized Education Plan (IEP).
Parents should talk to their child's doctor and the school district to determine the best plan.
What should be included in a school Food Allergy Plan?
Regardless of the chosen plan, certain things need to be included. The school will need written documentation of the child's allergies, symptoms of a reaction, and what to do in the event of a reaction. The responsibilities of the parents, child, nurse, and other staff, including teachers, bus drivers, and substitute staff should be outlined. How will special events such as field trips, fire drills, emergency situations such as sheltering in, and classroom parties be handled? Procedures in the cafeteria should be determined and written in the document.
What are the hidden food allergy dangers in school?
Many soaps, hand sanitizers, art supplies, and classroom items contain food proteins. Talk to school administrators for ingredient information.
Preparing for a new school year can be an anxious time for families with food allergies. This anxiety can be decreased with proper planning and effective communication with the school.
If your school has gone nut-free or you have a child with a nut allergy, we've got you covered with healthy and delicious nut-free ideas. Below is a list of nut free lunch ideas that your kids are sure to love.
If you're looking for alternatives to peanut butter, trail mixes, pesto and more, check out these Nut-Free Alternatives for Kids.
For more information or support for food allergies in children, visit Kids with Food Allergies.
Looking for nut-free and gluten-free lunchbox ideas? Check out our lists of 12 Gluten-Free Lunchbox Ideas Kids Will Love and Nut-Free Alternatives for Kids!
Nut-Free Lunches for Kids
Nut free lunches shouldn't be stressful, here is a list of nut-free lunchboxes for kids.