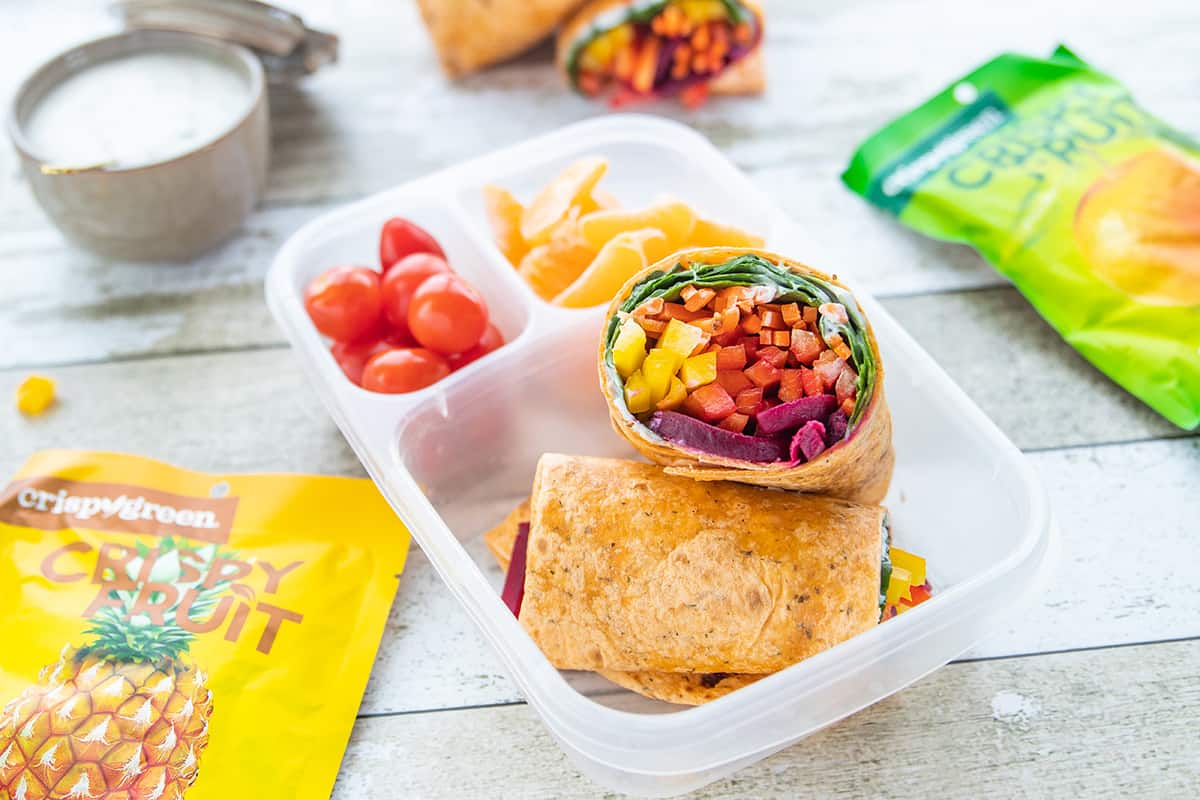 Ready for a super fun and healthy lunch idea? Check out these Rainbow Veggie Wraps for a new way to get your vegetables in! These wraps are great for the adults and the kids and are easy to make. Change up your weekly lunchbox idea with these fun and colorful wraps.
These Rainbow Veggie Wraps are packed with spinach, mini sweet peppers, carrots and beets with a drizzle of Ranch. We love adding these veggie wraps to our Bento boxes to make it an easy to pack up lunch the night before and grab and go in the morning. This lunch is perfect for kids or adults and is packed with flavor and nutrients to get everyone through the afternoon at school or work!
Nutrition Tip: The pigments that give beets their bright hue are used by the food industry as a natural food color. But they're also antioxidants being studied for their potential to quash cancer cells.
We love the crunch that Pero Family Farms® Mini Sweet Peppers bring to this wrap. And what's better to pair with your veggies than a drizzle of Ranch? Litehouse® Homestyle Ranch has a great taste with no artificial colors, flavors, or preservatives.
Key Ingredients for these Rainbow Veggie Wraps
Beets– We love adding these power vegetables to our meals when we can. Beets are loaded with essential vitamins and minerals. They can be eaten raw, cooked, or pickled which gives them a great variety of uses in many recipes. Known to be great for your skin health, beets can help regulate blood sugar, can help detoxify your digestive system to help aid in weight loss, plus much more!
Sweet Peppers– The sweet mini bell peppers in this wrap help give a nice crunch, texture, and sweet flavor. We love cooking and adding peppers in our meals because they are loaded with many Vitamins including A, C, E, and B6. These peppers are known to help fight inflammation in the body and even reduce bad cholesterol!
Carrots– Loaded with beta-carotene, carrots are known to contribute to eye health and can even help prevent sun damage to your skin! These matchstick carrots have a nice sweet flavor and a little crunch which make them the perfect addition to these veggie wraps!
Spinach– Our family loves these leafy greens because of their versatility. Spinach is a power food that can easily be added to many recipes, smoothies, and baked goods for added nutrients. These greens are known to help manage blood pressure, can help with brain health and function as we age, and is great for your vision as well!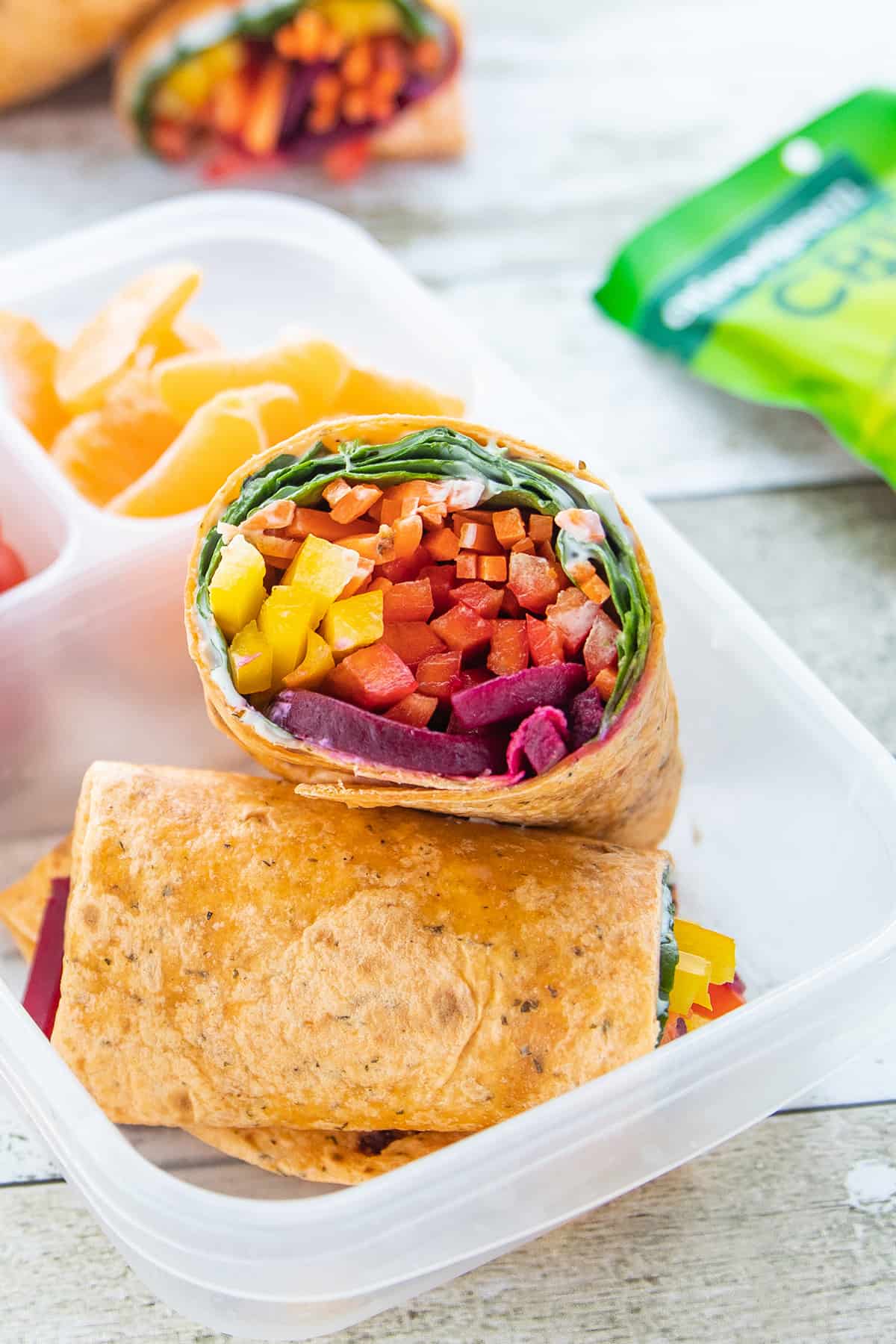 How to make these Rainbow Veggie Wraps
To make these easy veggie wraps, start by laying your tortilla out on a flat surface. Next spread with Ranch dressing or spread of choice and layer with beets, peppers, spinach and carrots.
Once you have everything layered, fold in the sides of the tortilla and roll tightly. Then cut these wraps in half and add to your Bento Box. We made our lunch boxes with these wraps, some mandarin oranges, and some cherry tomatoes. You can customize these lunchboxes with all of your family's favorite sides, fresh fruits, or yogurt!
For a touch of sweetness, we packed these lunchboxes with with a crunchy side of Crispy Green crispy fruit! These individual packs of freeze-dried fruit are perfect for lunches and contain 100% fruit – nothing else! They're a great alternative to greasy chips.
Make sure to PIN IT!
How do you #PowerYourLunchbox? Show us your healthy lunchboxes on Instagram using #PowerYourLunchbox.
Looking for more lunchbox solutions?
Rainbow Veggie Wraps
Eat a rainbow with these rainbow veggie wraps! Packed with spinach, mini sweet peppers, carrots and beets with a drizzle of Ranch for a tasty lunch.
Ingredients
1 8-inch flour tortilla
1 tablespoon Litehouse® Homestyle Ranch dressing
6 slices no-salt-added canned beets
1 Pero Family Farms® Red Mini Sweet Pepper sliced lengthwise
1 Pero Family Farms® Yellow Mini Sweet Pepper sliced lengthwise
1/2 cup spinach
1/4 cup matchstick carrots
1 package Crispy Green® crispy fruit
1 mandarin peeled, segmented
1/2 cup cherry tomatoes
Instructions
Lay tortilla on flat surface. Spread with Ranch dressing and layer with beets, peppers, spinach and carrots.

Fold in sides of tortilla and roll tightly. Cut in half.

Serve with Crispy Green® crispy fruit, mandarin segments and cherry tomatoes.
Nutrition
Calories: 1131kcalCarbohydrates: 259gProtein: 16gFat: 11gSaturated Fat: 2gPolyunsaturated Fat: 5gMonounsaturated Fat: 2gCholesterol: 4mgSodium: 2434mgPotassium: 2200mgFiber: 16gSugar: 167gVitamin A: 9209IUVitamin C: 149mgCalcium: 268mgIron: 8mg