Best Lunch Boxes for Kids
Looking for a lunchbox for back to school that will not only last this year but many years? We got you! Discover the best lunch boxes for kids. Actually, they are great for us parents too 😉 The 2023 Back To School Campaign has raised $16,000 for the Foundation For Fresh Produce to support children's accessibility to fresh fruits and vegetables thanks to our amazing partners, like LunchBots.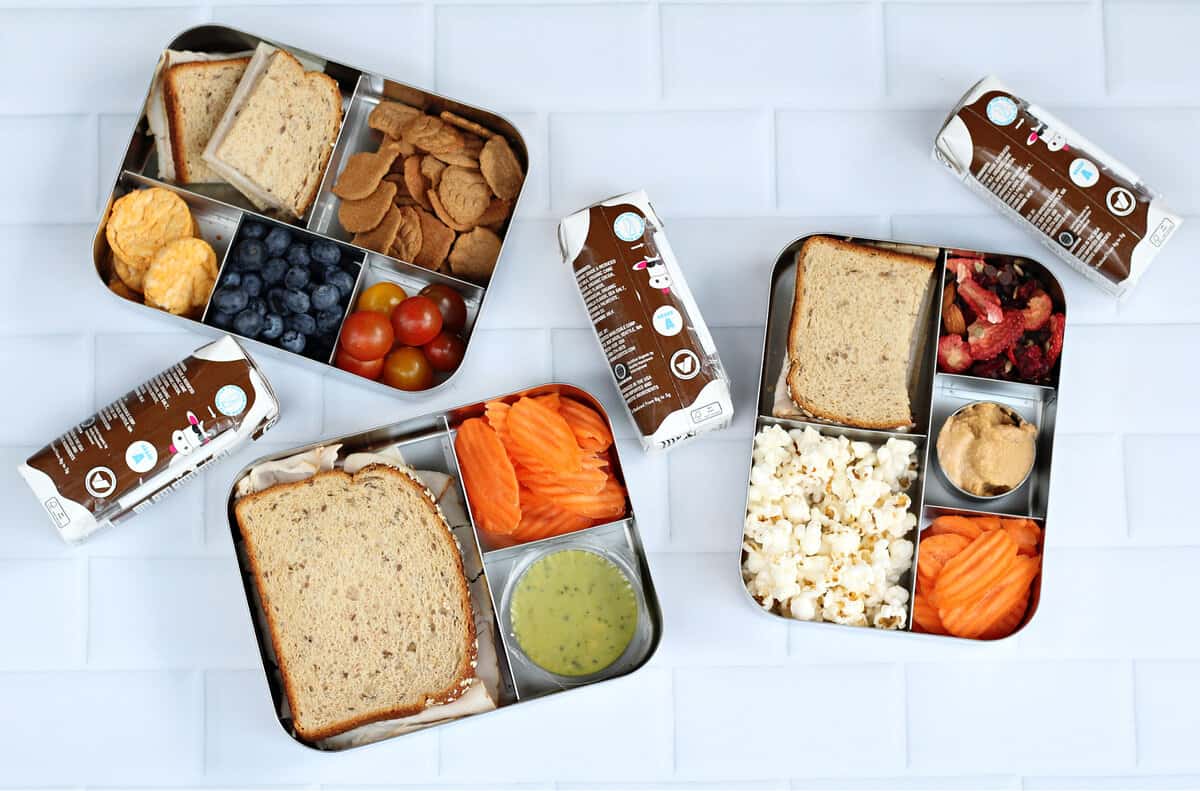 It's back to school time and that means that it's time to start gathering all of your back to school supplies, including lunch boxes. Is it time for a lunch box replacement? Are you tired of having to purchase a new lunch box each school year?
If so, you might be excited to learn about the last lunch box you will ever need to buy! Stainless steel bento lunch boxes are better for the environment than plastic ones, and because they are made of stainless steel they are built to last. One lunch box to use from kindergarten to college? Yes, please!
Okay, so you might need to purchase a larger option as your kids get older and eat more. Check out these stainless steel Bento lunch boxes from LunchBots that are perfect for packing a nutritious and filling lunch inside.
Best Lunch Boxes for Kids
The large trio Bento box has enough room for a full sandwich and two sides. The stainless steel compartments keep the food from touching, perfect for picky eaters who don't like their foods to mix! It is important to note that the dividers aren't leakproof, so it's best to pack dry foods only.
The large Cinco Bento box is also made of stainless steel and has five separate compartments for you to pack a lunch in. This is the box you want if you want to pack a large variety of healthy foods, as opposed to just two or three options.
Personally, I am sitting at my desk doing some work and eating my snack-style lunch from the medium quad.
The silicone "Build-A-Bento" is the newest offering from LunchBots. This colorful and fully customizable bento box is made out of food-grade silicone, and it is microwave, oven, dishwasher, and freezer friendly. This silicone bento box has removable and interchangeable dividers so that your lunch-making possibilities are endless!
Just like with their stainless steel bento boxes, this food-grade silicone bento box is meant to last for a lifetime. The silicone doesn't have any open pores (like plastics can) to harbor hidden bacteria. These boxes are easy to hand wash or throw in the dishwasher and won't break down or degrade over time even after years of use.
What's the History Behind the Bento Box Lunch?
The bento box lunch originates from Japan and the idea is more than just having a convenient lunch that you can take on the go. Instead, the focus is on having a well-rounded and balanced meal that is also easy to take on the go. In Japan, you can find Bento lunches at restaurants, convenience stores, and restaurants.
Bento lunch boxes have separate compartments so that you can put a variety of items inside. Building a healthy lunch is easy by filling each compartment with your favorite healthy choices.
You don't have to worry about making the same lunch over and over because there are so many options. The separate compartments offer a visually appealing lunch and you don't have to worry about everything getting smushed and intermingled together.
Traditional Japanese bento boxes are made up of four parts: rice, 3 parts protein (such as shredded pork, turkey, or chicken), two parts vegetable, and one part sweet. My daughter is a huge rice fan…I mean she could eat it daily…so I will definitely be trying out a rice and protein bento box for her soon! When packing your bento box lunches at home you can of course use your kid's favorite fruits, vegetables, cheese, proteins and snacks in the proportions of your choice.
Get the Kids in the Kitchen
Back to school time is the perfect time to get the kids in the kitchen to pack their own lunches. Set up a lunch packing station, and let them take one of your many chores off of your plate. 
Not only does this teach your kids something about responsibility and preparation, but it also gives them a choice about what they have for lunch each day. The separate compartments in the bento boxes encourage your children to think about what a healthy and well-balanced meal should include.
Being able to prepare a healthy and nutritious meal on their own is an important part of developing their independence, and feeling confident in the kitchen! LunchBots is the perfect partner when getting kids into the kitchen and teaching them about proper nutrition and independence.
Get your kids the last lunch box they will ever need before school starts back this year. Once your LunchBots bento boxes arrive they will be ready to make their own nutritious and delicious lunches all school year long!
Want more tips on packing lunches?