Media Center
Welcome to the Healthy Family Project online media center where you will find our latest press releases, press kit and downloadable images. Join Healthy Family Project in our quest to promote the benefits of healthy eating while supporting worthy causes for children.
BACK-TO-SCHOOL CAMPAIGN SEES 224 MILLION IMPRESSIONS
Seven better-for-you brands unite with Healthy Family Project to increase access to fruits and vegetables in schools 
ORLANDO, Fla. – Oct. 20 2022 – Healthy Family Project's annual Back-to-School campaign wrapped in early October with impressions topping 224 mm and social media reach seeing more than 24 mm impressions. This year's campaign focused on lifestyle content and how nutrition and food impact and play a role in the everyday lives of families. The program, now in its ninth year and in partnership with seven health-conscious brand partners, has raised more than $180,000 to benefit children and families with greater access to fresh fruit and vegetables.
This year, partners donated $14,000, to support the International Fresh Produce Association's initiatives focused on increasing children's access to fresh produce in K-12 schools, and supporting this community's ability to source, serve and promote fresh produce to next generation consumers and their families. The Back-to-School campaign brings the 2022 total donation towards these initiatives to $26,000.
TikTok and Instagram were front and center this year, as more families gravitate to these platforms to seek out information for back to school. A Facebook Live back-to-school themed cook along took place in August on the Healthy Family Project Facebook page with more than 11,000 viewers.
Healthy Family Project Celebrates 20 Years of Cause Marketing & Impacting Families
John Shuman reflects on 20 years of success, growth and change
Orlando, FL – Sept. 19, 2022– This fall, Healthy Family Project is celebrating 20 years of innovative cause marketing programs and thought leadership in the health and nutrition space. In the 20-year timeframe the company, that was founded as Produce for Kids, has partnered with more than 100 better-for-you brands and 30 retailers while continuing to evolve with the health and nutrition needs of families.
Healthy Family Project Founder and President of Shuman Farms John Shuman attributes the company's 20-year success to his team's ability to tap into current trends and use out of the box thinking to reach the ever-changing shopper as well as the many brands and retailers that they partner with.
"Our team has always consisted of individuals who go above and beyond because they are passionate about making a difference in the world and in the communities where our partners do business," said Shuman. "I'm proud to say our cause marketing programs have raised more than $7.5 million and 16 million meals. And, while raising those funds we've also helped countless families understand the importance of living a healthy and nutritionally sound life."
The Search Is On For The Next Official Healthy Family Project Registered Dietitian
       Important role to offer nutritional support to families around the world
Orlando, FL – Aug. 25, 2022 – Healthy Family Project is encouraging registered dietitians to consider if they have what it takes to be the cause marketing organization's next Official Registered Dietitian. Since 2008, Healthy Family Project has retained a registered dietitian to serve as the sounding board to review recipes, create content, interact in social media groups and outlets, and respond to nutrition-based media inquiries.  
"The registered dietitian position at Healthy Family Project has always been an integral part of what we do and the content we create," said Trish James, Vice President Healthy Family Project. "This person needs to have a deep passion for nutrition and want to make a difference in the lives of others through their work."  
The new dietitian will join forces with Healthy Family Project's already established team of talented food marketers creating fresh content for HealthyFamilyProject.com and its extensive social media outlets. They will also be a regular guest on the popular consumer-facing Healthy Family Project podcast, which recently reached 40k downloads and 81 episodes. 
Healthy Family Project's large social media following will offer the new dietitian the opportunity to position themselves as a thought leader in the nutrition, food and produce space. In addition, they will gain exposure through the blog housed on HealthyFamilyProject.com, which sees 100k visitors per month, through production of regular content. 
"With nutrition top of mind for families, parents and guardians are specifically searching for our registered dietitian approved recipes," continued James.
Publix 2022 Produce for Kids Campaign Donates 825,000 Meals to Local Food Banks
Publix's Produce for Kids Cause Marketing Campaign Back for 20th Year
Lakeland, FL – July 21, 2022 – The Publix Produce for Kids cause marketing campaign wrapped on June 28 with 13 produce partners providing 825,000 meals* to the 35 Feeding America® member food banks in the Publix market area. Signage was positioned near produce partners in more than 1,200 Publix stores, featured QR codes leading shoppers to a free bi-lingual downloadable eCookbook with recipe inspiration, and tips featuring campaign produce partners.
Campaign in-store signage had a lifestyle approach with an action to learn more on the campaign's website. In addition, produce partners were prominently featured in weekly ads beginning May 18.
"At Publix, we strive to make a positive impact in the communities we serve," said Dwaine Stevens, Publix director of community relations. "Healthy Family Project's Produce for Kids campaign aligns with this mission, and we are proud to collaborate again this year."
Military Produce Group and Healthy Family Project Join Forces to Support Our Military Kids
Annual Month of the Military Child in-store campaign finds success in new ways
Orlando, FL – May 17, 2022 – Military Produce Group and Healthy Family Project celebrated the seventh annual Produce for Kids campaign in a big way with in-person and virtual events, produce department signage and ads revolving around The Month of the Military Child. As part of the campaign, produce partners made a $4,000 donation to Our Military Kids, an organization that provides learning grants to children whose parents are deployed or recovering from combat injuries.
New this year, military child development centers sent groups of preschoolers to their local commissary to embark on a produce adventure with the location's produce specialist. Healthy Family Project outfitted produce specialists with materials to use with the kids on a produce scavenger hunt using a pre-written script full of jokes, trivia and produce inspiration.
"We were truly excited to implement this year's redesigned signage and incorporate additional touch points with the families we serve," said Jeffrey Evans, sales and marketing manager Military Produce Group "We are grateful to our produce partners for supporting our military community in such a big way."
Health-Conscious Brands Unite For Mission for Nutrition 2022
New elements included school outreach and funds donated to Foundation for Fresh Produce
Orlando, Fla. – April 7, 2022 – During the month of March,Healthy Family Project aligned with health-conscious brands and more than 400 retail dietitians at 52 retailers as well as school nutrition directors in more than 100 schools for this year's annual Mission for Nutrition. The digital, in-store, and in-school program focused on the importance of eating nutritious foods and the value of meal planning reaching more than 219 million consumers in March. 
A resource kit filled with health-focused items from Healthy Family Project as well as Mission for Nutrition partners was shipped to retail dietitians and school nutrition directors in mid-February.The kit included a mini magazine published by Healthy Family Project featuring internationally inspired recipes and a shopping list featuring partners. The magazine reached 22,000 shoppers and 5,000 students over the course of the month. 
Record Attendance at Healthy Family Project Southern Exposure Reception
Cause marketing buzz continues around programs that have raised $7.3 million for families in need 
ORLANDO, FL March 9, 2020 – More than 200 produce industry professionals celebrated the ongoing impact of Healthy Family Project's cause marketing programs Friday evening at the annual Healthy Family Project reception at the Southeast Produce Council's Southern Exposure. 
This year's Healthy Family Project success story was broadcast on screens located in the reception space and included testimonials from 2021 retailers. Guests were outfitted with the popular Fruits, & Veggies & Giving Back t-shirts that have gained popularity in the industry as a platform to showcase the willingness of the produce industry to give back through education, resources and donations that help families. 
"It's humbling to look back at what started as a small in-store cause marketing promotion to what Healthy Family project has become today," said John Shuman, president Shuman Farms and founder Healthy Family Project. "With the support of our retail and produce company partners, we are delivering best-in-class cause marketing programs influencing millions of families to eat healthier while also giving back to charities across the U.S."
Harps, Healthy Family Project and the Northwest Arkansas Food Bank Celebrate 2021 Donation
Associated Wholesale Grocers Springfield Division's Produce for Kids Campaign Back for 2022
Orlando, FL – February 23, 2022 – Harps Food Stores kicked off their 2022 Produce for Kids cause marketing campaign with a donation check celebrating the success of the 2021 campaign, which provided 80,000 *meals to four Feeding America® food banks in the Harps market area. The Harps campaign is part of the larger Associated Wholesale Grocers (AWG) Springfield Division campaign; including Pyramid Foods, Town & Country Inc, Woods Supermarkets, and G&W Foods Inc.; which has benefited Feeding America® food banks in Arkansas and Missouri with 890,000 meals since 2017.
The 2022 campaign will see the return of the award-winning Produce for Kids Fridays program. In addition to in-store signage featuring healthy, easy meal inspiration for families, the produce teams will be serving as campaign ambassadors wearing Fruits & Veggies & Giving Back T-shirts every Friday while giving out $1 produce bucks coupons to families so they can try new fruits and vegetables.
"We are moving into our fifth year of the Produce for Kids campaign. I'm impressed with the ways we've continued to reinvent the program year over year as our goals and shopper evolves," said Mike Roberts, vice president of produce operations at Harps. "Giving back is a core value for us and making an impact in the fight against hunger in our communities is paramount." 
HEALTHY FAMILY PROJECT 2021 EFFORTS MAKE AN IMPACT WITH $250,000 DONATION

Marketing programs shining the light on better for you brands exceed expectations 
Orlando, FL – December 14, 2021 – Healthy Family Project will close out 2021 with $250,000 raised through retail and digital cause marketing programs adding to the total $7 million raised for charities that benefit families and children. Charities receiving funding in 2021 include Feeding America®, Our Military Kids and Fresh Produce Foundation (formerly United Fresh Start Foundation).
"When I founded Produce for Kids, now Healthy Family Project, in 2002, I had a vision that our industry would impact those in need in a big way," said John Shuman, founder Healthy Family Project and president Shuman Farms. "Our programs have authentically evolved with the consumer over the years and I look forward to continued growth."  
In addition to donations raised, Healthy Family Project is celebrating overall impact made reaching 25 million families through the Healthy Family Project website, social media and other digital communications. In 2021, Healthy Family Project implemented refreshed signage in 3,848 grocery stores, surpassed 30,000 unique downloads of the Healthy Family Project podcast, produced 15 Live cooking classes with the organization's junior chefs and saw more than a half million website visits to healthyfamilyproject.com.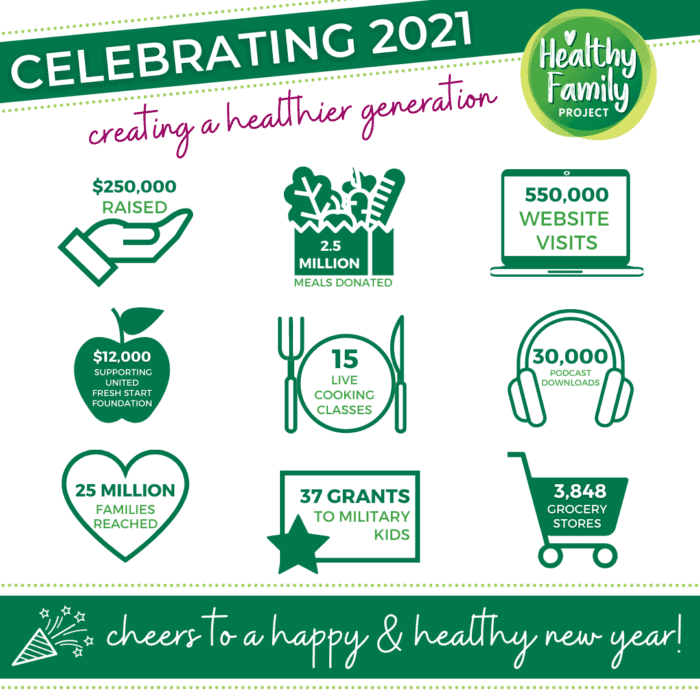 CAMPAIGN REFRESH DEBUTS FOR FALL PUBLIX PRODUCE FOR KIDS PROGRAM
Produce-centric campaign to help local families hits $3.6 million in total donation
LAKELAND, FL – Oct. 25, 2021 – A campaign refresh is debuting in stores this year for the Produce for Kids Publix cause marketing campaign that raises funds for local Feeding America® food banks. The signs, displayed next to each supplier product, highlight a specific health benefit of the product and features revamped photography and a QR code that takes shoppers direct to a free eCookbook and more information on the campaign. The fall campaign brings the 2021 Publix donation to local Feeding America member food banks total to more than 11 million meals* raised.
"At Publix, we recognize the importance of helping families achieve their wellness goals through innovative campaigns and programs,"said Dwaine Stevens, Publix director of community relations. "Giving back to our
local communities is at the core of our company culture and we are proud to collaborate with Healthy Family Project for the Produce for Kids campaign."
STOP & SHOP AND PRODUCE FOR KIDS TO GIVE BACK AND HELP FAMILIES HEADED BACK-TO-SCHOOL
Orlando, FL – August 30, 2021 – Produce for Kids and Stop & Shop are giving families the tools they need to navigate the back- to-school rush through digital resources and resources in the produce departments of more than 400 Stop & Shop stores. The month-long cause-marketing campaign, which spotlights partners such as Bolthouse, Envy™ Apples, RealSweet® Onions and Wonderful Pistachios, will culminate in a donation of 100,000 meals to the Downtown Evening Soup Pantry in New Haven, CT.
In-store campaign signage positioned near participating produce partner brands feature QR codes that lead shoppers to stopandshop.com where they'll find a free downloadable eCookbook full of back-to-school recipe inspiration, tips and other great information and resources from the produce brands supporting the campaign.
POWER YOUR LUNCHBOX RETURNS WITH A FOCUS ON EMPOWERING KIDS IN THE KITCHEN
Six brands unite to support United Fresh Start Foundation to increase accessibility to fruits and veggies
ORLANDO, Fla. – Aug. 9, 2021 – Healthy Family Project's annual Back To School campaign launched today with a focus on empowering kids to pack their own lunches, make after school snacks and help prepare family meals along with a new element that puts the spotlight on super star teachers. The program, now in its eighth year and in partnership with health-conscious brand partners, has raised more than $165,000 to benefit charities that support families. This year, partners have committed to a donation of $12,000 to United Fresh Start Foundation to increase access to fresh produce for children and families.
PUBLIX PRODUCE FOR KIDS CAMPAIGN SUPPORTS LOCAL FEEDING AMERICA® MEMBER FOOD BANKS WITH 700,000 MEALS
LAKELAND, FL – June 28, 2021 – The bi-annual Publix Produce for Kids cause-marketing campaign wrapped on June16 with 12 produce partners providing 700,000 meals* to the 32 Feeding America member food banks in the Publix market area. Newly designed campaign signage positioned near produce partners in more than 1,200 Publix stores featured QR codes leading shoppers to a downloadable eCookbook full of recipe inspiration, details on each partner and a new section touting the sustainable practices of campaign partners. Produce for Kids is celebrating 19 years working with Publix and its produce suppliers to implement the cause-marketing campaign which has raised more than $3.4 million for local families in need.