Easy Breakfast Naan Pizza
Pizza for breakfast? Yes please! Ready in just 20 minutes, this easy breakfast naan pizza recipe is perfect for weekdays and weekends. Brunch anyone?!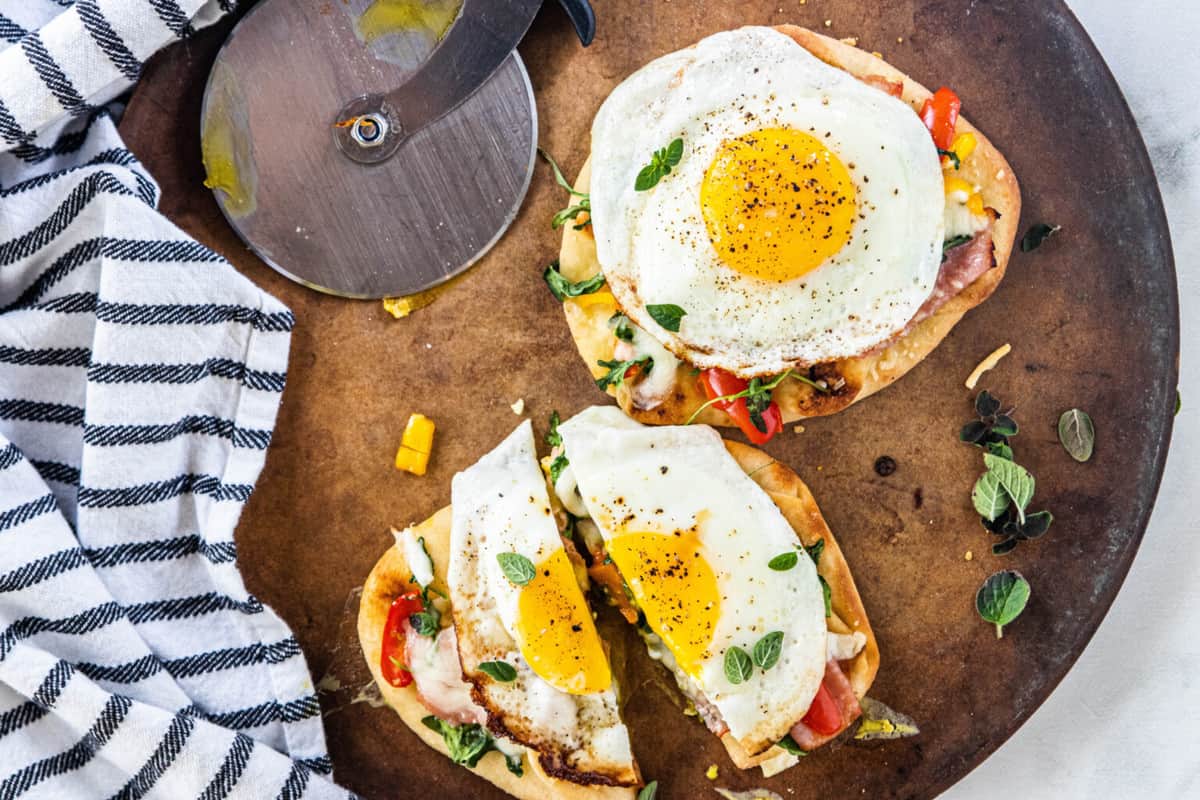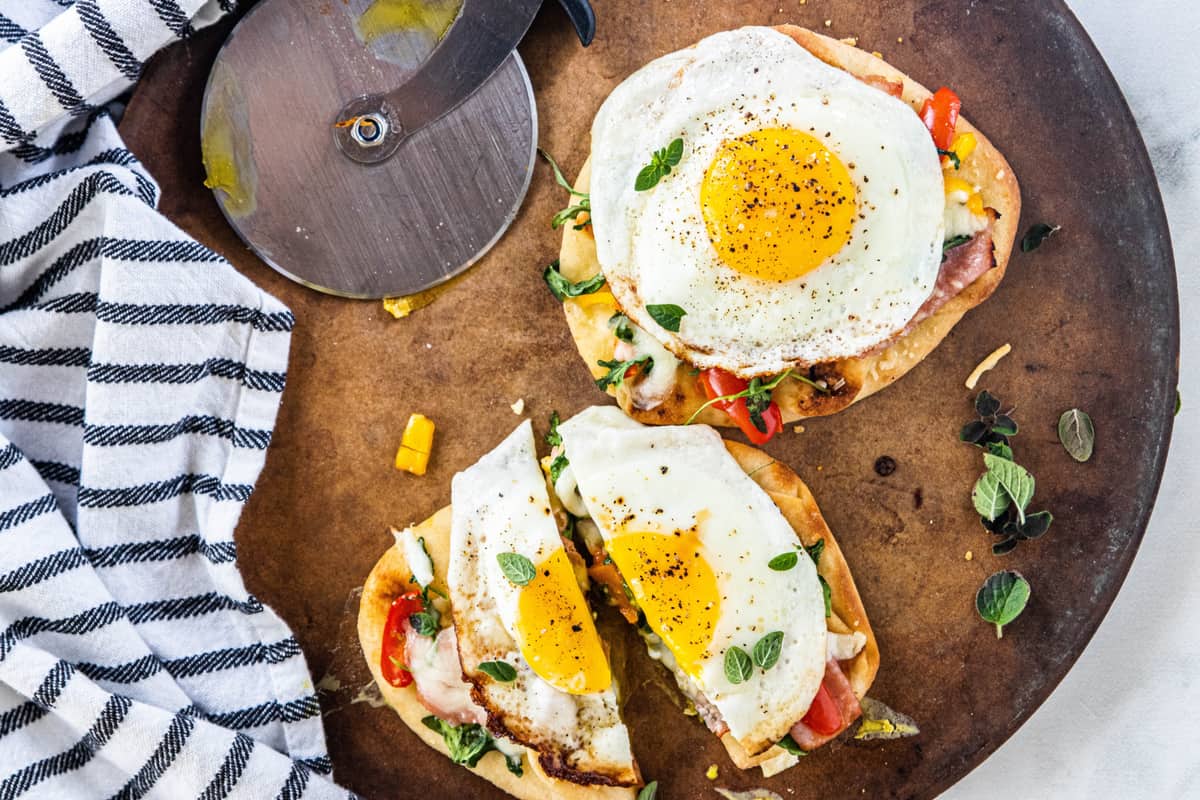 Summer is officially here and that means the kiddos are home for breakfast. Every. Single. Day. Don't get me wrong, they eat breakfast everyday before school, but I always go for the quick and easy options. Muffins, smoothies, cereal, etc. Don't judge me please, my kids wake up for school at 5:40, and I enjoy waking up with them. Now, I am not 100% awake all the time, but I'm there. They are in high school and I don't have many of these crazy early mornings left. Insert crying mom here So, while I can, I will sip my coffee and enjoy those extra moments while I can.
When summer hits, the kids (and I) look forward to a "real" breakfast. And yes, I do indeed make them some days, but they are old enough to where they actually enjoy getting involved in the kitchen. Especially when they can make pizza for breakfast 😉
Naan pizzas are a fun and easy way to enjoy breakfast. They're perfect for when you're short on time or just want something different than your average breakfast. Plus, they're surprisingly versatile – you can use whatever toppings you like!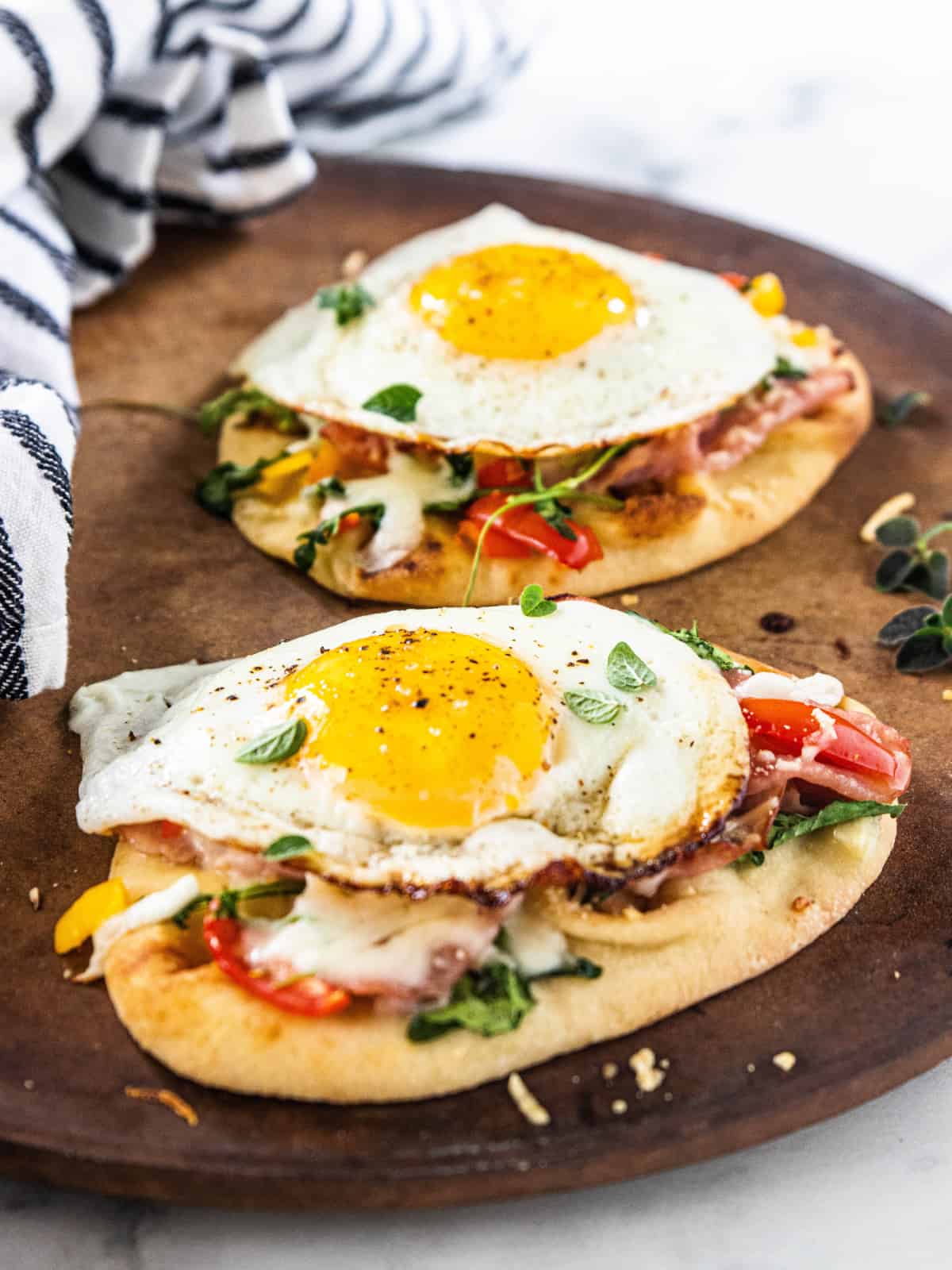 What can you put on a breakfast naan pizza?
There are endless possibilities when it comes to toppings for naan pizzas. Some of our favorites include:
Breakfast sausage
Bacon
Ham
Canadian Bacon
Mushrooms
Olives
Peppers
Pineapple
Eggs – scrambled or over-easy or anyway you like them!
Cheese
Meat-alternatives
Why is eating breakfast important?
Eating breakfast is one of the most important things you can do for your health. It helps reboot your body after a long night of fasting, and it provides energy for the day ahead. Plus, eating breakfast has been shown to help with weight loss and improve cognitive function.
How long can naan breakfast pizza stay in the fridge?
If you have leftovers, naan breakfast pizzas can stay in the fridge for up to 3 days. Make sure that you reheat them in the oven or microwave before eating. They taste better warmed in the oven in my opinion.
Can you freeze naan breakfast pizzas?
Yes, you can freeze naan pizzas for up to 2 months. Make sure to pull them out and thaw them completely before reheating.
What is naan?
Naan is a type of Indian flatbread that is made from wheat flour, milk, and yogurt. It is popular in South Asia and the Middle East, and it can be served as a main dish or a side dish. Naan is often eaten with curry or other spicy dishes. I also serve naan with hummus. But, our favorite thing to make with naan flatbread is definitely making pizzas! Here are a few of our other favorite Naan Pizza Recipes: Vegetarian Naan Pizzas, Southwest Chicken Naan Pizzas, and Grilled Peach Flatbreads.
Can you make naan from scratch?
You sure can, but I promise you it's a lot easier to buy it from your local grocer 😉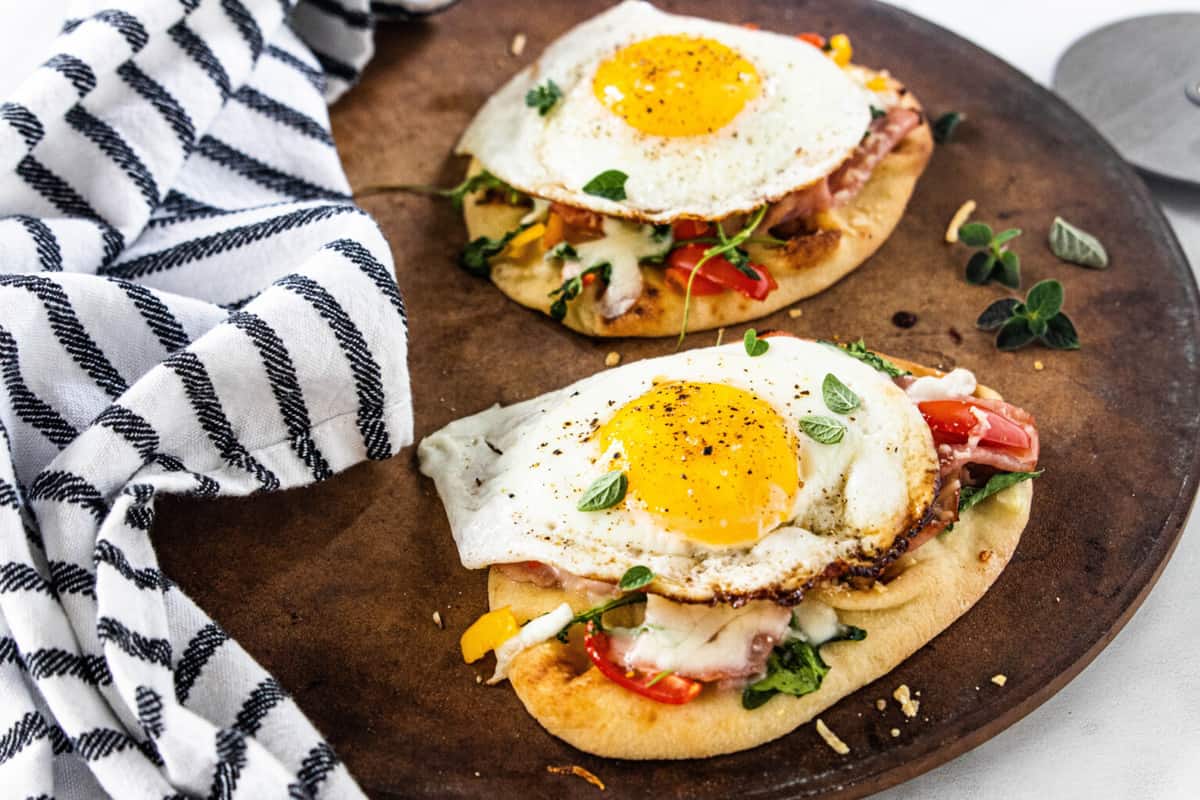 Ok, I am officially hungry, let's make some breakfast pizza! Remember, breakfast pizzas are super easy to customize, so feel free to play with the ingredients and have some fun. Encourage the kiddos to do the same.
Delicious Breakfast Naan Pizza
Make pizza for breakfast! We love this easy and delicious Breakfast Naan Pizza recipe. Ready in just 20 minutes, the kids can make it themselves too!
Ingredients
2 small naan bread
2 teaspoons olive oil divided
½ teaspoon minced garlic
3 slices thinly-sliced ham
½ cup baby arugula
2 tablespoons diced peppers
2 tablespoons diced tomatoes
2 tablespoons shredded mozzarella cheese
2 large eggs fried
Optional: Fresh oregano for garnish
Instructions
Preheat oven to 450°F.

Place naan on baking sheet. Brush each with 1 tsp. olive oil and add ¼ tsp. garlic. Top with ham, arugula, peppers, tomatoes and cheese.

Bake 8 minutes, or until the cheese is melted and naan is crisp. Garnish with oregano if desired.

Meanwhile, heat 2 tsp. oil in skillet over medium-low heat. Add eggs and let cook 4-5 minutes or until whites are set.

Top pizza with fried egg.
Nutrition
Calories: 314kcalCarbohydrates: 31gProtein: 14gFat: 14gSaturated Fat: 4gPolyunsaturated Fat: 1gMonounsaturated Fat: 4gTrans Fat: 1gCholesterol: 106mgSodium: 782mgPotassium: 129mgFiber: 1gSugar: 2gVitamin A: 246IUVitamin C: 4mgCalcium: 100mgIron: 1mg