Episode 82: Sports Psychologist Tips For Supporting Your Teen Athlete's Mental Health
On this episode of the Healthy Family Project Podcast, we're joined by Dr. Neff, a licensed clinical sports psychologist, to talk about young athletes and their mental health. While there's a lot of fun and joy in kid and teen sports, it can also create stress and anxiety. Dr. Neff shared lots of amazing insights and tips to help us tackle mental health in a proactive way that helps kids and teens build their mental fitness and creates environments where they can feel safe working through their feelings and managing their anxiety around sports.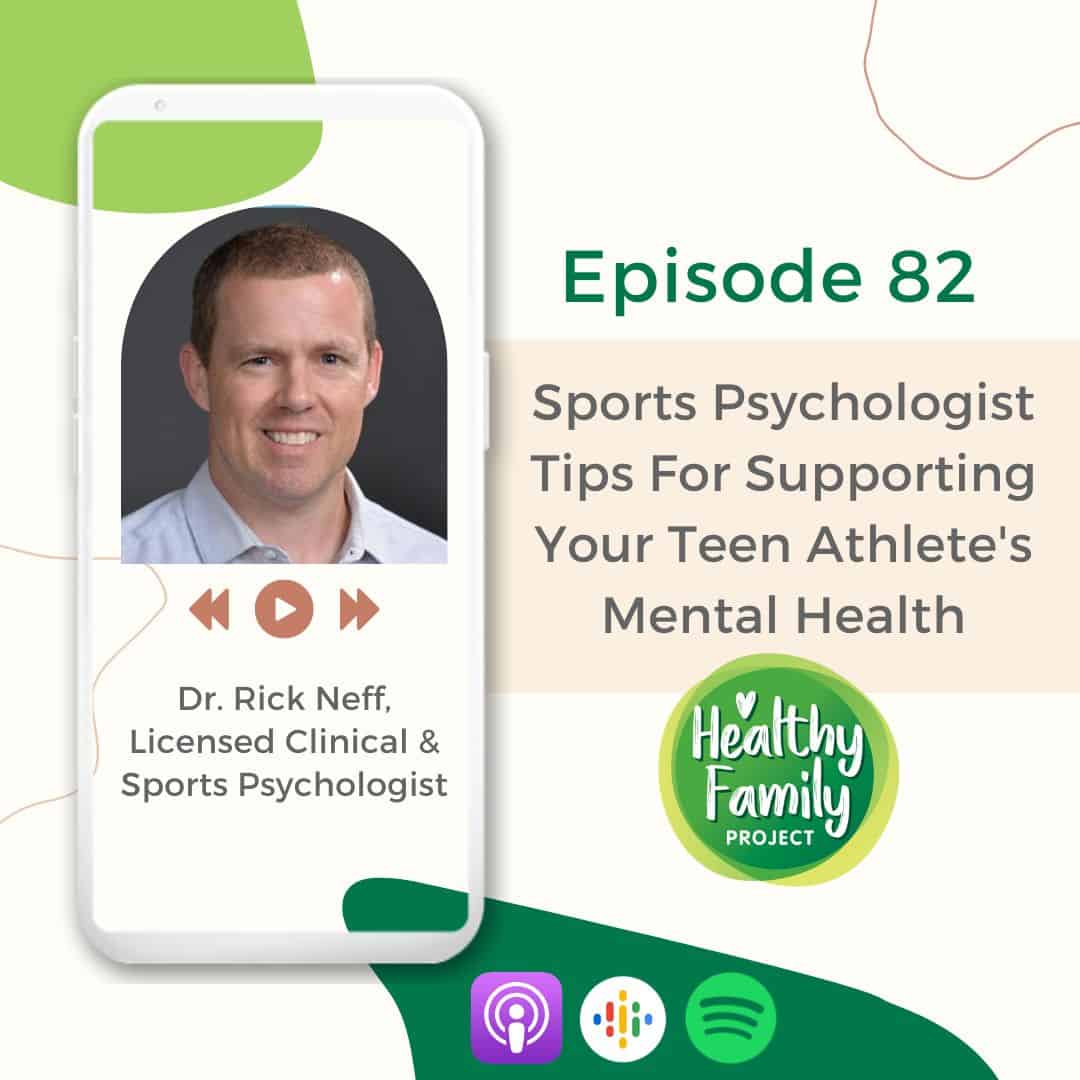 As a mom with a preteen and teen who have been active in sports for most of their lives, this topic is near and dear to me. I often think about how we as parents can tow the line between encouraging our kids to work hard and gain all the lessons to be gained from the dedication required in sports while also ensuring we don't apply undue pressure that leads to added stress and anxiety.
Lots of parents in our Facebook group had questions about this topic and it was great to have an expert in sports psychology on the podcast to walk us through how we can help our active kids work on their mental fitness.
Mental fitness is just as important as physical fitness when it comes to sports. Dr. Neff reinforced the importance of being proactive versus reactive when it comes to mental health. This involves being an active listener, creating a safe space where our kids can feel comfortable talking about their feelings, helping to guide them to come up with solutions, and keeping an eye out for red flags.
While there's so much joy in seeing our kids do well and celebrate a big win, disappointments are also inevitable and Dr. Neff helped guide us through how to navigate deterring a negative headspace after injuries or disappointments.
As parents and caregivers, we also play a big role in this. Dr. Neff covered simple ways we can be supportive and avoid our own emotional outbursts that only add to our kid's anxiety. Something as simple as a hand gesture from across the field can help to ease anxiety in a stressful moment and help our kids to refocus.
About Our Guest, Dr. Neff
Dr. Rick Neff is a Licensed Clinical & Sports Psychologist, and the owner and founder of Inner-Edge, LLC. A former college baseball player, and standout three sport athlete in high school, he is recognized nationally and internationally as a leader in developing performance mindset. Through his extensive study and integration of clinical and sports psychology, neuroscience, and mindfulness, Dr. Neff has become known as the "Yoda" of mental skills training.
His ability to connect with players and develop trusting relationships sets him apart. Dr. Neff worked with players who have gone on to play at Duke, Oregon, Kentucky, Florida State, North Carolina, Michigan State, Texas, Georgetown, Florida, Miami, Penn State, LSU, Clemson, Temple, Indiana, Purdue, UConn, Arizona, Pitt, Syracuse, Bucknell, Colgate, Penn, Princeton, Harvard, Yale, USC, Virginia, and many more.
Listen to Sports Psychologist Tips For Supporting Your Teen Athlete's Mental Health
What We Cover:
Want to skip straight to a hot topic? See timestamps below. But of course, we recommend listening all the way through to get all the great tips and tricks!
2:49 Welcome, Dr. Neff!
7:36 What can families do to be proactive about mental health?
13:06 Tactics for building mental fitness
19:36 Tips for transitioning to different levels of sports
27:06 What's a normal level of stress? What red flags to look for?
34:16 How to help our kids deal with injuries
40:27 How to help kids accept disappointment in a healthy way
44:16 How can parents keep emotions under control?
Relevant Links
Other Podcast Episodes to Check Out:
Healthy Family Project Facebook Group
Join our Healthy Family Project Facebook group! This group will serve as a safe space for parents and caregivers to talk all about raising a healthy family – from dealing with a picky eater and tips to get more fruits and veggies onto plates to exercising as a family and mental health. We welcome all of you to join in!
Listener Survey!
Thank you so much for supporting the Healthy Family Project Podcast! We'd love it if you could take 5 minutes to let us know how we can bring you the best possible content for future episodes. Take the survey here.
---
Healthy Family Project Podcast
Conversations covering hot topics in the world of health, food and family with a dose of fun. Helping families ease their way into a new fresh and healthy world.
Be on the lookout for new bi-weekly episodes and don't forget to subscribe on Apple Podcasts, Google Podcasts, Spotify or your favorite podcasting site. If you like an episode, make sure to leave a rating and comment.
If you are interested in being a guest on the Healthy Family Project podcast, contact amanda@healthyfamilyproject.com with your topic idea for consideration.