Savory & Healthy English Muffin Toppings
Got some English muffins, but need some healthy topping ideas? I got you! These savory and healthy English muffin toppings will definitely have you looking forward to breakfast again! Plus, they are loaded with vitamins and nutrients to help fuel your day. While these recipes were created as part of our Mission For Nutrition in partnership with Nature Fresh Farms, our recipes and love for a healthy breakfast option are our own.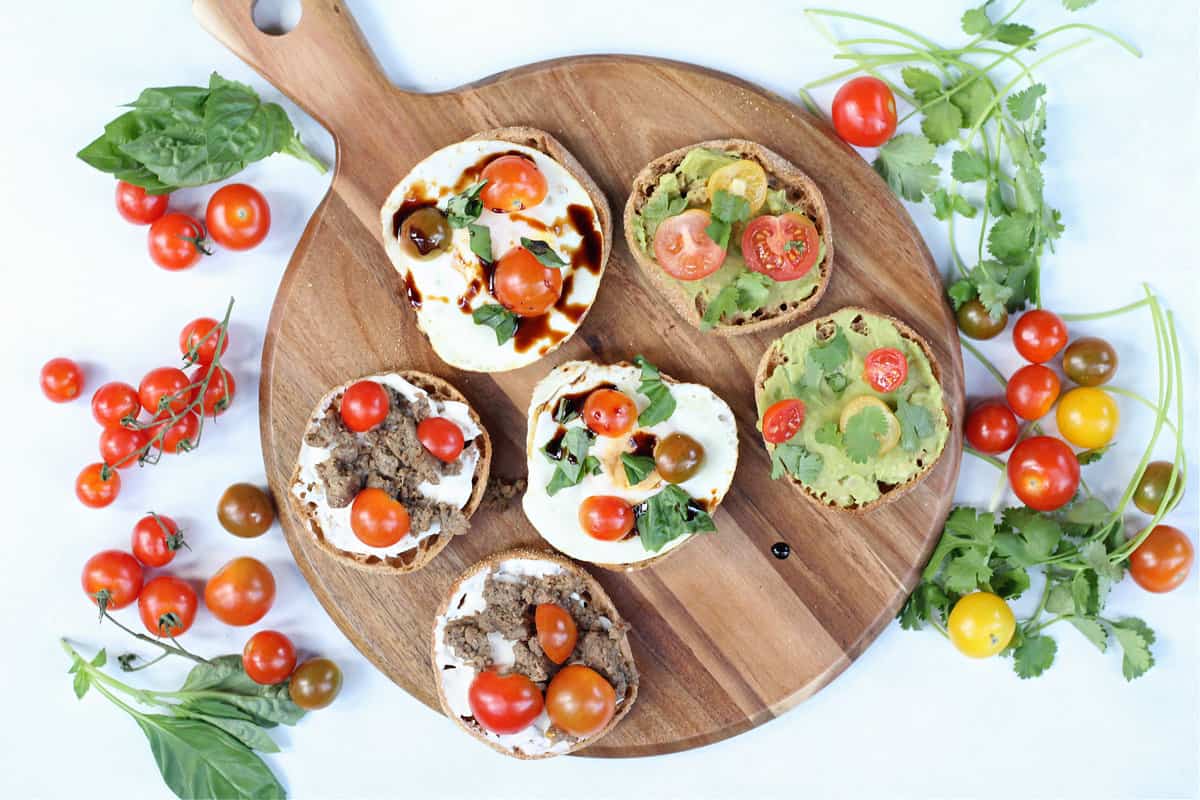 Do you find yourself skipping breakfast? Eating breakfast is an important part of your day, and there are many reasons why it should be a regular habit. Plus, when you can make something as yummy as these savory topped English muffins, why wouldn't you have breakfast daily?! Eating breakfast helps jump-start your metabolism and fuels you for the day ahead, but it can also provide essential vitamins and minerals that your body needs to function properly.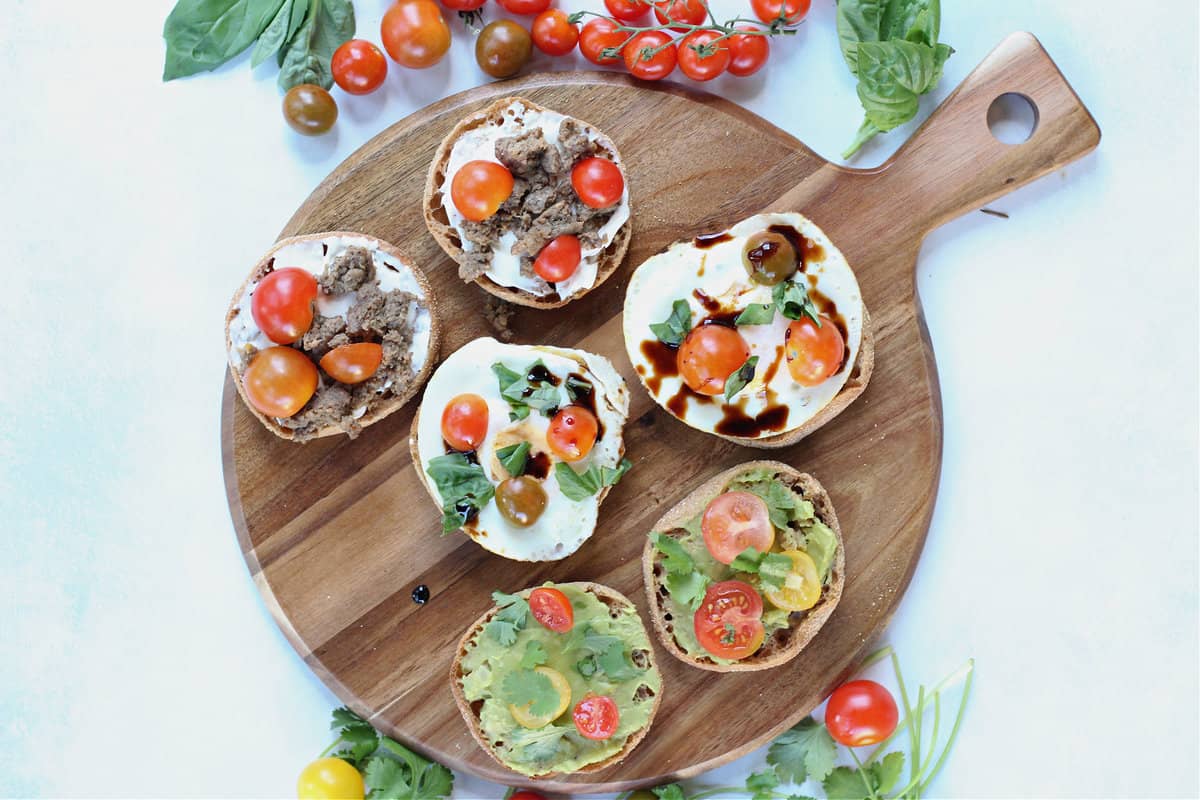 I love English muffins, and there is so much more you can do with them besides topping them with butter (even though that's delicious too) and using them to make a simple bacon and egg sandwich. A few years ago we shared some of some of our favorite English muffins toppings, but they were mainly sweet, so we decided it was time to share some of our favorite savory English muffin toppings. Savory breakfast options don't have to be limited to just toast 😉
These easy-to-make savory and healthy toppings make English muffins perfect for any mealtime, but they are easy enough to make on those busy weekday mornings, so don't be scared to get creative in the kitchen!
Here are savory additions we added to our English muffins, and the health benefits of each of them: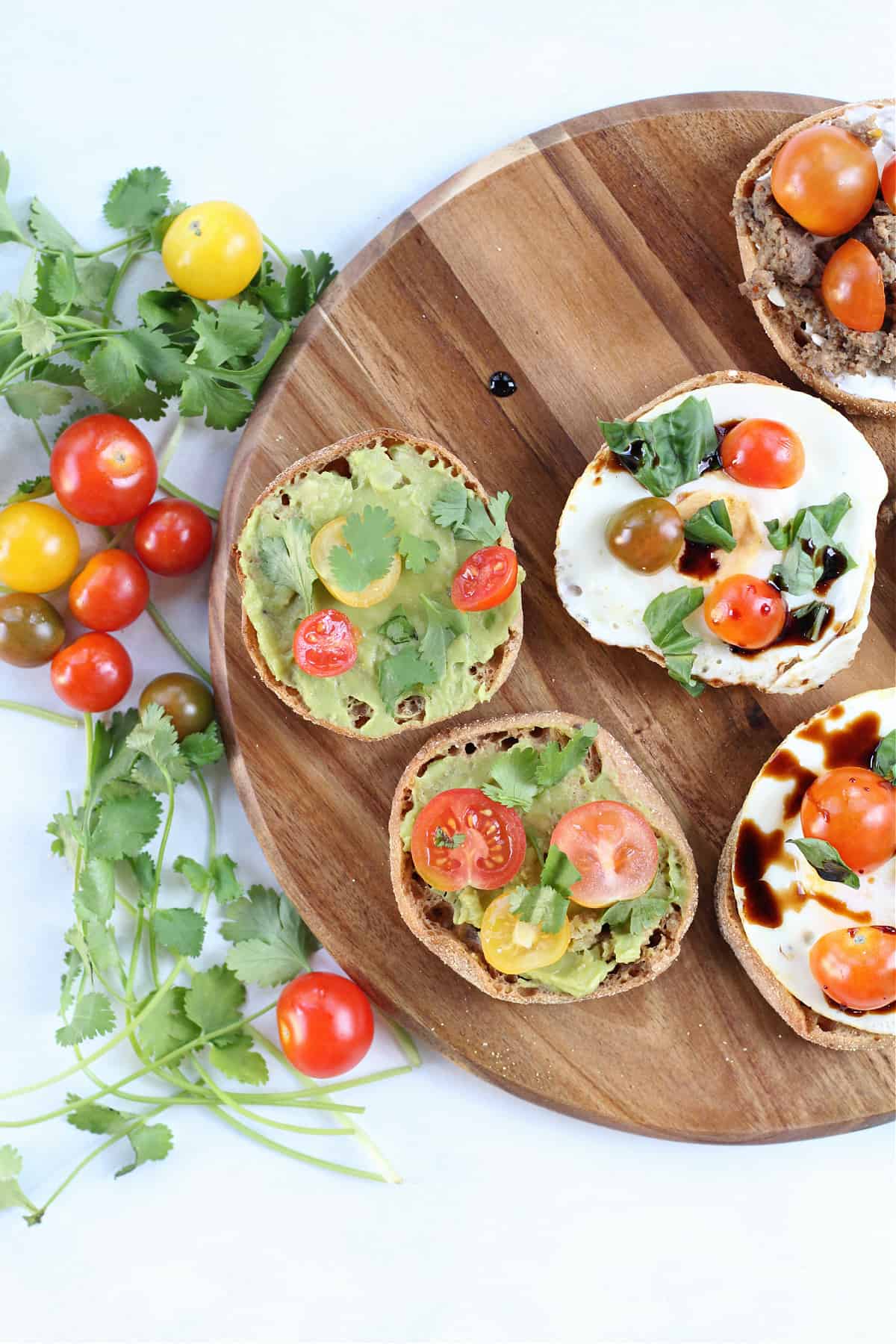 Guacamole + tomato + cilantro
Move over avocado toast! There's a new breakfast dish in town!
Guacamole
Guacamole is a yummy appetizer, snack, and dip. Not only does it taste delicious, but it also has some health benefits.
Made with avocados which are an excellent source of healthy fats but they also contain a significant amount of fiber.
Tomatoes
But did you know that tomatoes can also offer numerous health benefits? Eating these juicy fruits can help to reduce your risk of several diseases, improve your skin health, and even aid in weight loss.
Tomatoes are packed full of vitamins and minerals such as vitamin C and potassium. Vitamin C helps to boost immunity while potassium aids in lowering blood pressure. They also contain lycopene, which has been linked to reducing the risk of some cancers. Tomatoes can also help improve your skin health by providing antioxidants that protect against sun damage, increasing collagen production and fighting free radicals.
Tomatoes also have very few calories but are rich in fiber which helps keep you feeling fuller longer.
I also added cilantro because it has a little bit of a kick and if the perfect addition to anything with guacamole in my opinion 🙂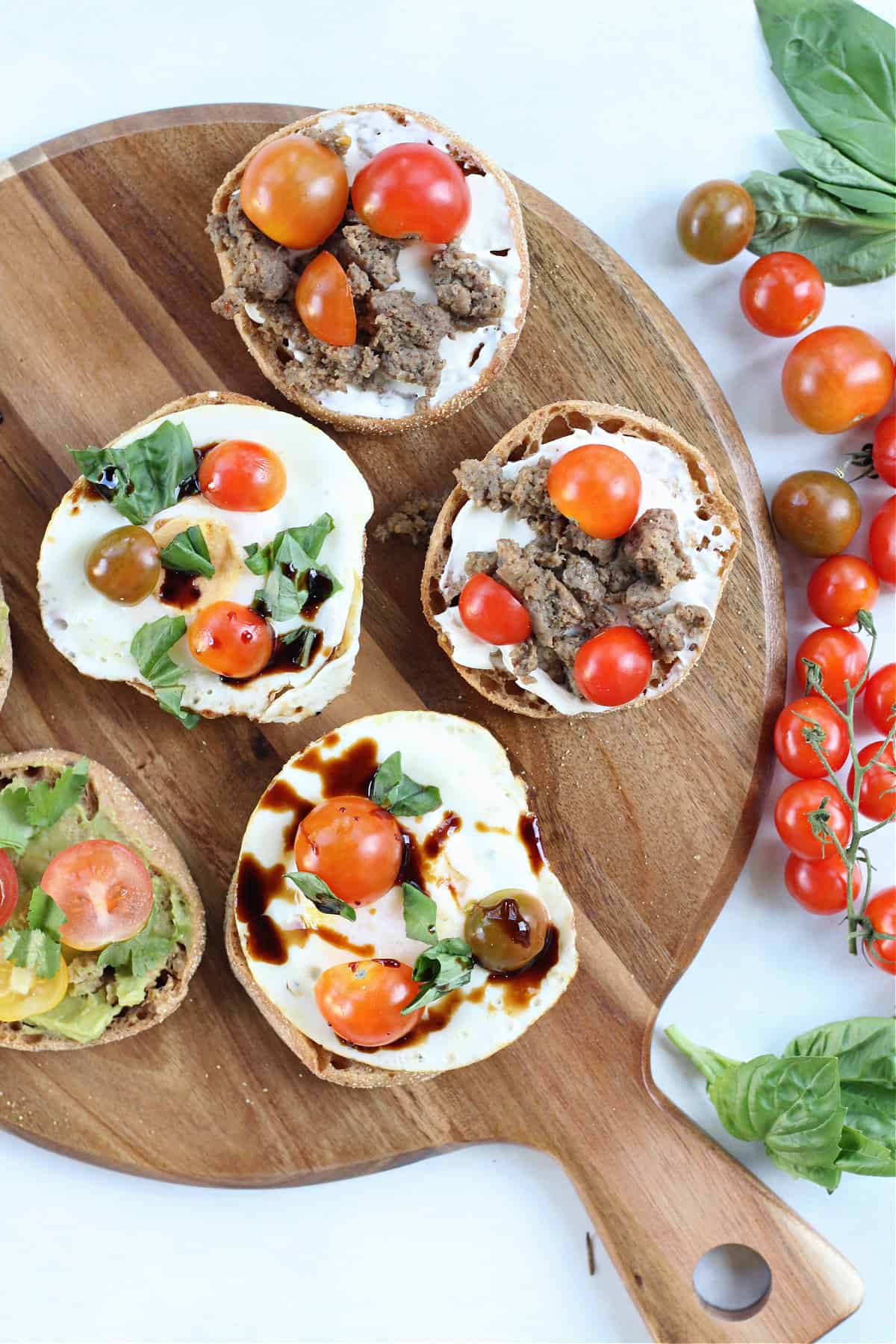 Cream cheese + tomato + turkey sausage
Cream Cheese
Cream cheese is a simple, yet delicious food that you can use in many recipes. It just about always in my refrigerator, which is why I thought about using it as one of my savory English muffin toppings! I also had some extra turkey sausage left from the sausage breakfast muffins, so I added that in with my fresh tomatoes. The result? Deliciousness!
Cream cheese contains calcium, probiotics, Omega-3 fatty acids and protein making it not only a yummy spread for your english muffins, but a fairly healthy one. *Note: we did use the low-fat variety of cream cheese.
Turkey sausage
This is a healthier alternative to traditional pork or beef sausage. Not only is it leaner and lower in saturated fat, but it also a great source of lean protein.
Additionally, because its low in fat and high in protein, turkey sausage can help keep you feeling full for longer periods of time and help you fuel your day.
Egg + tomato + basil
We already shared the benefits of the delicious and nutritious superfood that is tomatoes, but let's chat about the benefits of the eggs and basil and why we love this combination as a healthy English muffin topping.
Eggs
Eggs are packed with nutrition and are an excellent source of both healthy fats and protein. They also contain 13 essential vitamins including B vitamins that support your metabolism and help break down food into energy.
Basil
This simple topping adds flavor, but it also contains essential oils, vitamins, minerals and antioxidants that can help give your body an extra boost.
Oh, and I also had some balsamic glaze in the pantry, so I drizzled that on top…it was amazing! If you don't have balsamic glaze, you will still love your English muffin topped with the egg, fresh tomatoes and basil, I promise.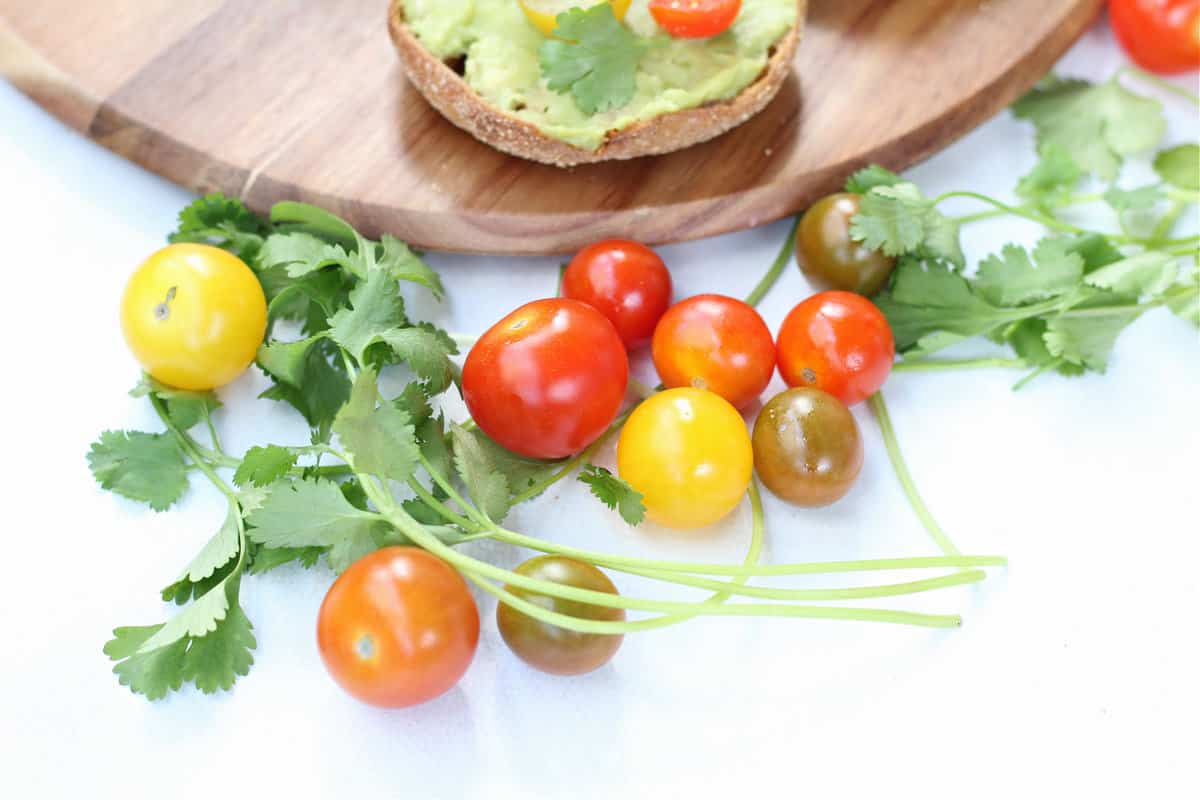 Which toppings should you go with?
When it comes to healthy English muffin toppings, there's no need to limit yourself! Go ahead and try em all! It only takes a minute or two to make each option, so make 'em all and give your family the option to pick their favorite. The part that takes the longest is simply toasting the English muffins!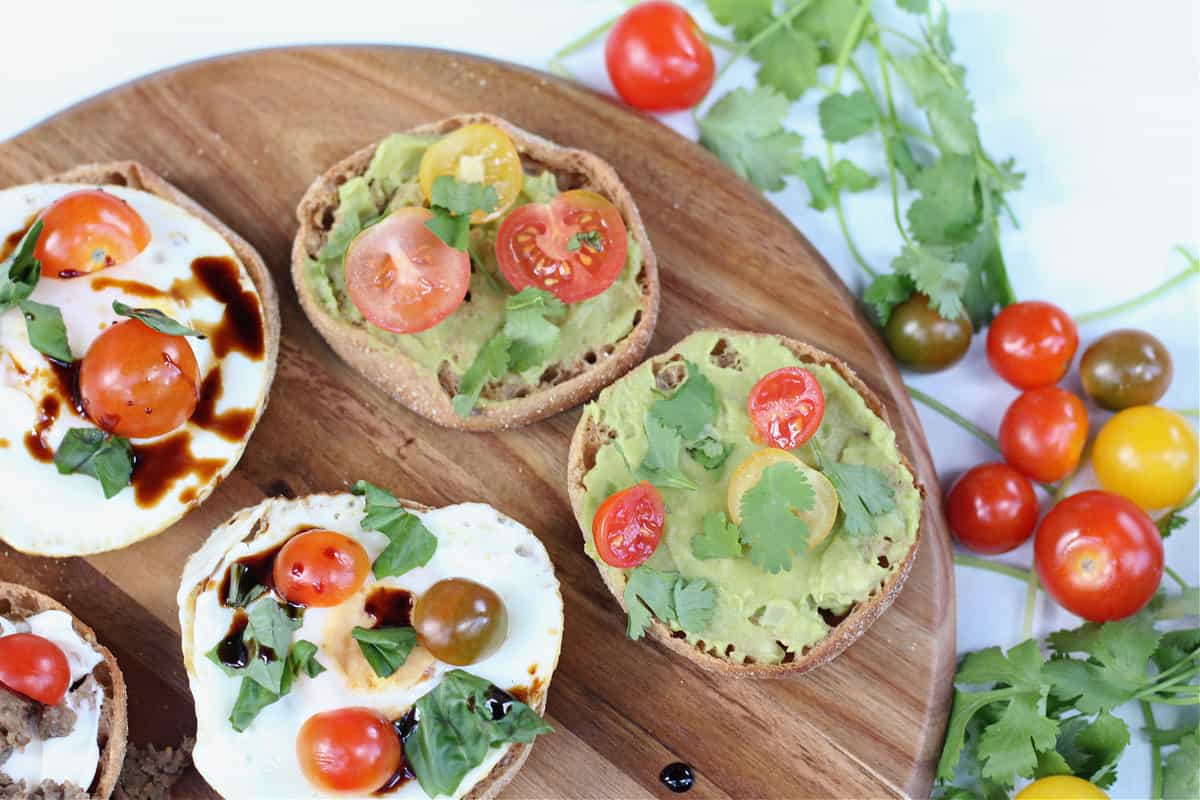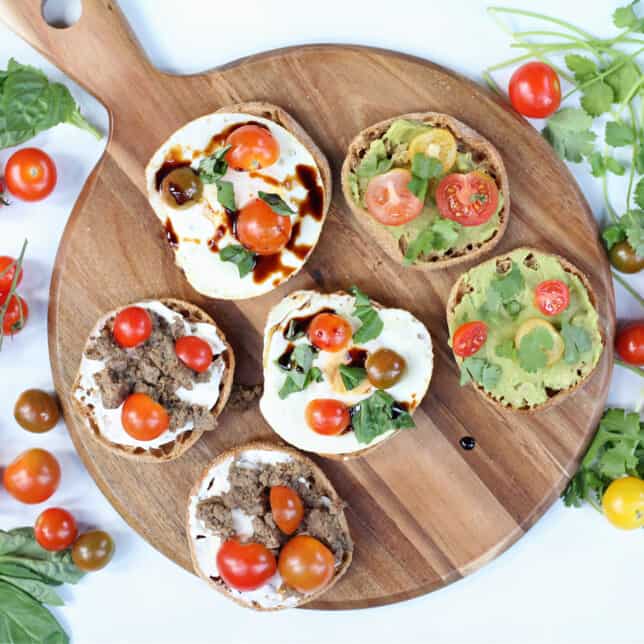 Savory English Muffin Toppings
Satisfying, healthy and ready in minutes, these savory English muffins toppings are perfect to add to your breakfast routine!
Ingredients
Whole Wheat English Muffins
Nature Fresh Tomatoes
Guacamole
Light cream cheese
Eggs
Turkey sausage cooked through
Basil
Cilantro
Instructions
Toast English muffin and top with these amazing toppings!

Guac + tomato + cilantro (optional)

Cream cheese + tomato + turkey sausage

Egg + tomato + basil + Balsamic glaze (optional)
Notes
Each combination has been approved by one of our registered dietitians.
Take your meal planning game to a new level – join us on a Mission for Nutrition! Grab a free ebook with 5 simple and easy breakfast recipes for your family!
Follow #MissionForNutrition on Instagram for meal prep ideas and more.
Looking for more meal prep tips and healthy recipes? Check out these posts: