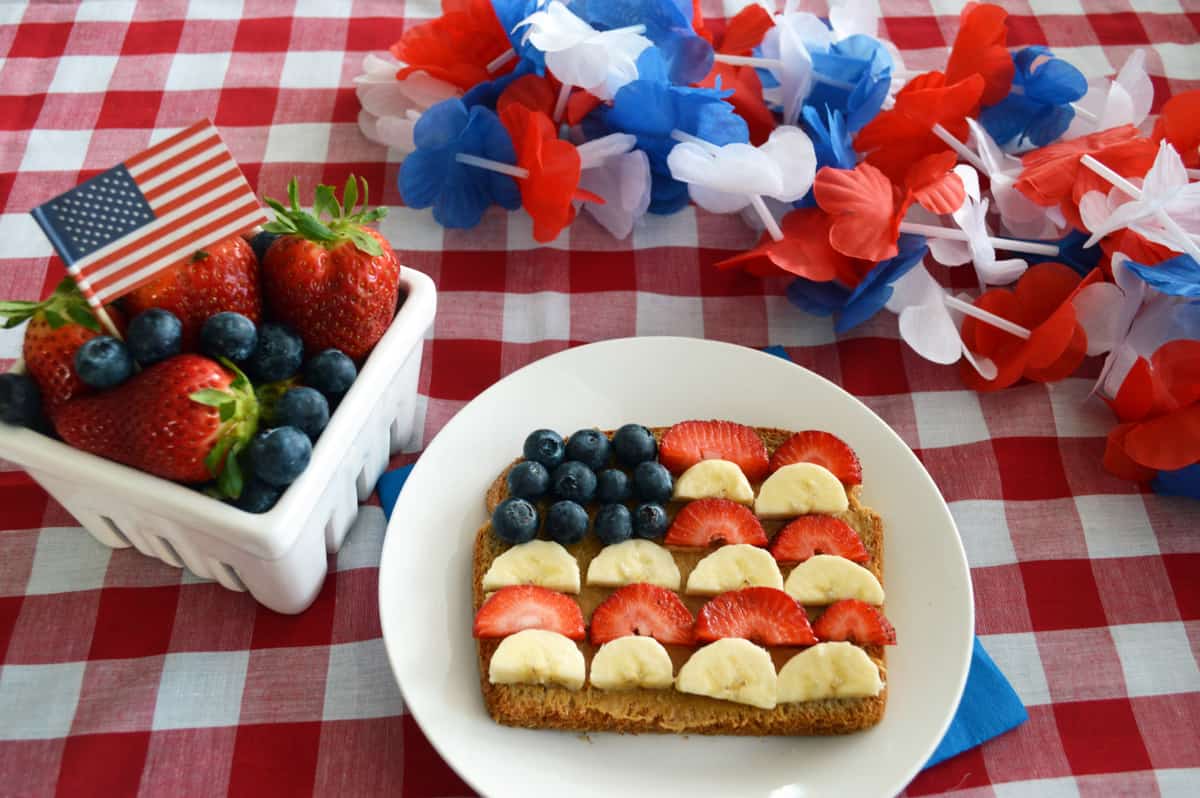 Looking for a super easy and cute patriotic treat you can make with the kids for Memorial Day, the Fourth of July, or Veteran's Day? Use bananas, strawberries, and blueberries to make this American Flag Toast! This toast is the perfect treat for the kiddos to help make, too! Peanut allergy in the house? You can opt for sun butter or soy butter for a nut-free alternative so that every one can participate and enjoy!
Nutrition Tip: People who eat a lot of whole grains are more likely to keep their weight in check and less likely to gain weight over time than those who eat refined grains.
This American Flag Toast is perfect for a fun breakfast or even a healthy snack throughout the day over the Summer! Loaded with fresh berries and bananas and made on whole wheat toast! Of course you can use whatever bread you have but we like whole wheat for extra valuable nutrients!
Key Ingredients for this American Flag Toast:
Whole Wheat Toast: Using whole wheat bread gives an extra boost of fiber and has less processed ingredients. You could use whole grain or even homemade bread, too!
Strawberries: As one of Summer's juicy berries, strawberries are loaded with wonderful benefits such as being great for your heart health, can help in lowering blood pressure, and are an excellent source of Vitamin C!
Blueberries: Our blue "stars" are another Summer berry that is loaded with the good stuff! Blueberries are high in antioxidants and are great for your brain health as well!
Bananas: Bananas are another great fruit that helps aid in digestion, your over all heart health, and can even help regulate your blood pressure!
Peanut Butter: Many nut butters including Peanut Butter (in moderation) can be a great part of your diet and are a great source of protein!
How to make these Red White & Blue Flag Toast
First, toast your bread and spread the peanut butter out. Then place the bleuberries in the top left corner to make the "stars".
Next do rows of strawberry slices and sliced banana halves to makes the "stripes".
Super easy and fun! We hope you enjoy this fun treat as much as we did!
Frequently Asked Questions:
What other fruits could I use in this recipe?
Don't have any strawberries on hand? Another red berry has you covered… raspberries would be great, too! No blueberries? No problem! A few blackberries would work just fine, too!
What if we have a nut allergy in our house?
Many households have some type of nut allergy to work around. Great news is that over the years there have been so many alternatives that have come out on the market that can solve this problem. You could use sunflower seed butter, soy based butters, or even honey would taste great!
American Flag Toast
Use bananas, strawberries and blueberries to make a red, white and blue flag toast that's perfect for kiddos.
Ingredients
1 slice whole wheat bread
1 tablespoon peanut butter
9 blueberries
1/2 banana sliced
3 strawberries sliced
Instructions
Toast bread, if desired. Spread with peanut butter. Arrange blueberries in top left corner for the stars. Alternate rows of strawberries and bananas to create stripes.
Nutrition
Calories: 234kcalCarbohydrates: 33gProtein: 9gFat: 9gSaturated Fat: 2gPolyunsaturated Fat: 3gMonounsaturated Fat: 4gSodium: 187mgPotassium: 449mgFiber: 5gSugar: 13gVitamin A: 49IUVitamin C: 27mgCalcium: 46mgIron: 1mg
Check out these related ideas: