This Pistachio-Chip Trail Mix is a quick fix and makes for a perfect after school snack. Make this recipe ahead of time and store in sandwich bags or plastic containers for a snack that travels with you.
This Pistachio-Chip Trail Mix is Great for Adults Too!
Pistachio-Chip Trail Mix is a wonderful snack for kids and adults alike. This mix is perfect for on-the-go snacking, as it is easy to make and transport. Plus, it is a healthy snack option that provides energy and nutrients.
The mix of pistachios, chips, and dried fruit in this trail mix makes it a well-rounded snack. The pistachios provide protein and healthy fats, while the chips add some complex carbohydrates for sustained energy. The dried fruit adds sweetness and a boost of vitamins and minerals.
This trail mix is also very versatile. You can easily add or swap out ingredients to suit your taste or dietary needs. For example, you could swap out the banana chips for pretzels or add in some dried cranberries for an even sweeter treat.
How to Keep Your Pistachio-Chip Trail Mix Fresh
If you're anything like me, you love a good trail mix. But have you ever noticed that your trail mix doesn't always taste as fresh as it could? Well, there are a few things you can do to keep your trail mix tasting great.
First, make sure you store your trail mix in an airtight container. This will help to keep the moisture out and the flavors locked in.
Second, if your trail mix has any dried fruits or nuts in it, be sure to check the expiration date on those items before adding them to your mix. Dried fruits and nuts can go bad quickly, so it's best to use them up before they start to lose their flavor.
Finally, if you want your trail mix to stay extra fresh, try storing it in the fridge or freezer.
Alternatives to Add to Your Pistachio-Chip Trail Mix
Since this snack is so easy to make, it can be tailored to your individual preferences. If you're looking for something a little different than the pistachio-chip trail mix recipe below, here are some alternative ingredients to add to your mix:
Other dried fruit: Dried fruit is a great way to add some sweetness and extra nutrients to your trail mix. Try adding dried apricots, raisins, or cranberries for a sweet pop of flavor.
Other nuts and seeds: Nuts and seeds are a great source of protein and healthy fats. Admittedly, there are a lot of different options to choose from for your trail mix. But which ones are the best? Here are a few of our favorites:
Almonds – Almonds are a great source of protein and healthy fats, making them perfect for a filling and energy-boosting snack.
Cashews – Cashews are lower in fat than most other nuts, but they're still packed with essential nutrients like magnesium and zinc. Plus, their creamy texture makes them a delicious addition to any trail mix.
Peanuts: Ahh, old faithful! As long as no one in your house has a peanut allergy, they are packed with protein and healthy fats, which makes them the perfect snack to keep you fueled on the go. They're also relatively inexpensive, so they're a great way to stretch your trail mix budget. And let's be honest, they just taste really good. Whether you're adding them to a sweet mix or a savory one, peanuts are always a welcome addition.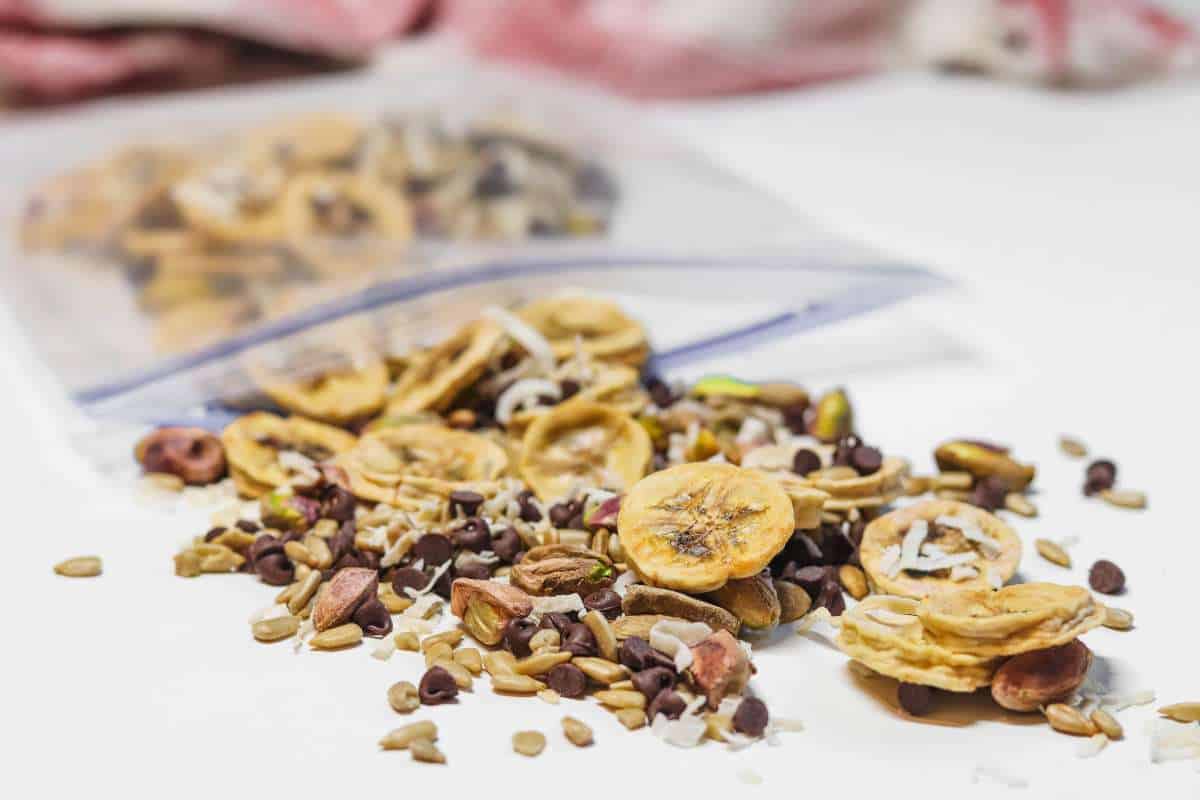 How Long Will Homemade Trail Mix Last?
When it comes to homemade trail mix, how long it lasts really depends on the ingredients. If you're using fresh fruit and nuts, it'll probably only last a couple of days before it starts to go bad. But if you use dried fruit and nuts, your trail mix will last a lot longer – anywhere from a few weeks to a few months.
Of course, the key to making sure your trail mix lasts as long as possible is to store it in an airtight container in a cool, dry place. And like we mentioned earlier, if you want to extend its shelf life even further, you can pop it in the fridge or freezer. Just be sure to let it thaw out completely before you dig in!
Make sure to PIN IT!
Pistachio-Chip Trail Mix
This Pistachio-Chip Trail Mix is easy to make, flavorful, and a great grab and go snack for the kids or adults.
Ingredients
1/2 cup pistachios
2 tablespoons chocolate chips
2 tablespoons unsweetened shredded coconut
2 tablespoons sunflower seeds
1/4 cup banana chips
Instructions
Combine pistachios, chocolate chips, coconut, sunflower seeds and banana chips in sandwich bag; mix well.
Notes
Notes* If you have pistachio chewy or granola bars, you can chop those up instead of pistachios. 
Nutrition
Calories: 410kcalCarbohydrates: 28gProtein: 9gFat: 32gSaturated Fat: 12gPolyunsaturated Fat: 7gMonounsaturated Fat: 10gSodium: 5mgPotassium: 520mgFiber: 6gSugar: 15gVitamin A: 141IUVitamin C: 3mgCalcium: 55mgIron: 2mg
More recipes to try:
No-Bake Cranberry Pistachio Energy Bites
Banana Peanut Butter & Date Smoothie