Fiesta Taco Baked Potatoes
Looking for a spin on Taco Night? These fiesta taco baked potatoes are easy to make and completely customizable to your family's favorite toppings.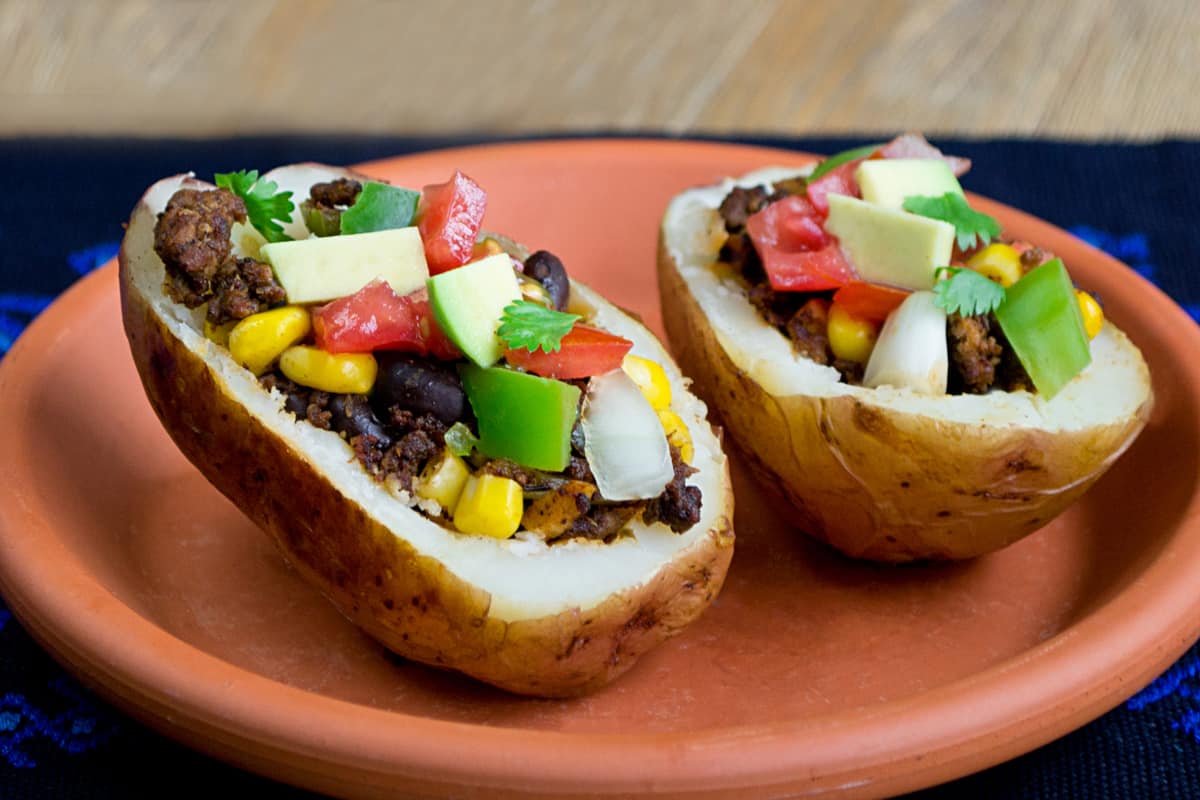 We love Taco Tuesday in our house. But sometimes we like to get a little creative in how we celebrate Taco Tuesday. Don't get me wrong, we all love a good taco, but it's fun to experiment with how to serve up your tacos and what you put on them.
We have made everything from Roasted Sweet Potato Taco Bowls to Fish Tacos with Watermelon Rind Salsa to Taco Boards! So, a taco-inspired baked potatoes seemed like a yummy new addition to Taco Tuesday.
These Taco-inspired potatoes are a healthful gluten-free meal. Make an extra batch of the ground beef mixture to use later in the week for quesadillas or tacos salad. We like to top our taco potatoes with a little shredded cheese or Greek yogurt for extra protein.
A Quick Look at the Ingredients in Our Taco Stuffed Potatoes
Olive oil: The recipe calls for a modest amount of olive oil, which is a heart-healthy fat that provides monounsaturated fatty acids, known to support cardiovascular health.
Russet potatoes: Potatoes are a good source of vitamins and minerals, including vitamin C, potassium, and fiber. They offer a satisfying and nutritious base for this dish.
Lean ground beef: While providing a rich flavor, lean ground beef supplies essential nutrients such as protein, iron, and zinc. Opting for lean cuts reduces the overall fat content.
Sweet onion and bell pepper: These colorful vegetables bring both flavor and nutritional benefits to the recipe. They are packed with vitamins, minerals, and dietary fiber, contributing to a well-rounded meal.
Garlic: Apart from adding a delightful aroma and taste, garlic has been associated with numerous health benefits. It may support immune function, cardiovascular health, and have antimicrobial properties.
Chili powder, oregano, and cumin: These aromatic spices not only enhance the flavors but also provide additional nutritional value. They contain antioxidants and have been linked to anti-inflammatory effects. We also love this homemade Taco Seasoning recipe
No-salt-added corn: Corn is a good source of fiber and various vitamins and minerals, including folate and vitamin C. Choosing a no-salt-added option helps keep sodium intake in check.
Low-sodium black beans: Black beans are a fantastic source of plant-based protein, dietary fiber, and essential minerals. Opting for low-sodium varieties reduces the overall sodium content of the dish.
Tomato: Tomatoes are rich in antioxidants, particularly lycopene, which has been associated with various health benefits, including heart health and cancer prevention.
Avocado: Avocado provides healthy monounsaturated fats, which are beneficial for heart health. It also offers vitamins, minerals, and dietary fiber.
Lime juice: Lime juice adds a refreshing zest to the dish while providing a boost of vitamin C, which supports immune function and aids in iron absorption.
Cilantro (optional): Cilantro adds a vibrant touch to the dish and may provide some antioxidant and anti-inflammatory properties.
Simple Substitutions or Additions
Use a plant-based ground "beef" to make this meal vegetarian
Use ground chicken or ground turkey
Ok, well let's get cooking, shall we? Prep time is just a few minutes for these stuffed taco potatoes, but you do have to bake the potatoes and that takes about 45 minutes. To save a little time, feel free to toss your potatoes in the microwave (don't forget to punch a few holes in them first!) before baking.