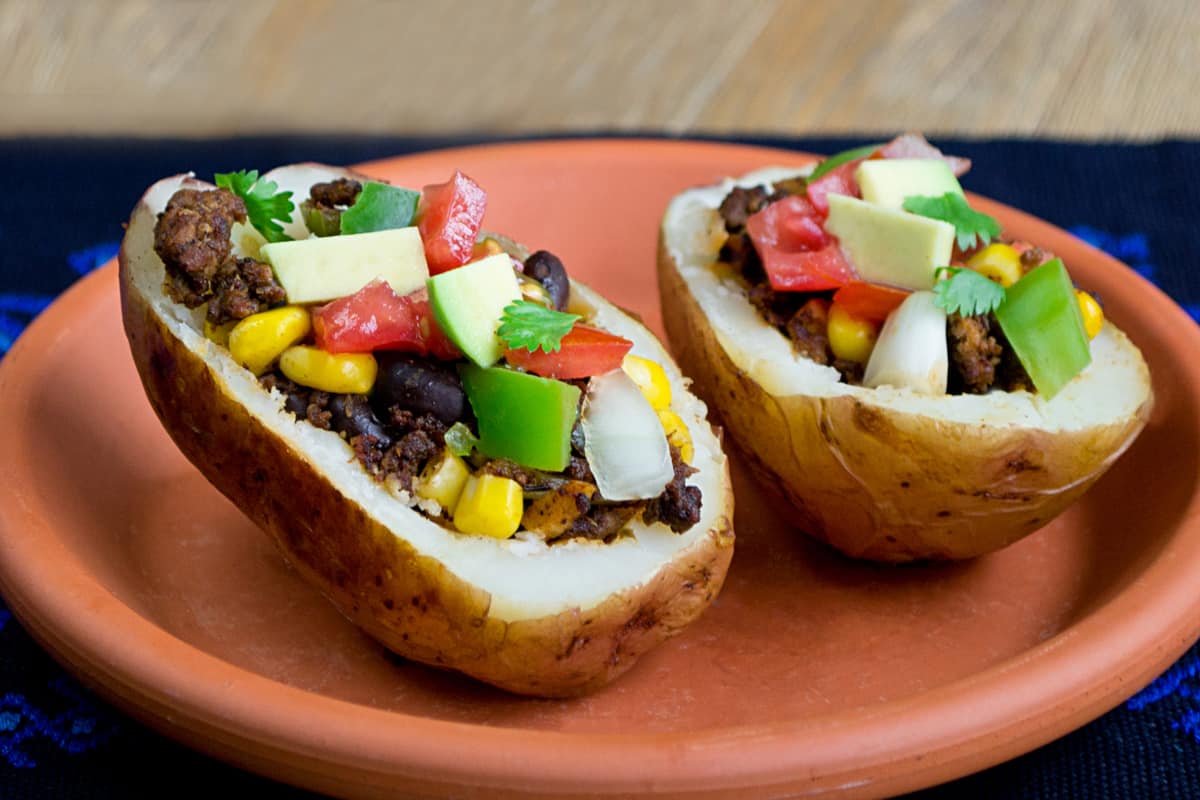 The Mexican-inspired potatoes are a healthful gluten-free meal. Make extra of the beef/veggie mixture to use later in the week for quesadillas or tacos salad. Top potatoes with 1 Tbsp. lowfat cheese or Greek yogurt for extra protein.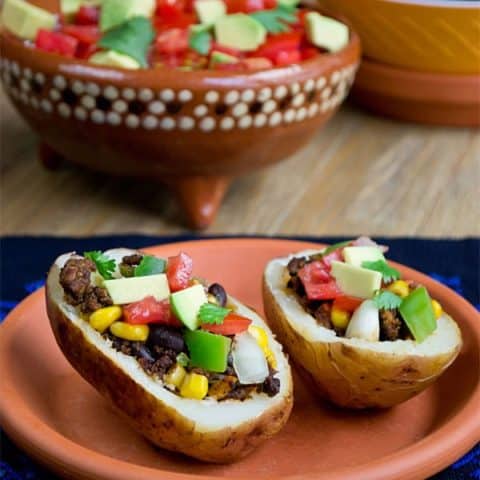 Fiesta Baked Potatoes
These Mexican-inspired potatoes are a healthful gluten-free meal. 
Yield: 4 servings
Prep Time: 10 minutes
Cook Time: 1 hour 5 minutes
Total Time: 1 hour 15 minutes
Ingredients
2 teaspoons olive oil
4 russet potatoes
1/2 pound lean ground beef
1 sweet onion, diced
1 bell pepper, diced
2 tablespoons garlic, minced
2 tablespoons chili powder
2 tablespoons oregano
2 tablespoons cumin
3/4 cup no-salt-added corn
1 (16 oz) can low-sodium black beans, drained, rinsed
1 tomato, diced
1 avocado, diced
1 teaspoon lime juice
1 tablespoon cilantro, optional
Instructions
Preheat oven 400°F.
Scrub and dry potatoes. Rub with 1 tsp. oil and prick with fork. Bake for 45 - 60 minutes, or until skins are crispy and insides are soft.
Heat remaining oil in large skillet over medium heat. Add beef and cook for about 10 minutes, or until no longer pink. Drain fat from pan.
Return pan to heat; add onion, peppers, garlic, chili powder, oregano and cumin. Cook for 5 minutes. Add corn and beans and cook for 2 minutes or until onion is translucent and beef is no longer pink.
While beef mixture is cooking, mix tomato, avocado, lime juice and cilantro in small bowl. Let marinate.
Once potatoes are cooked, remove from oven and let cool slightly. Cut potatoes in half and scoop out ½ of potato flesh from each half and reserve for other use.
Fill each half with ⅛ beef and vegetable mixture. Top with ⅛ avocado and tomato mixture.
Nutrition Information:
Yield: 4
Serving Size: 1 potato
Amount Per Serving:
Calories: 645
Total Fat: 11g
Sodium: 63mg
Carbohydrates: 109g
Fiber: 19g
Protein: 32g