Charli's Easy Homemade Salsa
If there's one thing our Jr. Chef Charli knows, it's how to make a delicious salsa. She keeps the ingredients simple – tomatoes, sweet peppers, onion, cilantro, lime juice and garlic salt – which all gets blended together in the food processor for a restaurant-style salsa you can't help but dip into again and again.
No food processor? You can simply chop all ingredients for a chunkier Pico de Gallo-style salsa. Grab chips for dipping or top off tacos, nachos and more with this simple, delicious salsa!
Ask anyone who has tried Charli's salsa and they'll agree, it gets two thumbs up! It's usually the first thing to disappear at family gatherings or our annual Super Bowl party.
Nutrition Tip: Good news: Veggie-packed salsa counts as a serving of vegetables! This one is loaded with vitamin C. Don't forget to keep your tomatoes on the counter (refrigerating them dulls the flavor).
Getting our kids in the kitchen is a great way to get them to try new foods and build confidence. When they create a delicious meal, they're not only more likely to eat it, seeing their family enjoying what they made will give them a confidence boost that will last.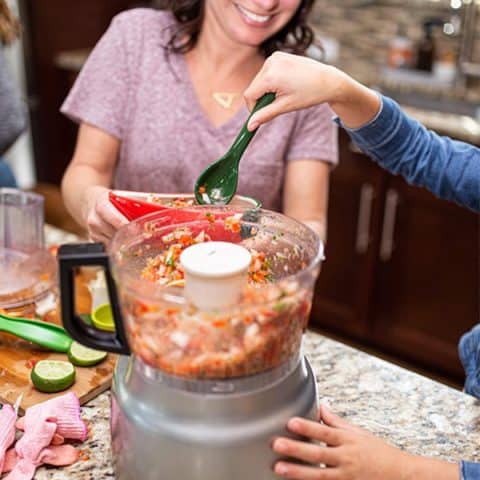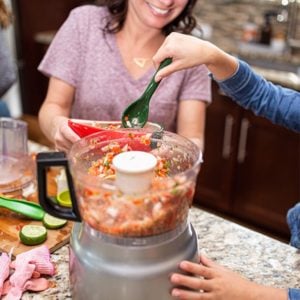 Charli's Easy Homemade Salsa
A restaurant-style salsa you can't help but dip into again and again.
Ingredients
5 mini sweet peppers seeded, quartered
3 Roma tomatoes quartered
1 1/2 limes juiced
1/2 small sweet onion halved
1/4 cup cilantro
1 1/2 teaspoon garlic salt or to taste
Instructions
Place peppers, tomatoes, lime juice, onion, cilantro and garlic salt in food processor and blend until desired consistency is reached.