Southwest Quesadilla & Pepper Boats Bento Box
Make extra of these tasty Chipotle Ranch Quesadillas to have lunches ready for a few days. Add in your family's favorite veggies or type of low fat cheese.
Quesadillas can be prepared in the toaster oven by toasting on lowest setting and flipping over half-way through (omit oil if preparing in toaster oven).
Nutrition Tip: Refried beans are low in fat and contain nutrients found in all beans, like protein, iron, and fiber.
How do you #PowerYourLunchbox? Show us your healthy lunchboxes on Instagram using #PowerYourLunchbox.
Looking for more lunchbox solutions?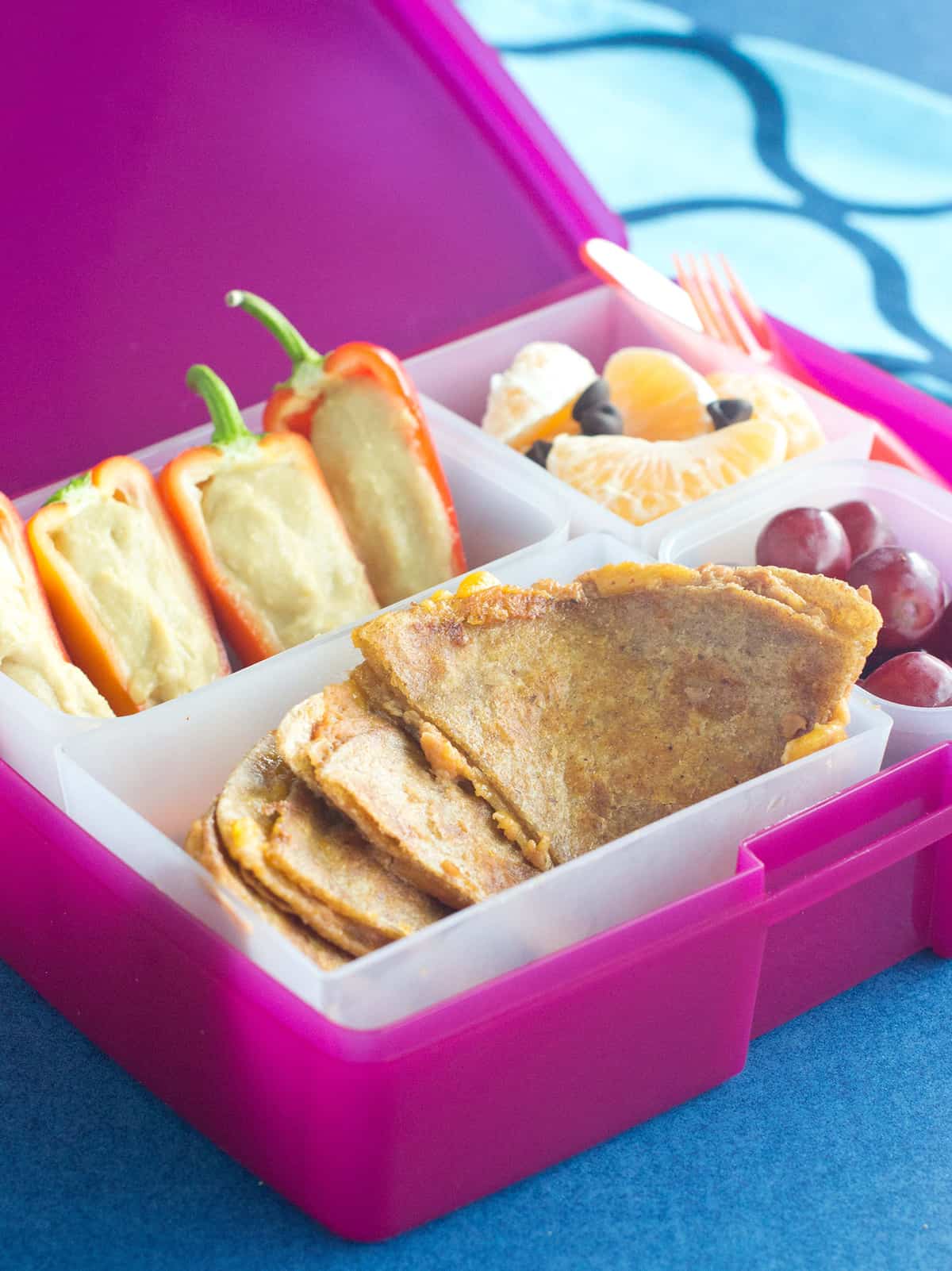 Southwest Quesadilla & Pepper Boats Bento Box
Yield: 2 servings
Prep Time: 10 minutes
Total Time: 10 minutes
Ingredients
1 teaspoon olive oil
2 (8-inch) whole wheat tortillas
2 tablespoons low-sodium refried beans
1 tablespoon chipotle Ranch dressing
3 tablespoons shredded lowfat Cheddar cheese
3 mini sweet peppers, halved, stems removed
1/3 small avocado, diced
1/4 cup hummus
Instructions
Heat oil in skillet on medium-low heat.
Lay tortilla on plate. Spread with beans, drizzle with dressing and sprinkle with cheese. Place second tortilla on top and transfer to skillet. Cook 5 minutes, or until cheese is melted, flipping halfway.
Cut into wedges and serve warm or cold.
Fill pepper halves with avocado. Top with hummus. For extra boat flair, add toothpick on top with small paper triangles taped to the top.
Nutrition Information:
Yield: 2
Amount Per Serving:
Calories: 264
Total Fat: 14g
Cholesterol: 11mg
Sodium: 237mg
Carbohydrates: 28g
Fiber: 8g
Sugar: 11g
Protein: 7g