Healthy Southwest Quesadillas & Pepper Boats Bento Box
Ready for a super tasty new lunchbox idea? This Southwest Quesadilla & Pepper Boats Bento Box is loaded with veggies, protein, and flavor. The whole family will enjoy these quesadillas and will love snacking on the stuffed mini sweet peppers.
This year we are cooking up and experimenting with new lunchbox recipes that are loaded with protein for the kids. This Southwest Quesadilla & Pepper Boats Bento Box was fun to make and great for something different. Refried beans, hummus, avocado, and sweet peppers make this an ultimate healthy lunch for the whole family. Make an extra batch of these tasty Chipotle Ranch Quesadillas to have lunches ready for a few days. You can customize these with your family's favorite veggies or type of low fat cheese.
Why is protein important for children?
Protein is present in every part of our body and we all need it to help repair and maintain tissues and muscle in the body. From infants to adults we all require different amounts of protein in our bodies. Natural protein from food is the best source over protein supplements and drinks. This quesadilla box is loaded with protein. We have refried beans, hummus which is made from chickpeas, cheese, and whole wheat tortillas. So if anyone in your family is looking to add more protein in their diets, this bento box is perfect!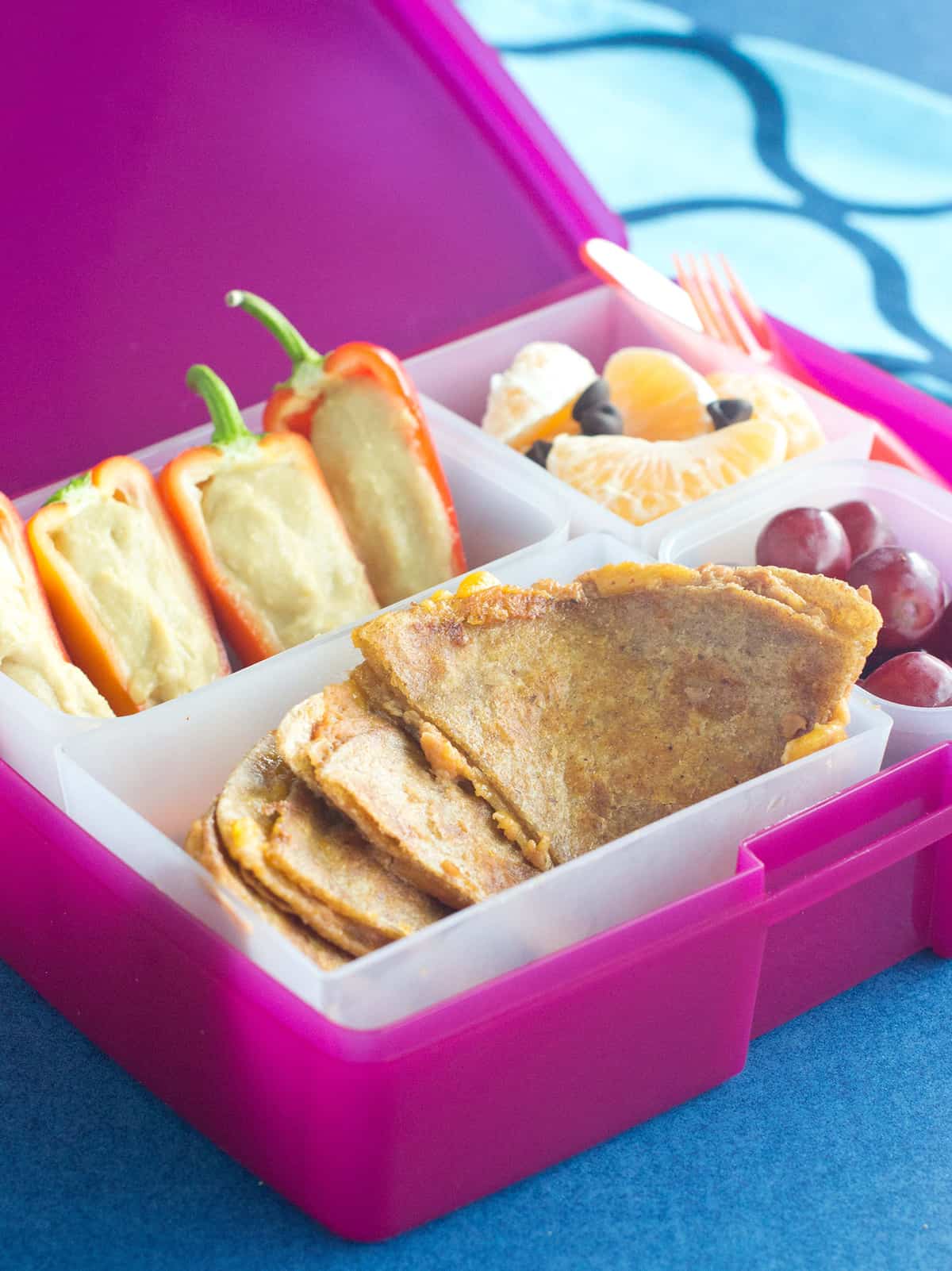 Key ingredients for this Southwest Quesadilla & Pepper Boats Bento Box
Whole Wheat Tortillas– we like whole wheat tortilla for extra nutritional value. You can use whatever flavor you enjoy or even low sodium tortillas, too.
Cheese– cheddar, Colby Jack, or even Pepper Jack cheese would taste great in this recipe!
Hummus– you can buy some hummus pre-made or whip up a batch of our Easy Guacamole Hummus
Avocado– we try to incorporate this power food in many of our recipes.
Mini Sweet Peppers– we love sweet peppers and these stuffed with hummus and avocado are delicious!
Refried Beans– this is a great meatless protein that is loaded with fiber to help fuel everyone through the day.
Delicious Additions To Your Southwest Quesadillas
Shredded Chicken
Lean Ground Beef
Lean Ground Turkey
Leftover taco meat from Taco Tuesday!
Top with fresh cilantro
Add a little squeeze of your favorite BBQ sauce
How to make this quesadilla & mini pepper boats bento box
For the quesadillas:
First start by heating the oil in a skillet on medium-low heat. Then lay the whole wheat tortillas on a clean surface.
Next spread with the refried beans and drizzle with dressing and sprinkle with cheese. Place the second tortilla on top and transfer to warm skillet. Cook for about 5 minutes, or until the cheese is melted, flipping halfway. Then cut into wedges and serve warm or cold.
NOTES: Quesadillas can be prepared in the toaster oven by toasting on lowest setting and flipping over half-way through (omit oil if preparing in toaster oven).
For the mini sweet pepper boats:
Clean and slice the peppers in half lengthwise . Fill each pepper half with the avocado. Top with hummus. For extra boat flair, add toothpick on top with small paper triangles taped to the top.
Make sure to PIN IT!
Nutrition Tip: Refried beans are low in fat and contain nutrients found in all beans, like protein, iron, and fiber.
How do you #PowerYourLunchbox? Show us your healthy lunchboxes on Instagram using #PowerYourLunchbox.
Looking for more lunchbox solutions?
More recipes to try:
Cheese & Bean Quesadilla Bento Box
Smashed Chickpea Salad Stuffed Mini Sweet Peppers