Smashed Chickpea Salad Stuffed Mini Sweet Peppers
Ready for a plant based lunchbox idea that is different, easy , and tasty? These Smashed Chickpea Salad Stuffed Mini Sweet Peppers are so simple and loaded with flavor. With nothing but good, power foods these peppers can help fuel yours and the kids day as a healthy meal! Pair these stuffed peppers up with some of your family's favorite sides, to help make the perfect complete lunchbox meal!
This recipe for Smashed Chickpea Salad Mini Stuffed Sweet Peppers is so simple to make with just a few ingredients. Just mash and mix everything together and you've got a protein-packed vegan dish that's sure to please everyone. The adults and kids alike will love these mini stuffed peppers to help change up their lunch routine.
Mini Sweet Peppers from Pero Family Farms offer a perfect vehicle for this chickpea salad (also great for tuna salad, chicken salad and more!). With a tender yet crunchy texture and sweet taste, they pack a little extra Vitamin C into lunch to give your immune system a nutritious boost.
Key Ingredients for these Smashed Chickpea Salad Mini Stuffed Sweet Peppers
Mini Sweet Peppers-Sweet bell peppers offer a nice crunch and low carb option for the family. These peppers are also sweet and loaded with Vitamins, anti-inflammatory properties, and can even help control diabetes.
Chickpeas– These peas/beans have a nice smooth, creamy texture that are wonderful in many recipes. Chickpeas are also very high in fiber, high in nutrients that help build strong bones, and can even help lower cholesterol!
Avocado– As one of the world's superfoods, Avocados provide a smooth and creamy texture in many dishes. They contain healthy fats that out our body needs and are rich in many minerals and Vitamins.
How to make these Chickpea Salad Stuffed Peppers
First start by mashing the drained chickpeas and avocado in large bowl until desired consistency is achieved.
Next add the lime juice, garlic powder, salt, and pepper and mix well.
Then fill the mini sweet peppers with the chickpea salad.
If turning it into a bento box, pack with the mini sweet peppers, crispy fruit, Ranch dip and veggies. ENJOY!
Make sure to PIN IT!
How to turn these stuffed peppers into a Bento Box
We love making lunchbox or bento boxes at our house. This kids can help which gets them excited about what they are taking! Have them pack whatever their favorite sides are for lunch.
We rounded out this lunchbox with a few veggies and Litehouse® Homestyle Ranch for dipping. This veggie-packed lunch will help fuel kiddos through the rest of the day.
I also love Crispy Green® crispy fruit for lunchboxes. It's 100% fruit and nothing else. They come in flavors like strawberry, mango and my favorite, pineapple.
How do you #PowerYourLunchbox? Show us your healthy lunchboxes on Instagram using #PowerYourLunchbox.
Looking for more lunchbox solutions?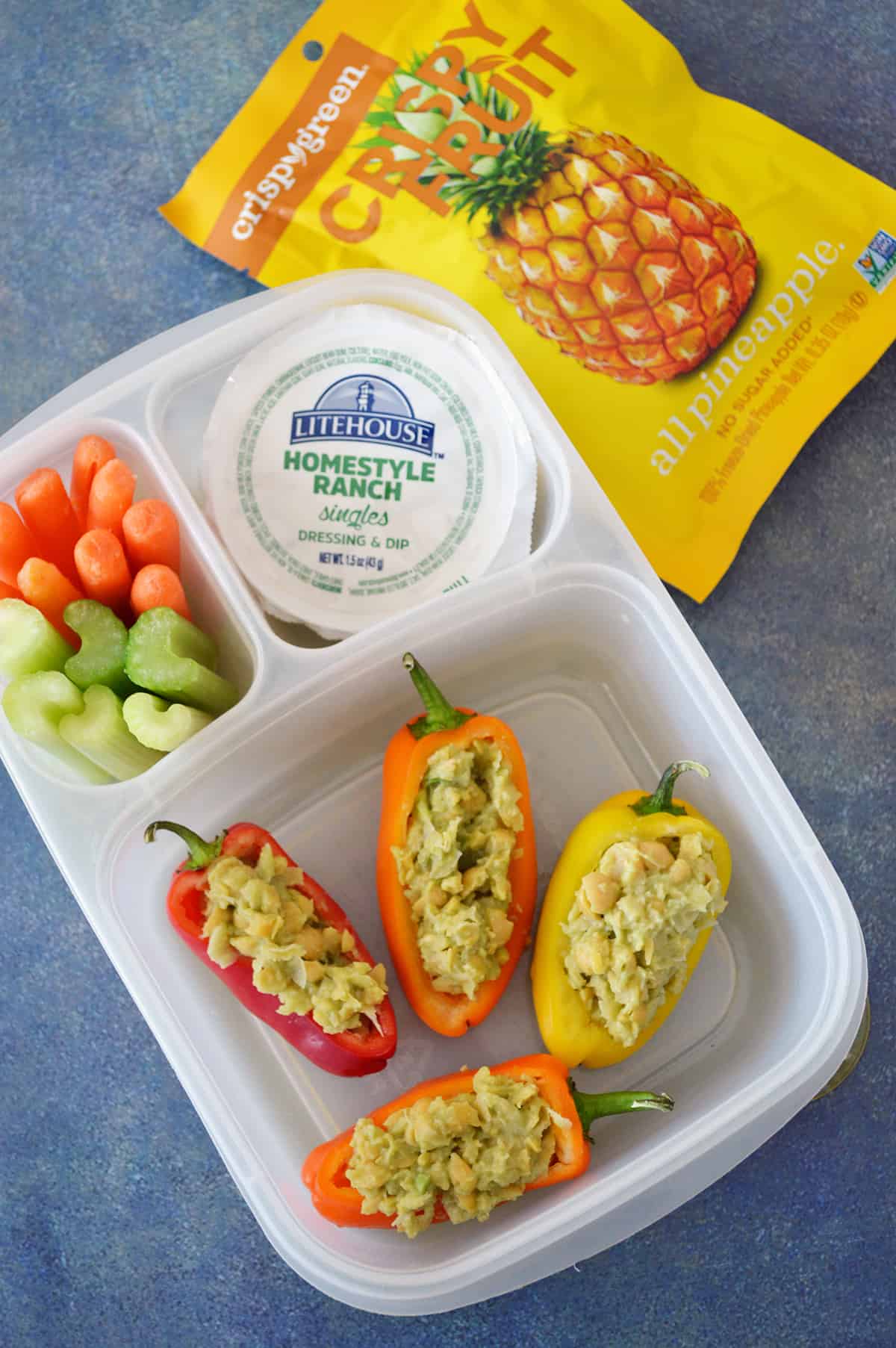 We hope your family loves this lunchbox ideas as much as we did! Make sure to check out all of our other healthy lunch ideas, tips and tricks, and more to get your mornings started off right!