Cheese & Bean Quesadilla Bento Box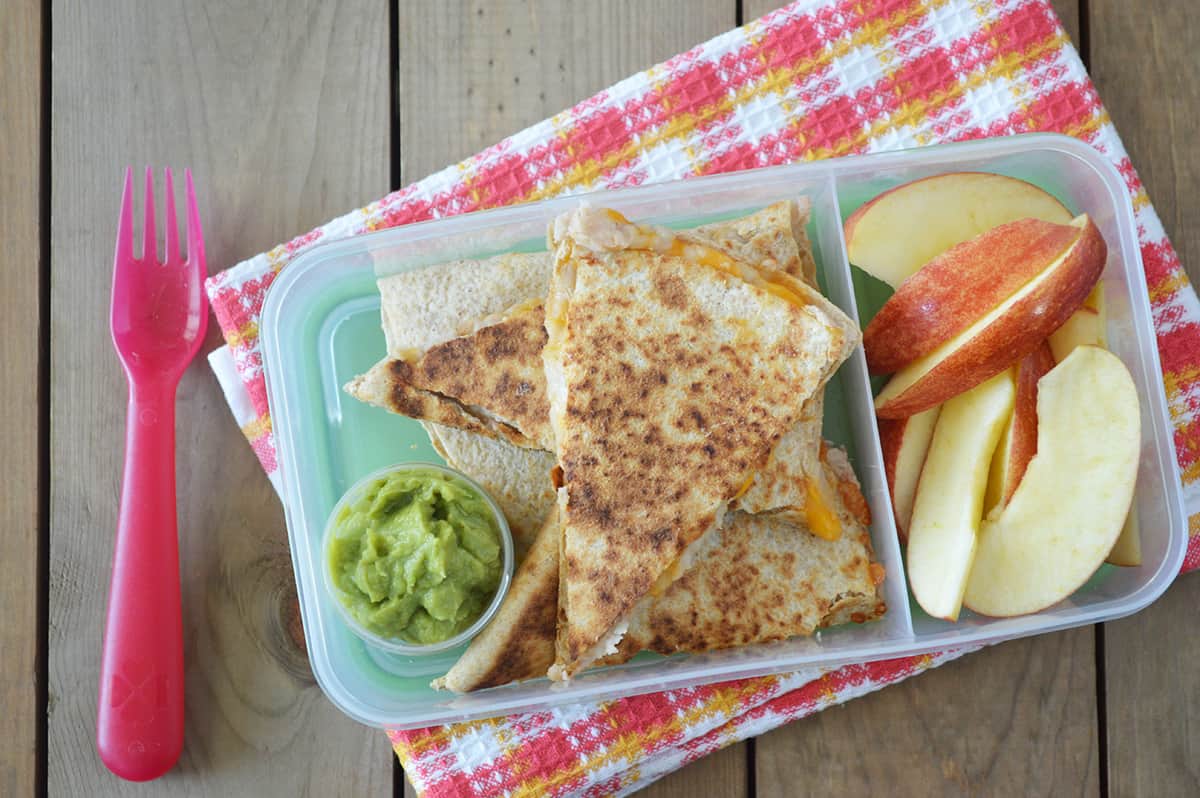 This lunchbox is packed with fiber and protein to keep your kiddo fueled all day at school! This Cheese & Bean Quesadilla Bento Box is simple to prep and assemble for a different lunch idea this year. Customize your quesadillas by adding veggies like spinach, peppers, or mushrooms. This recipe is great for the adults too for a power lunch.
Every year we try to come up with a few new lunch ideas to help keep the kids (and ourselves) interested in their lunch boxes. A few weeks ago we made these Fruity Pita Quesadillas. The kids loved them and I liked how easy there were to assemble. So I knew I wanted to keep experimenting with a quesadilla version lunch. This Cheese & Bean Quesadilla Bento Box is perfect to pack because they don't have to be heated to enjoy and are loaded with protein. We kept ours simple with the two ingredients in the filling. But if you like you can add some vegetables, too. Then make sure to add your favorite fruits or vegetables into the bento box for a complete meal.
Key Ingredients for this Cheese & Bean Quesadilla Bento Box
Whole Wheat Tortillas– where we can, we substitute whole wheat products for extra nutrients. Tortillas are one of these items because there really isn't a difference in taste, but there is more nutritional value in them.
White Beans– our kids definitely need protein in their diets and beans are a great way to help get their daily amount. White beans are mild in taste and loaded with fiber, protein, iron, and healthy carbs.
Cheese– Another great source of protein and calcium, cheese makes many meals better and more tasty! So we loaded ours up with Mexican style shredded cheese, but you can use whatever cheese you have on hand!
Apples– We packed apple slices for our side in this bento box. Apples are loaded with fiber, Vitamin C, and many other health benefits. The kids love them so we always have them. Pack up your favorite fruits and veggies that you have!
Make sure to serve these cheese and bean quesadillas up with our Easy Guacamole Recipe!
Nutrition Tip: Beans are one of the most affordable, sustainable proteins around. They're also loaded with two kinds of fiber: soluble to help lower cholesterol levels and insoluble to help ward off constipation.
How to make these Cheese & Bean Quesadillas
First start by heating a skillet over medium heat. Next spread the smashed white beans out on to the tortilla.
Top with the shredded cheese. Then fold in half and place in the hot skillet.
Cook 2-3 minutes per side or until the tortilla is crisp and the cheese melts.
Cut into fourths and place into bento box with your favorite sides like apple slices, vegetables, sour cream, and guacamole!
Make sure to PIN IT!
How do you #PowerYourLunchbox? Show us your healthy lunchboxes on Instagram using #PowerYourLunchbox.
Looking for more lunchbox solutions?
More Recipes to Try: