These fruit and peanut butter quesadillas are a nutritious twist on traditional peanut butter and jelly. Ready in just minutes these fruity pita quesadillas are a perfect school lunch idea or after school snack.
We love making quesadillas in our house. Quesadillas are easy to make and you can fill them with just about anything! We make savory quesadillas for dinner regularly, but we really love making sweet quesadillas. We gave quesadillas a fruity spin by adding strawberries, SunGold kiwi and grapes! Since these fruity pita quesadillas are so easy to make, be sure to let kids assemble their own for the fun lunchbox idea or after school snack.
Strawberries and SunGold kiwi are the perfect sweet combo and pack a punch of Vitamin C to keep colds at bay. Ever tried a Zespri™ SunGold Kiwi? It's sweeter than the green kiwi you're used to, they unlike anything you've tasted! So if you haven't tried one, be sure to look for them the next time you are at the grocery store.
Nutrition Tip: A serving of kiwi has twice the vitamin C of an orange and as much potassium as a banana in under 100 calories.
I know that some schools are nut-free, you can easily substitute for a nut-free alternative and these fruity pita quesadillas will be equally delicious.
Peanut Butter Alternatives
We rounded out this fruity pita quesadillas lunchbox with some diced grilled chicken from dinner the night before for extra protein and some fresh veggies for dipping.
The best snacks for children are fresh fruits and vegetables as you may have guessed. Do you have picky eaters? No problem. You are bound to find something they like (like these fruity pita quesadillas!), especially if they see their parents eating it or if you encourage them to help you in the kitchen.
The best way to serve fruit and fresh vegetables is to cut up and be ready to eat. You can do this yourself and save money if you have time. Chop up cleaned raw celery, cucumbers, or peeled carrot sticks. Put them in plastic colorful containers or zipper bags. You can prepare these little goodie bags ahead of time so they are ready to go in the morning rush. We also like cutting our veggies in fun shapes, everyone likes fun shapes in their lunches! And don't forget the dip!
More Fruit Quesadilla Ideas
How do you #PowerYourLunchbox? Show us your healthy lunchboxes on Instagram using #PowerYourLunchbox.
Looking for more lunchbox solutions?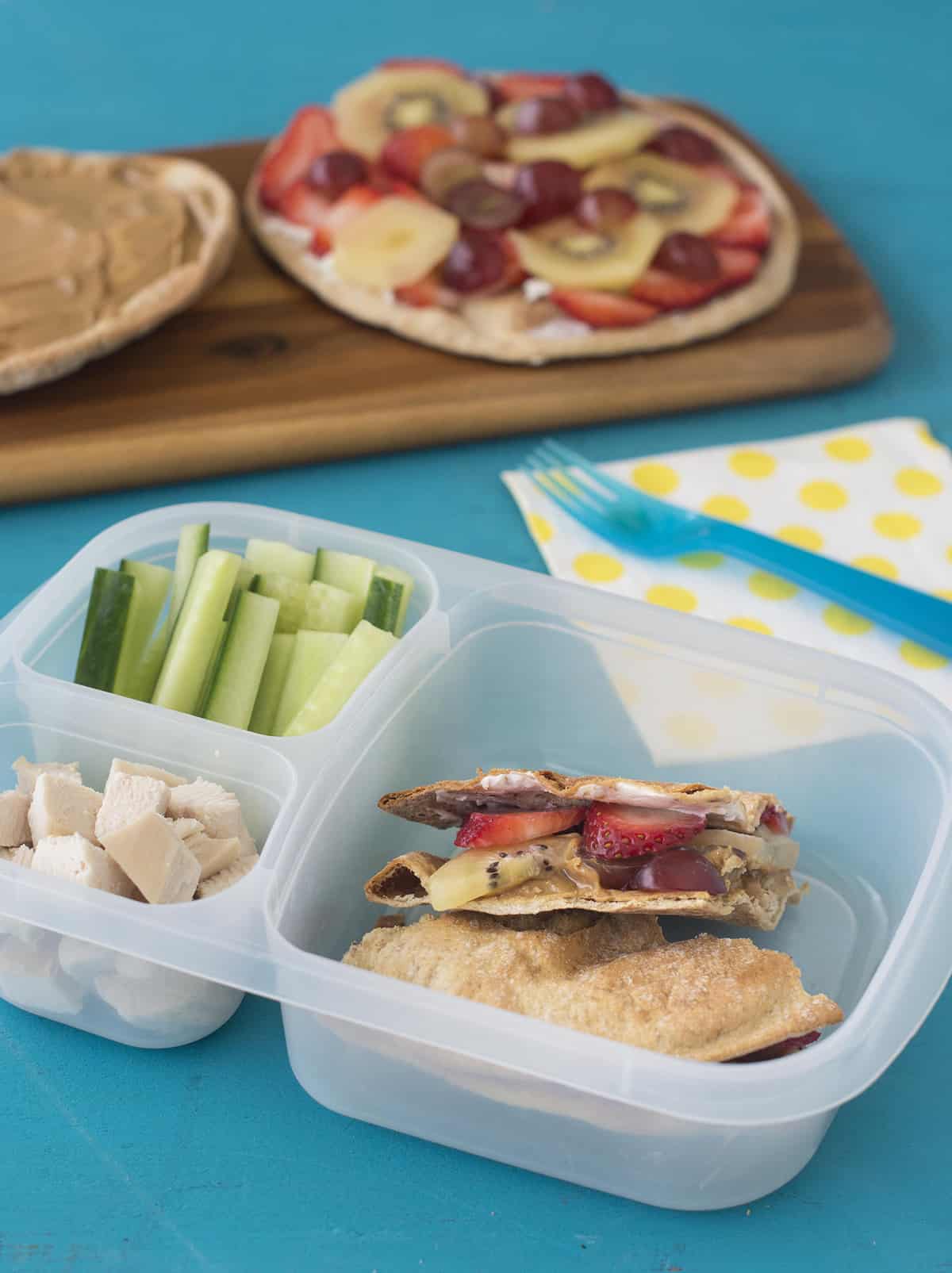 Fruity Pita Quesadillas
Give quesadillas a fruity spin by adding strawberries, SunGold kiwi and grapes! Let kids assemble their own for the fun lunchbox idea.
Ingredients
4 whole wheat pitas
1/4 cup lowfat cream cheese
6 strawberries sliced
1 Zespri™ SunGold™ kiwi sliced
1/4 cup red seedless grapes
1/4 cup peanut butter
Instructions
Preheat oven to 350°F.

Place flatbreads directly on oven rack and bake 5 minutes. Remove from oven and let cool 10 minutes.

Spread cream cheese on 2 flatbread rounds and layer with strawberries, SunGold kiwi and grapes. Spread peanut butter on other 2 flatbread rounds and place on top of fruit. Slice into 4 sections.
Notes
Make these quesadillas nut free by using your favorite sunbutter or soybutter.
Nutrition
Calories: 260kcalCarbohydrates: 32gProtein: 10gFat: 12gCholesterol: 8mgSodium: 311mgFiber: 5gSugar: 5g