How To Make Fruit Cornucopias
Ready for a fun, healthy, and festive treat for Thanksgiving? Create a fun display for your Thanksgiving table with these Fruit Cornucopias. Waffle cones loaded with some fresh fruit for a creative touch on your holiday spread!
What is a cornucopia you may ask? The cornucopia also known as "the horn of plenty" is a symbol of abundance, nourishment, and harvest. Over the years it has become a Thanksgiving staple. What better way to celebrate and give thanks than with a healthy treat that everyone can enjoy, especially the kids! My kids loved walking around with these cones and snacking on their favorite fruits. The adults got a kick out of them as well.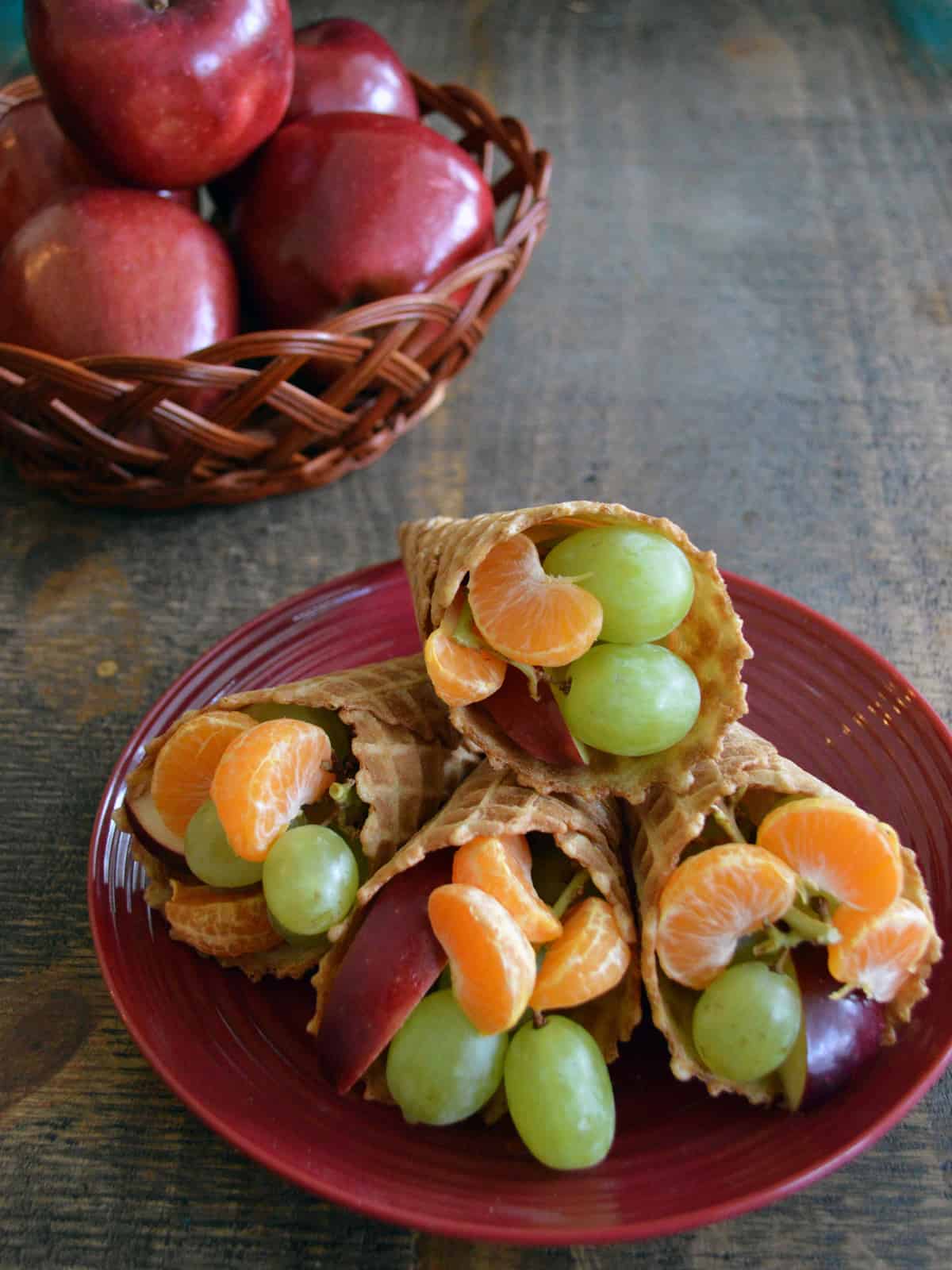 Making these Fruit Cornucopias is also a great activity to keep the kids busy, set them up with cones and fruit and let them create their own. If one of them likes a fruit more over another, let them customize. My kids actually made these with their friends after school one day and then we decided to make them again for Thanksgiving!
This is a great little project and while you are at it- even a little history lesson can get tossed in there! You can fill the kids in on what a cornucopia is. Let them know that fresh fruits and vegetables used to get placed in (horn shaped) baskets and were often given as a gift of thanks. A little appreciation for the past would be a great thing!
I loved that these were so simple, yet super festive. I am not huge into decorating but I used these to brighten up our table. Once assembled, just lay them out on a platter for an easy centerpiece. Perfect! And if you are hosting for the first time, we have some tips & tricks to help you, too.
Key Ingredients for these Fruit Cornucopias
Waffle Cones- these cones give the horn look but sugar cones would work, too.
Apple– A family favorite, just slice them up. Any color or variety will do. To keep them from browning put a little lemon juice on them or even soak in a lemon-lime soda.
Mandarins– these little bite sized oranges are always a hit with the kids. Juicy, easy to eat, seedless, and delicious! The perfect Thanksgiving color, too!
Green Grapes – we used green grapes, but purple would work just as well. Just give them a little wash and take them off of the stems.
How to assemble these Thanksgiving Fruit Cornucopias
First wash and prep all of the fruits that you are going to be using. We sliced up the apples, peeled the mandarins, and removed the grapes from the stem. Like I said before green or purple grapes work here.
Then place a little of each fruit into the cones. Place on a platter and serve. Enjoy and Happy Thanksgiving from our family to yours!
Make sure to PIN IT!
Fruit Cornucopias
Create a fun display for your Thanksgiving table with these fruit cornucopias.
Ingredients
4 waffle cones
1/2 apple sliced
2 mandarins peeled, segmented
1 cup green seedless grapes
Instructions
Fill cones with apples, mandarins and grapes. Place on platter for serving.
Nutrition
Calories: 101kcalCarbohydrates: 24gProtein: 1gFat: 1gSaturated Fat: 1gPolyunsaturated Fat: 1gMonounsaturated Fat: 1gSodium: 32mgPotassium: 184mgFiber: 2gSugar: 15gVitamin A: 337IUVitamin C: 14mgCalcium: 26mgIron: 1mg
More recipe to try:
Thanksgiving Turkey Snack Board
Fun & Healthy Thanksgiving Treats for Kids