Thanksgiving Crafts, Tablescapes, Treats & More!
Thanksgiving is less than two weeks away! We're too excited to see our relatives, have fun crafting with the kids, watch the Macy's Day parade, and of course enjoy all of the delicious Thanksgiving food.
Besides all the yummy food, we love the tradition of taking a moment to truly give thanks and value all the good things in our lives. It's so important that my little ones understand how fortunate they are and I love finding fun crafts that focus on that like gratitude trees and turkey thank you cards.
In our latest Facebook Live event, we showcased a few easy ways to celebrate Thanksgiving with the kiddos from fun tablescapes and food art to gratitude crafts and holiday party prep hacks.
There's no need to run out and buy a bunch of supplies. Have fun creating unique tablescapes and crafts with the supplies you have at home.
Holiday Party Hacks
Before we jump into all the fun holiday activities, let's get into some holiday prep hacks! Whether you're keeping it small or hosting 20+ people, there's a lot that goes into getting ready for your holiday celebration.
Stay organized by creating a timeline of everything you need to do on the days leading up to Thanksgiving. From picking up your turkey, deciding on side dishes, and making a shopping list, you'll stay sane if you take a few minutes to plan everything out.
The more you can do ahead of time, the better. Certain dishes like pies and mashed potatoes can be made ahead of time and reheated on the day of. If you can't prepare it days in advance, check your recipes to see what you can pre-chop or assemble and keep in the fridge.
Don't forget about your kitchen appliances! Save oven space by preparing dishes in your slow cooker and Instant Pot. This slow cooker mashed potato recipe is a hit every year!
Tablescapes and Decor
Keep it simple! Reuse some of your plainer Halloween pumpkins or pick up a couple of fresh ones at the grocery store. If you have a few glass vases laying around, turn them into nice centerpieces with burlap, pinecones, leaves, and a little ribbon.
Thanksgiving Treats
Speaking of table decor, many Thanksgiving treats double as festive centerpieces for your holiday table. Get the kiddos involved by having them assemble Fruit Cornucopias and this easy Thanksgiving Turkey Fruit Tray.
Jazz up veggies and dip by creating these fun Gobble, Gobble Veggie Cups. All you need is plastic cups, construction paper, and googly eyes. Chef Charli had so much fun making these last year! For more ideas, check out our fun & healthy Thanksgiving treats for kids.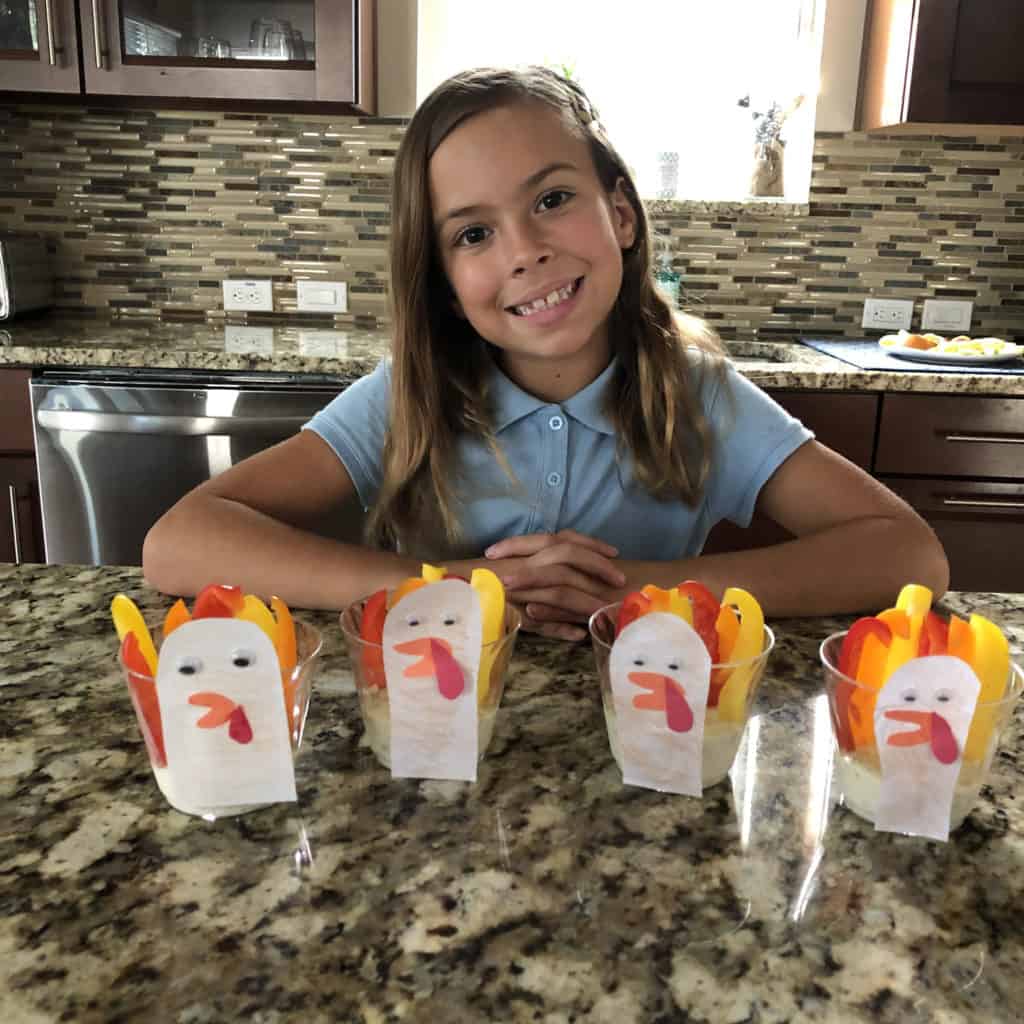 We hope you have an amazing holiday with your loved ones! If you need more inspiration, check out episode #13 of the Healthy Family Project podcast featuring holiday treats and tips from Holley Grainger and don't forget to download our free Festive Flavors e-cookbook.
What's your favorite Thanksgiving dish and tradition? Comment below!