How To Make A Patriotic Charcuterie Board
Everyone loves a charcuterie board. There is just something fun about being able to pick your favorite snacks off of a board. I love making holiday grazing boards, themed grazing boards, breakfast grazing boards, dinner grazing boards…you name it. Plus they are easy to make!
With Memorial Day, 4th of July, and Labor Day all celebrated over the summer I wanted to share how to make a Patriotic Charcuterie Board. I told you, I love working with a theme, and with all the fresh berries in season right now, this seemed like the perfect red, white and blue grazing board.
What kind of board do you have to use to make a charcuterie board?
Don't stress about the board! Have a nice cutting board? That's fine to use! Don't have a cutting board, but you do have a big platter? Go ahead use that. There are a lot of options on Amazon that are reasonably priced if you would like to invest in a dedicated charcuterie board. Trust me, everyone will be looking at all the yummy food on the board, not the board itself.
What is normally on a charcuterie board?
Cured meats
Cheese – make sure you have a variety of cheeses
Crackers or small pieces of good bakery bread
Fresh fruit – I used strawberries, blackberries, blueberries and raspberries as they matched my patriotic-theme, but feel free to switch it up. Just be sure to use fruit that is a good finger food or have them on skewers.
Dried fruit
Jam, Jelly or Honey – these are delicious on those cured meats and cheeses
Nuts – you can leave these off for a allergen-friendly board
Dip – I like adding a simple fruit dip if there's room on the board, but it's not required
Since I made this one for a summer party, I added in those yummy yogurt covered pretzels, my kids love them and they matched the red, white and blue theme that I was using for this Patriotic charcuterie board.
Tips for Assembling an Instagram-Worthy Board
Start by adding your larger or focal point items to the board. Play around with the placement leaving room for smaller or fill-in ingredients.
Get creative! My plan was to place berries all over the board, but I created a few skewers to break up the berry piles, plus they're convenient for guests!
I always like to have some sort of garnish or finishing touch. Whenever I'm not feeling my board creation, I figure out my garnish and it usually helps bring everything together. Some of my tried and trues are rosemary, mint, basil, lemon zest, and slivered almonds.
Can you store leftovers from your Patriotic grazing board?
You sure can, but I doubt you will have any leftovers! But, if you do, I recommend storing each ingredient in a separate ziplock bag or air tight container. Refrigerate the items that should be kept cold.
Looking for more Red White and Blue Recipes? Here are some of our favorite patriotic-themed recipes.
Do you like to make grazing boards? What is one of your tips for making the perfect grazing board?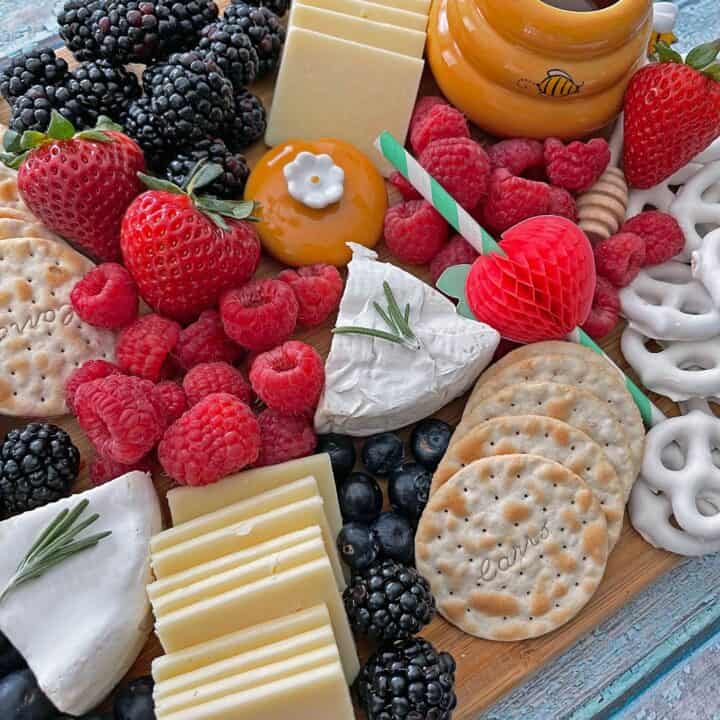 Patriotic Charcuterie Board
Everyone loves a grazing board. There's just something fun about eating all your favorite fruits, meats, cheese and more off a board. Plus they're pretty! Here's how to make the perfect Patriotic charcuterie board.
Yield: 4-6
Prep Time: 30 minutes
Total Time: 30 minutes
Ingredients
Strawberries
Raspberries
Blackberries
Blueberries
Mini white chocolate covered pretzels
Brie
White cheddar cheese, sliced
Honey
Greek yogurt
Salami, sliced
Rosemary, for garnish
Table Water Crackers
Instructions
Assemble board with desired ingredients.

Garnish with rosemary sprigs.
Notes
The exact amount of each ingredient you will need will vary on the size of the board and how many people you are feeding. Feel free to get creative and experiment.
Recommended Products
As an Amazon Associate and member of other affiliate programs, we may earn a commission from qualifying purchases.