Zucchini & Summer Squash Frittata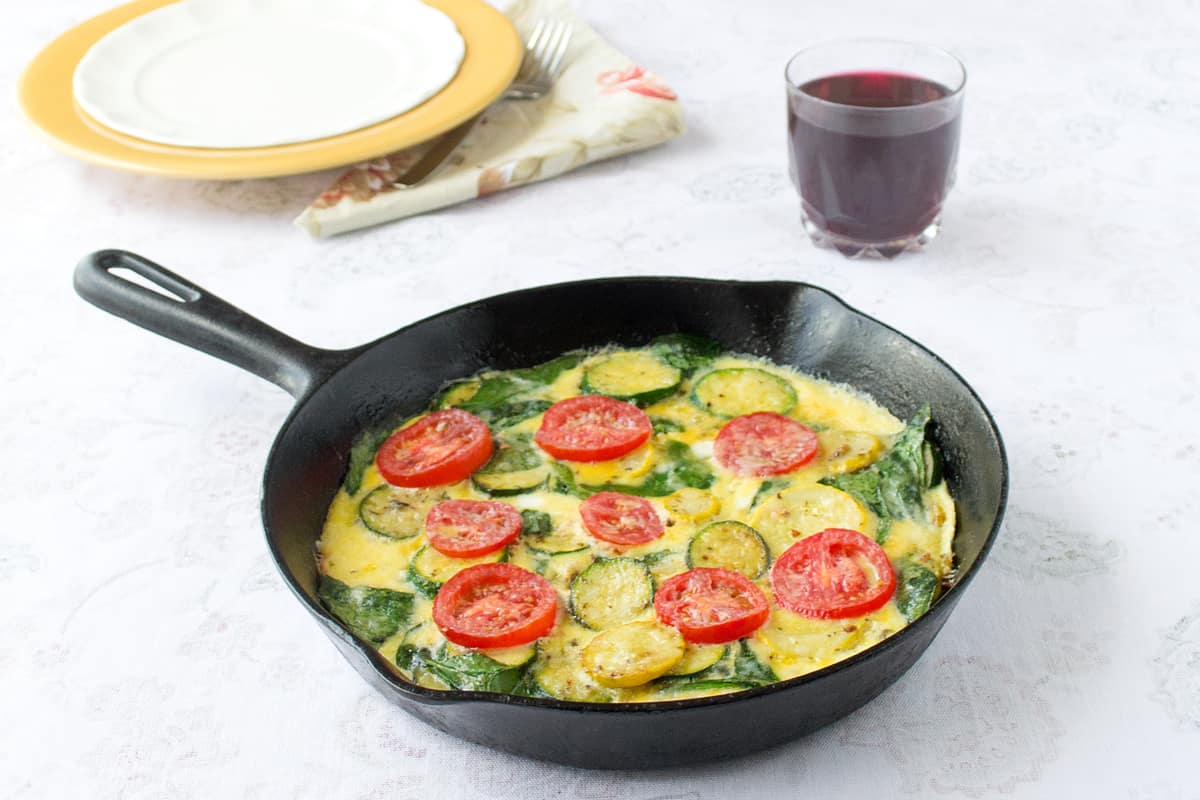 I love making frittatas. They are ready in about 20 minutes, they are super easy to make, and you can add just about any fresh vegetable to it. So, depending on what is in season, you can easily customize your frittata creations.
Nothing is better than fresh zucchini or summer squash from the garden. And since I currently have a bunch of both of them, I decided a delicious frittata was in order. This easy frittata recipe is perfect for breakfast, lunch or dinner and is another great way to sneak some yummy vegetables onto the plate.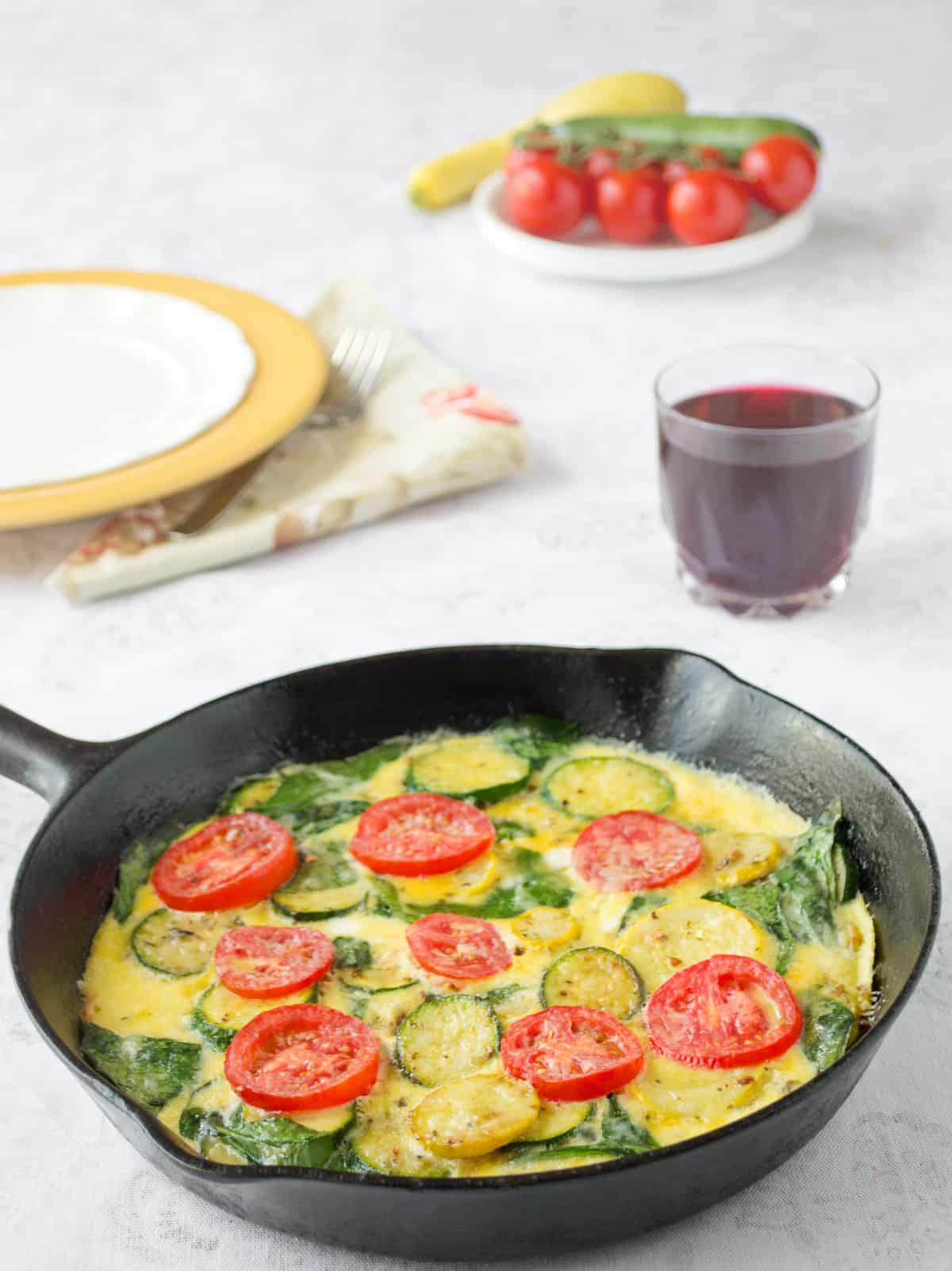 What is a frittata?
A frittata is an egg-based meal that is similar to an omelette or crustless quiche. You can add in additional ingredients such as fresh vegetables (like my zucchini and summer squash), meats and cheese.
What's the difference between a frittata and an omelette?
An omelette is usually made for one person, and typically folded in half while cooking. A frittata can usually serve at least 4 people and is not folded. It is also sometimes started on the stove and finished in the oven.
What are the key ingredients in a frittata?
Yep, eggs are the most important ingredient. Every thing else you add in to your frittata is really whatever you feel like. We love adding fresh veggies from the garden, like in this Zucchini and Summer Squash Frittata. This Butternut Squash and Spinach Frittata is also a crowd-pleaser.
What do you serve frittata with?
Frittata is one of those dishes that I think work great for breakfast or dinner. If you are serving your frittata for dinner, I would recommend pairing it with a nice lettuce and spinach salad. If you are serving your frittata for breakfast, I would add in some fresh fruit as a side, some banana slices, strawberries and blueberries would be delicious, but feel free to serve up your favorite.
How do you store leftovers?
Well, we almost always never have any leftovers, but if you do, you can store them in the refrigerator in an air-tight container for up to 3 days.
Nutrition Tip: Eggs are filled high-quality protein, iron, vitamins, minerals, and carotenoids. Eggs also have disease-fighting nutrients like lutein and zeaxanthin.
Zucchini & Summer Squash Frittata
This easy zucchini and summer squash frittata is ready in about 20 minutes and is delicious for breakfast, lunch or dinner! Serve with fresh fruit for added nutrition.
Ingredients
1 tablespoon olive oil
1 small zucchini sliced into 1/4-inch rounds
1 medium yellow squash sliced into 1/4-inch rounds
1 clove garlic minced
1/2 teaspoon Italian seasoning
1/8 teaspoon red pepper flakes
1/2 cup baby spinach chopped
3 large eggs beaten
1/4 cup grated Parmesan cheese
1 small tomato sliced
Instructions
Heat oil in nonstick skillet over medium heat; add zucchini, squash, garlic, Italian seasoning and red pepper, and cook 10 minutes, or until zucchini and squash are tender. Add spinach and cook 3 minutes, or until tender.

Pour eggs and cheese over cooked vegetables. Top with sliced tomatoes and cook 5 minutes, or until egg mixture has set.
Nutrition
Calories: 130kcalCarbohydrates: 5gProtein: 8gFat: 9gSaturated Fat: 3gPolyunsaturated Fat: 1gMonounsaturated Fat: 4gTrans Fat: 1gCholesterol: 128mgSodium: 153mgPotassium: 411mgFiber: 2gSugar: 3gVitamin A: 1059IUVitamin C: 23mgCalcium: 115mgIron: 1mg