Food Rx: Creamy Peanut Butter Ricotta Arctic Apple Dip
We've teamed up with Julie Harrington, registered dietitian and culinary nutrition chef in a series focusing on the important role food plays in overall health. In today's Food Rx episode, we're talking about all things apples and we have a delicious Creamy Peanut Butter Ricotta Apple Dip recipe, so be sure to watch the video. Disclosure: This post is sponsored by Arctic Apples. All opinions are our own.
It's no secret that we love apples. You will find dozens of apple recipes here on the blog. While apples tastes great in both sweet and savory dishes, we actually love apples not only because they taste great, but because of the many health benefits. So be sure to scroll down to watch Julie discuss the health benefits of apples, how they make for a deliciously easy snack, and how they encourage getting kids involved in the kitchen. Video below!
Health Benefits Of Apples
Apples contain soluble fiber and polyphenols that have been linked to a lower risk of heart disease and stroke.
The high fiber content of apples helps control blood sugar levels and aids in digestion.
Apple skin is rich in antioxidants that can aid in reducing inflammation, regulating immune health, and protecting the lungs from oxidative damage.
One medium-sized apple contains 14% of your daily recommended intake of Vitamin C.
You've all heard the saying "An apple a day keeps the doctor away", well, it's not just a saying! As you can see, there are many health benefits to enjoying an apple.
But, sometimes enjoying an apple isn't all that convenient, is it? Whole apples don't fit in bento boxes, they aren't super convenient for a grab and go snack, and if the kids make the yummy peanut butter ricotta apple dip recipe below, you may not want them cutting up the apple on their own.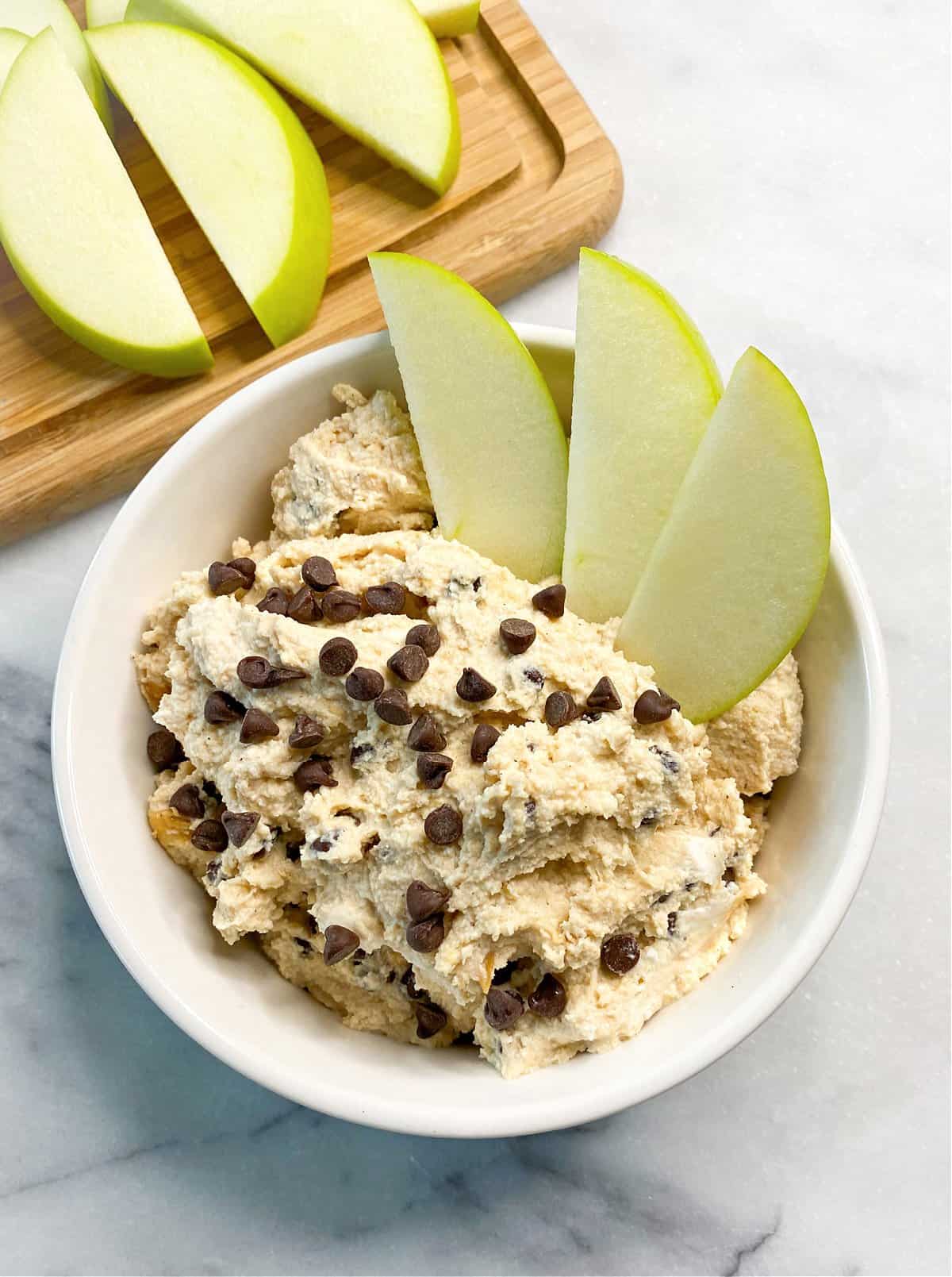 And that's why we love Arctic Apples.
In this episode of Food Rx, Julie discusses not only the health benefits of apples, but the many reasons to make sure you have Arctic Apples in your refrigerator this season. And beyond 🙂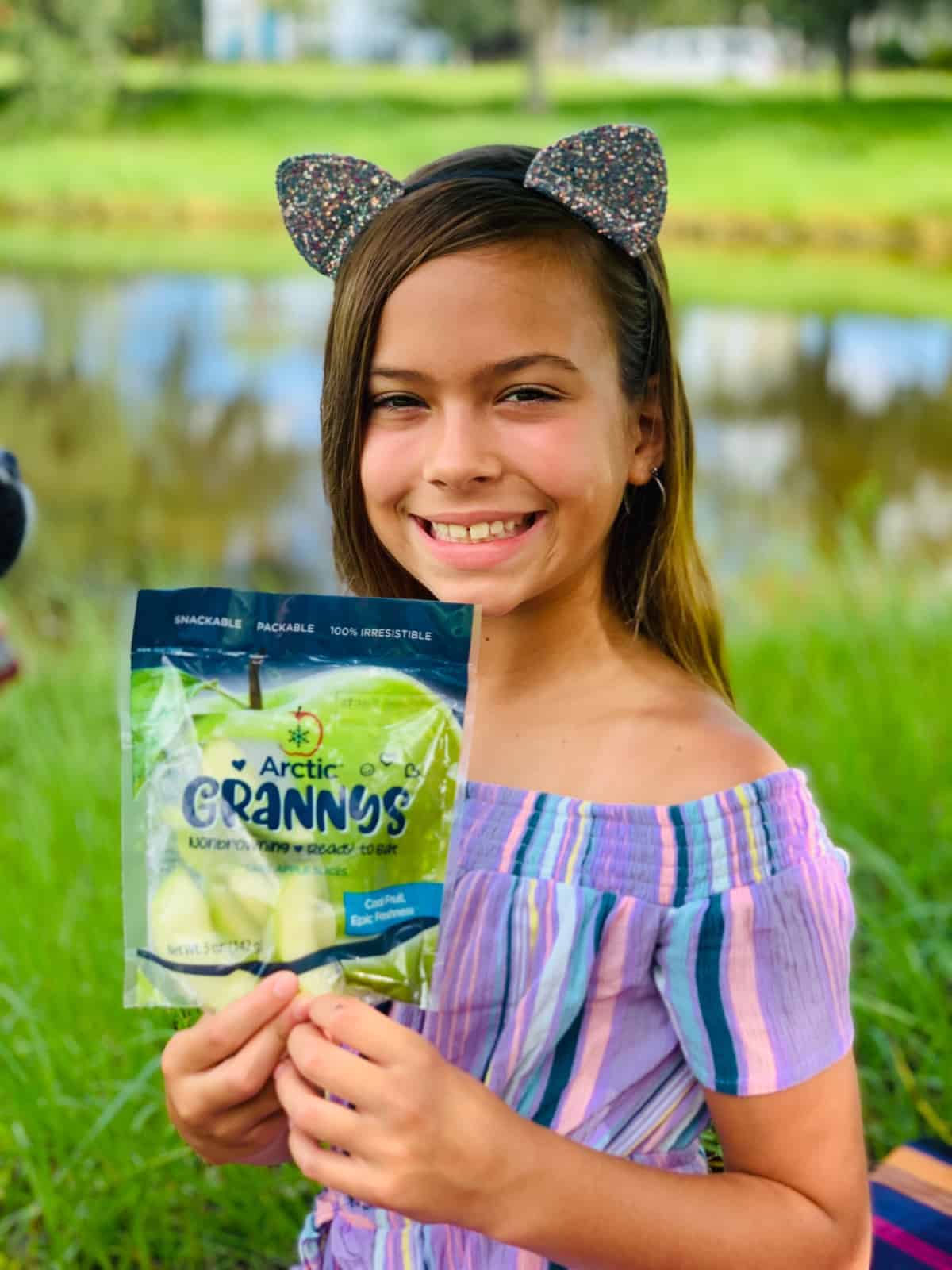 Arctic® Granny – tart and crisp
Arctic® Golden – sweet and crunchy
Arctic® Fuji – Coming Soon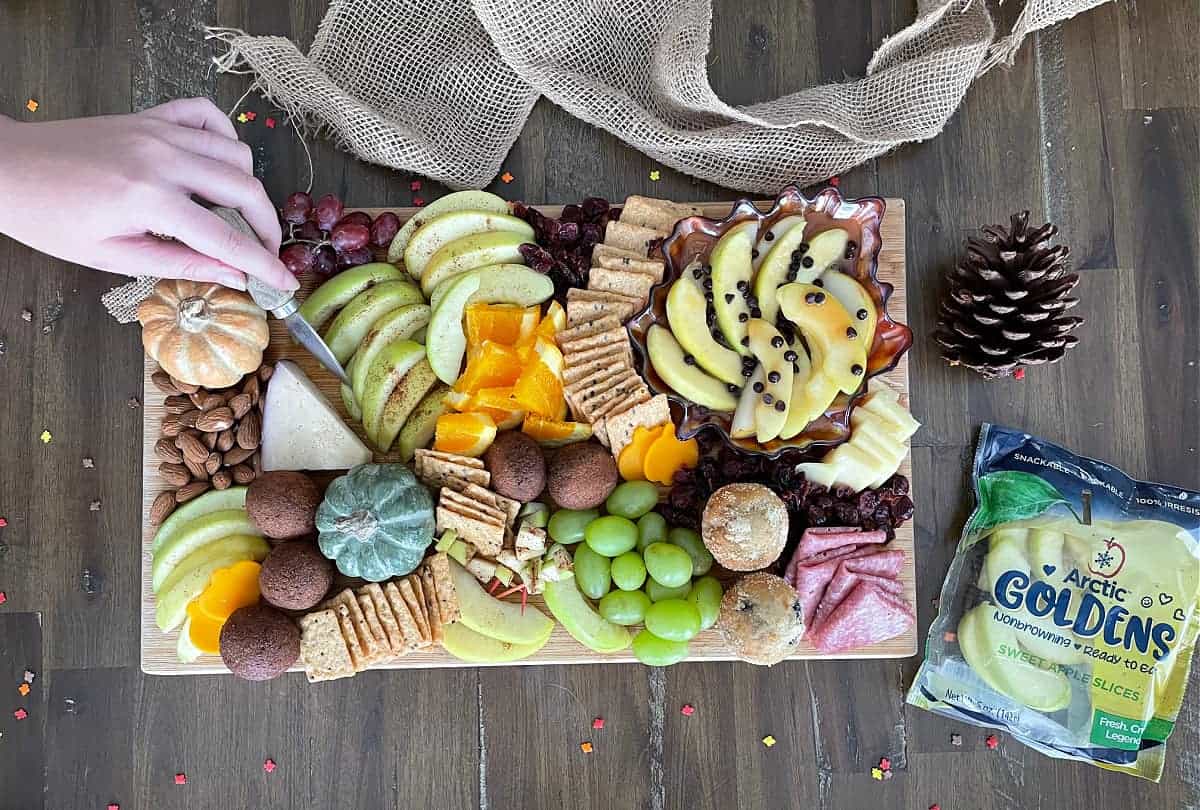 Why we love Arctic Apples
Arctic Apples are non-browning, packable and snackable. They are perfect for adding to yogurt parfaits, lunchboxes, on top of salads, in sandwiches and wraps, on snack boards, as dessert and so much more!
Where to buy Arctic Apples
Purchase Arctic® apples online through Amazon Fresh in select markets or through the Flavor Wave app in Los Angeles.
Creamy Peanut Butter Ricotta Arctic Apple Dip FAQs
Q: How long does peanut butter ricotta apple dip take to make?
A: This easy apple dip comes together in just 3 minutes.
Q: What can you use instead of ricotta cheese?
A: Greek yogurt or cottage cheese could substitute for the ricotta.
Q: Does peanut butter ricotta apple dip require any cooking?
A: Nope, this is a no-bake apple dip perfect for snacking.
Q: What apple varieties work best for peanut butter ricotta apple dip?
A: Arctic Apples are recommended, but any crisp apple like Honeycrisp or Gala will work well.
Q: Is this peanut butter apple dip kid-friendly?
A: Yes, it's creamy, sweet and perfect for kids and adults!
Q: Can you make this dip ahead of time?
A: The dip can be prepared 1-2 days in advance and stored covered in the fridge.
Ok, now, let's make that delicious Peanut Butter Ricotta Apple Dip shall we?
Creamy Peanut Butter Ricotta Arctic Apple Dip
Looking for the perfect apple dip? Then look no further than this easy Ricotta Peanut Butter dip. Ready in just minutes, it's great as a snack or dessert!
Ingredients
1 cup ricotta
2 tbsp smooth peanut butter
1 tsp honey
¼ tsp cinnamon
Arctic Apples
Optional: 1 tbsp mini chocolate chips
Instructions
Add your ricotta to a bowl and use a fork to whisk until light and fluffy.

Mix in peanut butter, honey and cinnamon until well combined.

Top with mini chocolate chips if desired

Enjoy with Arctic Apples
Nutrition
Calories: 639kcalCarbohydrates: 20gProtein: 36gFat: 48gSaturated Fat: 24gPolyunsaturated Fat: 5gMonounsaturated Fat: 17gCholesterol: 125mgSodium: 354mgPotassium: 472mgFiber: 2gSugar: 9gVitamin A: 1096IUVitamin C: 1mgCalcium: 528mgIron: 2mg