Easy Holiday Entertaining Tips For A Stress-Less Holiday Season
Fall is here and the holidays are quickly approaching. While you are planning your family gatherings, we wanted to share these holiday entertaining tips to make the holiday a little stressful. While this post is sponsored by Arctic Apples, all opinions are our own.
Fall is here and with that comes holidays and entertaining family and friends. From Halloween parties to the all day gatherings that celebrate our thankful hearts, there is just something about Fall and the cooler months that calls for entertaining. So, today I am sharing some tips for fall and holiday entertaining and making sure you have time to still relax and enjoy the season. Use these tips to help you plan for Thanksgiving and Christmas or to help you plan for a day watching movies or your favorite sports teams.
Fall is a time for gathering: a gathering of family members, making memories, enjoying foods, and taking time to give thanks. A simple plan tailored to what can be comfortably carried out and a thankful heart are two of the main ingredients needed for a successful family gathering.
Between the shopping, baking, house cleaning, decorations, calls to invite friends and relatives, along with work and caring for pets and kids, time slips away from us. With a little planning you can make your holiday entertaining easy and gratifying.
Here are a few simple tips for stress-less holiday entertaining
Make a list and delegate a task for everyone. Think cleaning, decorating, etc. You don't have to do it all!
Do your shopping early enough to allow for meal planning and the inevitable extra trip to the market to pick up what was forgotten the first trip.
Have the kids help pick up, dust and vacuum. Set aside a few tasks per day prior to your party to avoid the mad rush at the eleventh hour.
Make some decorations, and plan out your tabelscape early. Need some ideas? We love these Thanksgiving tabelscapes and craft ideas. Handmade decor make for great conversation pieces.
Have each guest bring a part of the meal. Not only does it decrease your work load, but allows everyone to contribute, for which everyone will be thankful.
Planning on having a lot of kids? Consider having a kids table. We have done this in my family forever. It makes the dinner table a bit less hectic.
Make a grazing board for snacking.
Planning Thanksgiving or Christmas dinner for the first time? Don't stress! Here are some additional tips on how to plan that big family dinner and keep your stress level to a minimum.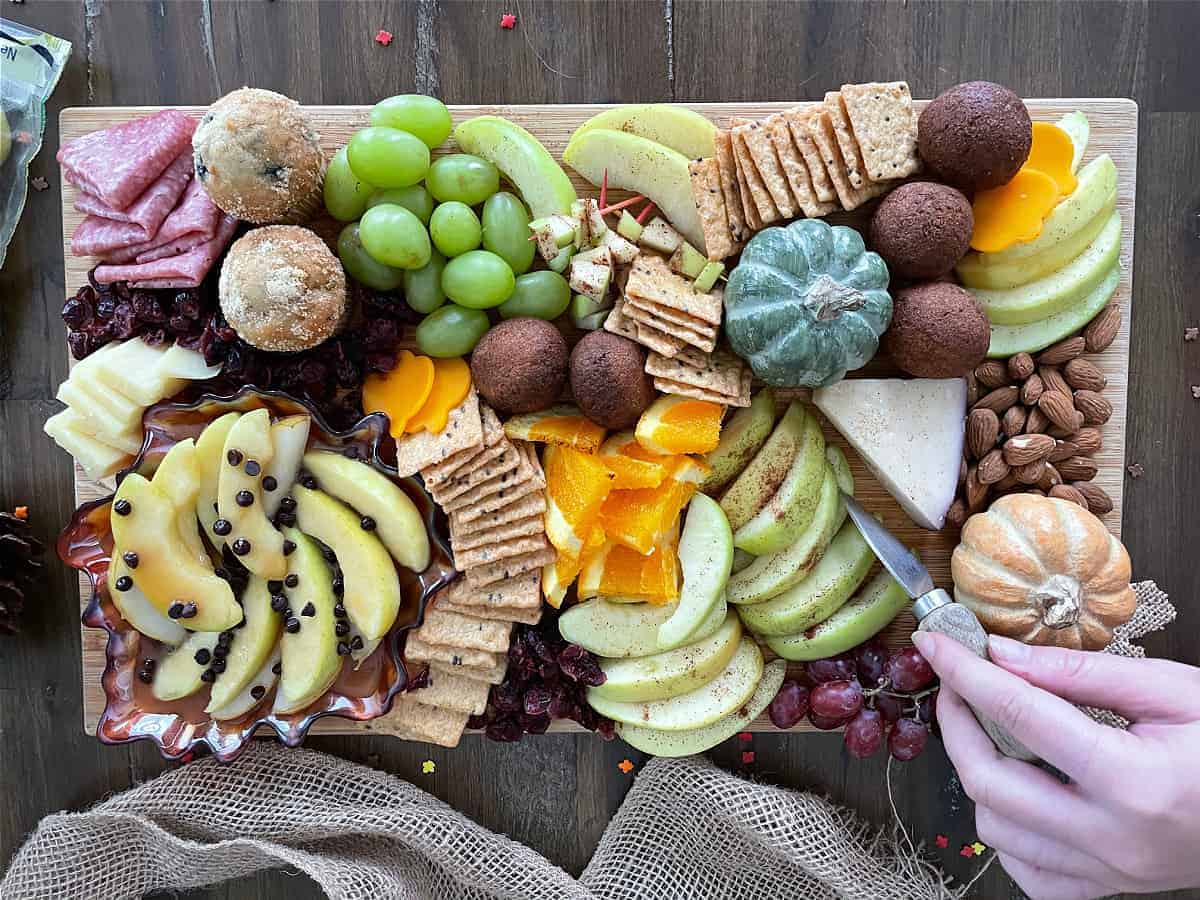 Why we love grazing boards
Grazing boards allow you to highlight seasonal eats and treats. And Fall brings some of our favorite in season produce.
Snack boards are filled all kinds of different foods ready to be sampled and allow your guests to grab their favorites. Be sure to have meats, cheeses, fresh fruit, nuts and individual-sized baked goods are always a yummy addition.
Boards are a great way to entertain, and bring everyone coming back for more.
Charcuterie boards are served at room temperature, so once they are made, you don't have to worry about keeping them warm or cold.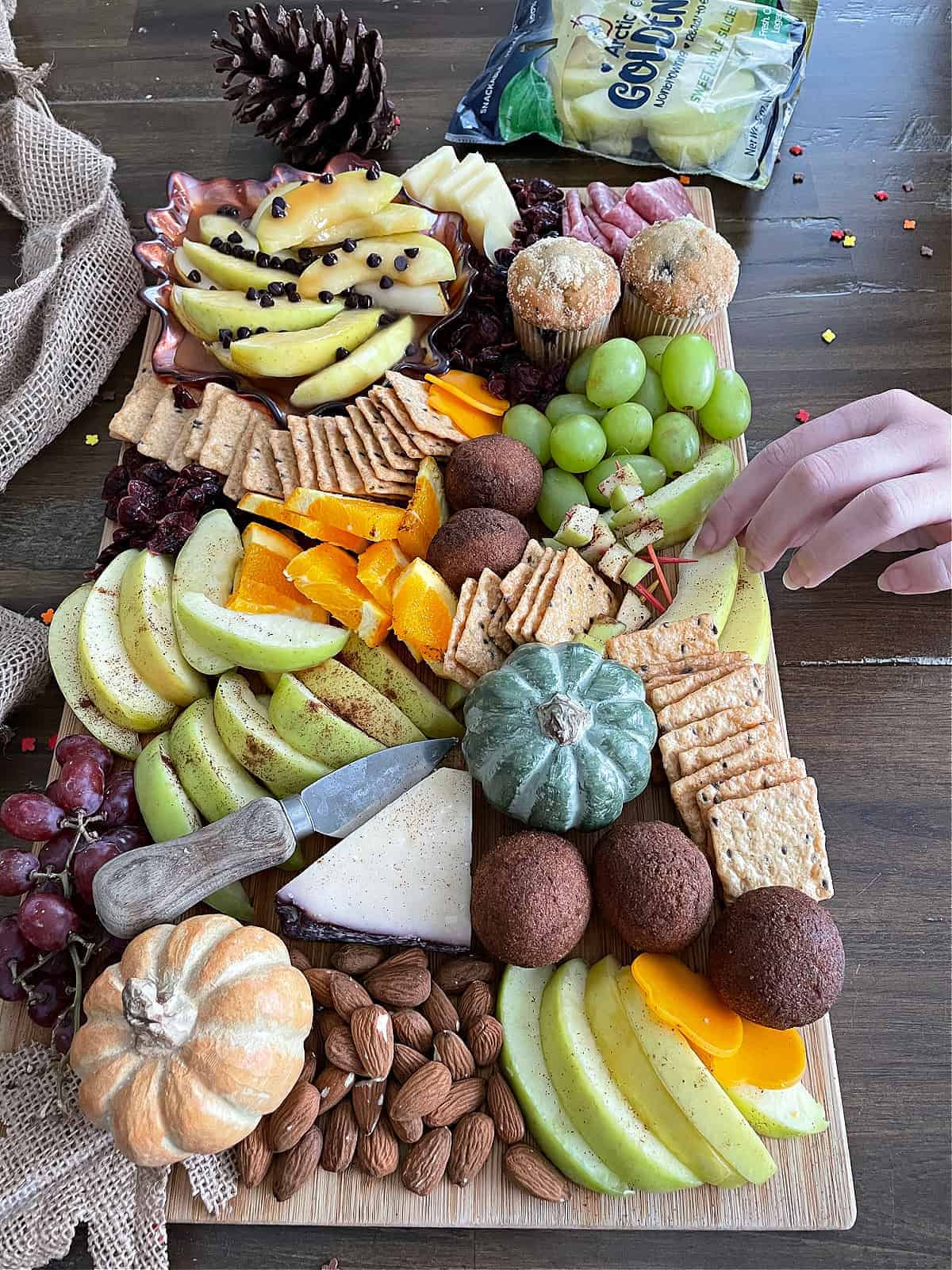 Grazing boards should have fresh, in-season produce, for Fall and winter, that means apples!
We absolutely love seeing all the apples available in stores right now. Worried about the time it takes to slice the apples and having them brown on your holiday grazing board? Don't worry, we have the perfect solution.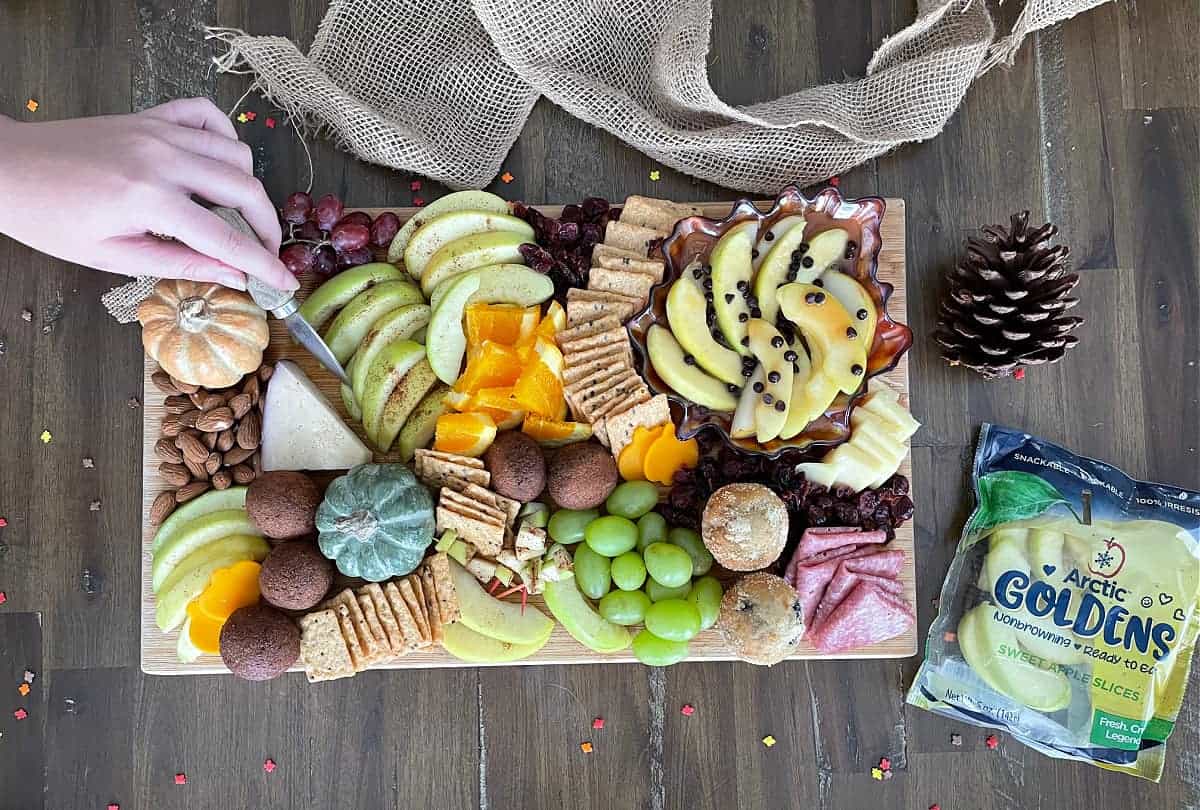 Arctic Apples are the world's best snacking apples for a reason! They come pre-sliced and ready to enjoy…which makes them easier to add to your grazing board too 😉 And they are non-browning! That means you don't have to worry about your apple treats turning brown while friends and family are enjoying the snacks.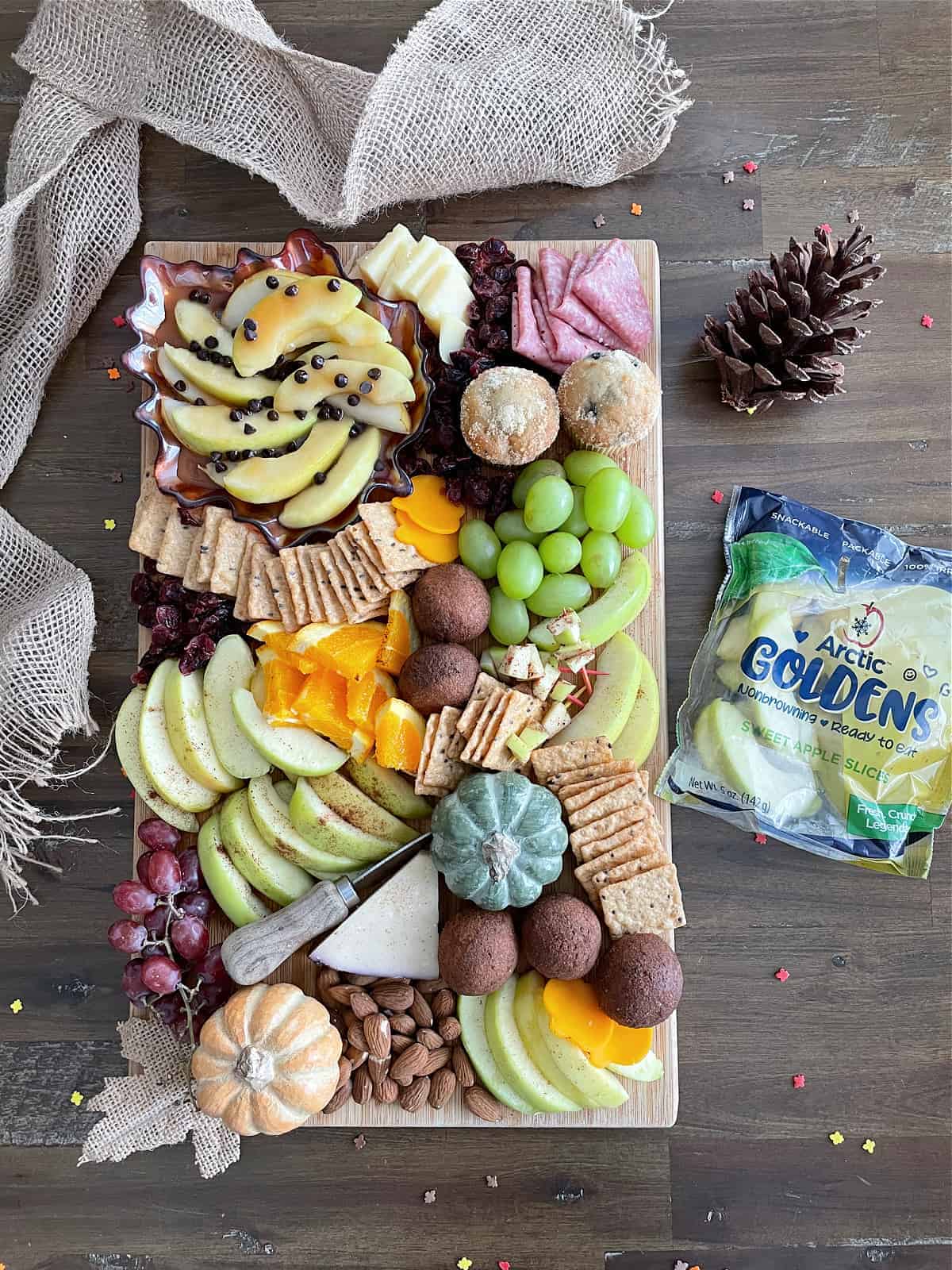 When adding apples to your grazing board, some pairing suggestions are: almonds, apricots, caramel, chestnut, cinnamon, citrus, cranberry, hazelnut, and maple.
We made small apple skewers sprinkled with cinnamon. Talk about the perfect fall snack! The are easy to pick up and enjoy little bite size deliciousness.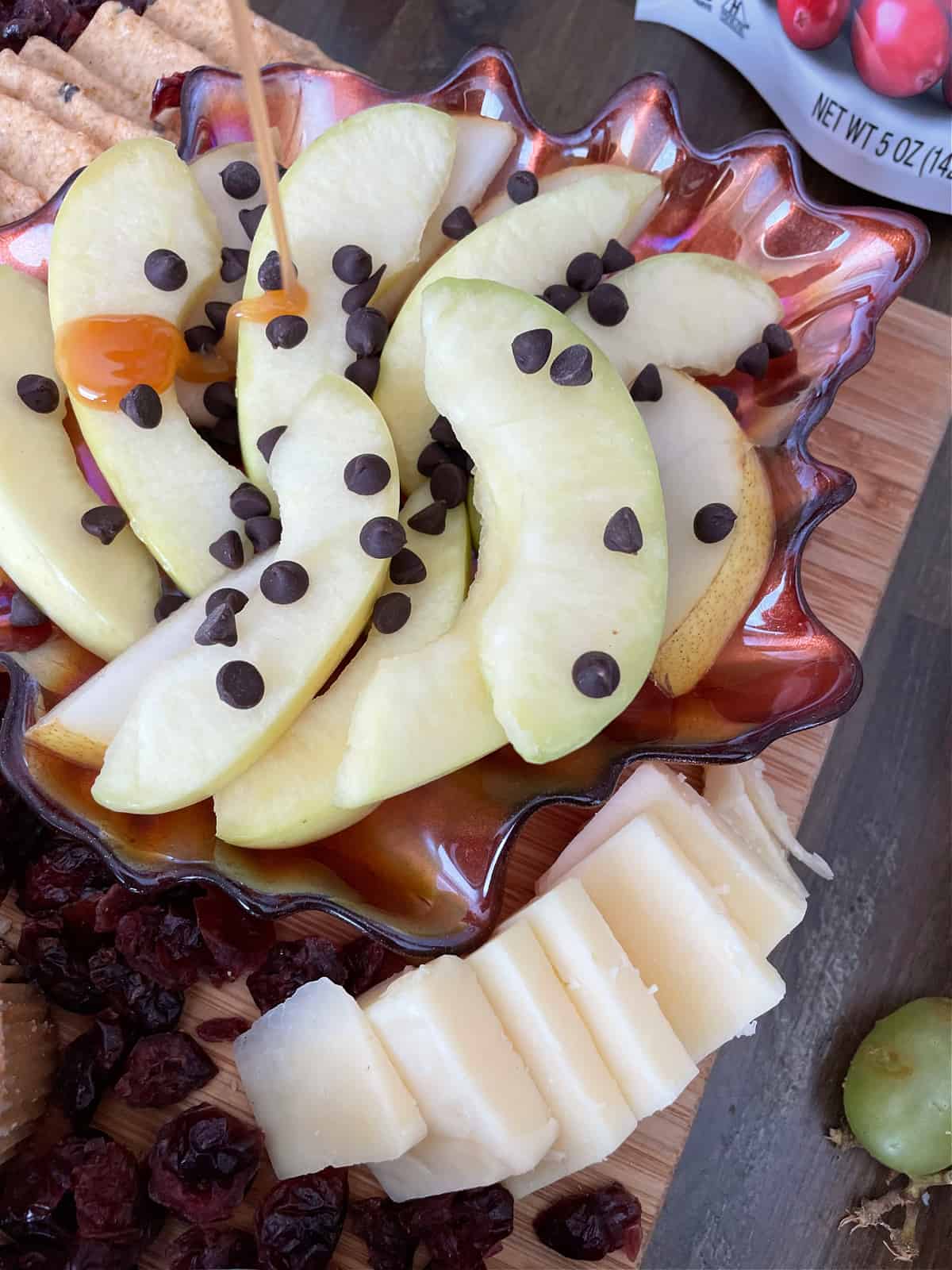 We also added Arctic Apple slices and pears to a cute, themed bowl and drizzled on caramel and sprinkled on chocolate chips. This is one area of your grazing board that you can expect to refill once or twice, so be sure to have a few extra bags of Arctic Apples in the refrigerator ready to go. They have Arctic Granny and Arctic Golden varieties, so we recommend having both on hand.
Need more tips on entertaining with grazing boards and how to build the perfect charcuterie board? Check out our Come Graze With Us eBook.
Remember that the holidays are meant to be enjoyed and to give us an extra reason to reflect on the reasons we are thankful. So, in the midst of your holiday planning and holiday entertaining, don't forget to take a few minutes to reflect on the things for which you are grateful. Studies show that this type of reflection can bring joy in your heart, can decrease stress, blood pressure, lower heart rate, decrease cortisol levels, increase self esteem and lighten your mood…in essence, make you happier. In fact, eating apples have a lot of health benefits too…just another reason to be thankful this season 😉
What are some of your favorite holiday entertaining tips?