Tuna Salad Stuffed Mini Pepper Boats
Ready for a super fun and creative lunchbox idea for the kids? Set sail with these little Tuna Salad Stuffed Mini Pepper Boats! Change up your normal tuna salad routine with these stuffed peppers. This healthy version uses avocado to replace the mayonnaise and stuffed inside mini peppers for a veggie and protein filled lunch.
These little Tuna Salad Stuffed Mini Pepper Boats are a perfect recipe to let the kids help with! Complete with clementine sail for a fun lunchbox kids will be excited to open. Use coffee stirrers or toothpicks to attach your clementine sails to your pepper boats. Have the kids stuff the peppers and attach the sails. They will get a kick out of these fun little boats to pack up in their lunchbox.
Nutrition Tip: Albacore tuna is a better source of heart-healthy omega-3 fatty acids than other tuna species.
Using avocado in place of mayo in this recipe adds a great source of heart-healthy fats and keeps the tuna salad creamy and delicious. If prepping ahead of time, make sure to add a little extra lime juice to keep the avocado from browning and store in an airtight container.
This meal is a also great source of Vitamin C! Did you know that a 3 oz. serving of Pero Family Farms® Mini Sweet Peppers contain your entire daily value of Vitamin C? That's sweet!
Key Ingredients for these Tuna Salad Mini Pepper Boats
Tuna– a great choice for a healthy lunch. Tuna is a great source of protein and contains healthy fats. Great for your heart, high in Vitamins, and great to provide your body energy throughout the day.
Mini Sweet Peppers– these cruncyh little sweet peppers are loaded with Vitamins C & A, are known to be good for your immune system, and let's not forget… they taste great! They hold up well for packing in the lunchbox, too!
Red Onions– in addition to the taste and texture, onions provide fiber, help reduced inflammation in the body, and are high in Vitamin C!
Celery– besides great crunch in tuna salad, celery is high in antioxidants, can help aid in digestion, and can help reduce inflammation in your body.
Avocado– high in good fats, flavorful, and loaded with essential Vitamins and minerals. Mashed avocado is a great replacement for the typical mayonnaise in this tuna salad recipe. Peel and cut the avocado easily with this Avocado Slicer!
How to make these Tuna Salad Mini Pepper Boats
First start by mashing the avocado in small bowl. Then add the tuna, celery, onion and lemon juice. Mix well until all is well incorporated.
Next cut the mini sweet peppers in half lengthwise and remove the seeds. Stuff with the tuna salad mixture. Place the clementine segments on top of coffee stirrers and add to peppers creating the "sail".
Pack these mini sweet peppers in your lunchbox with any of your favorite fruits or additional vegetables for dipping for a complete meal.
Make sure to PIN it!
How do you #PowerYourLunchbox? Show us your healthy lunchboxes on Instagram using #PowerYourLunchbox.
Looking for more lunchbox solutions?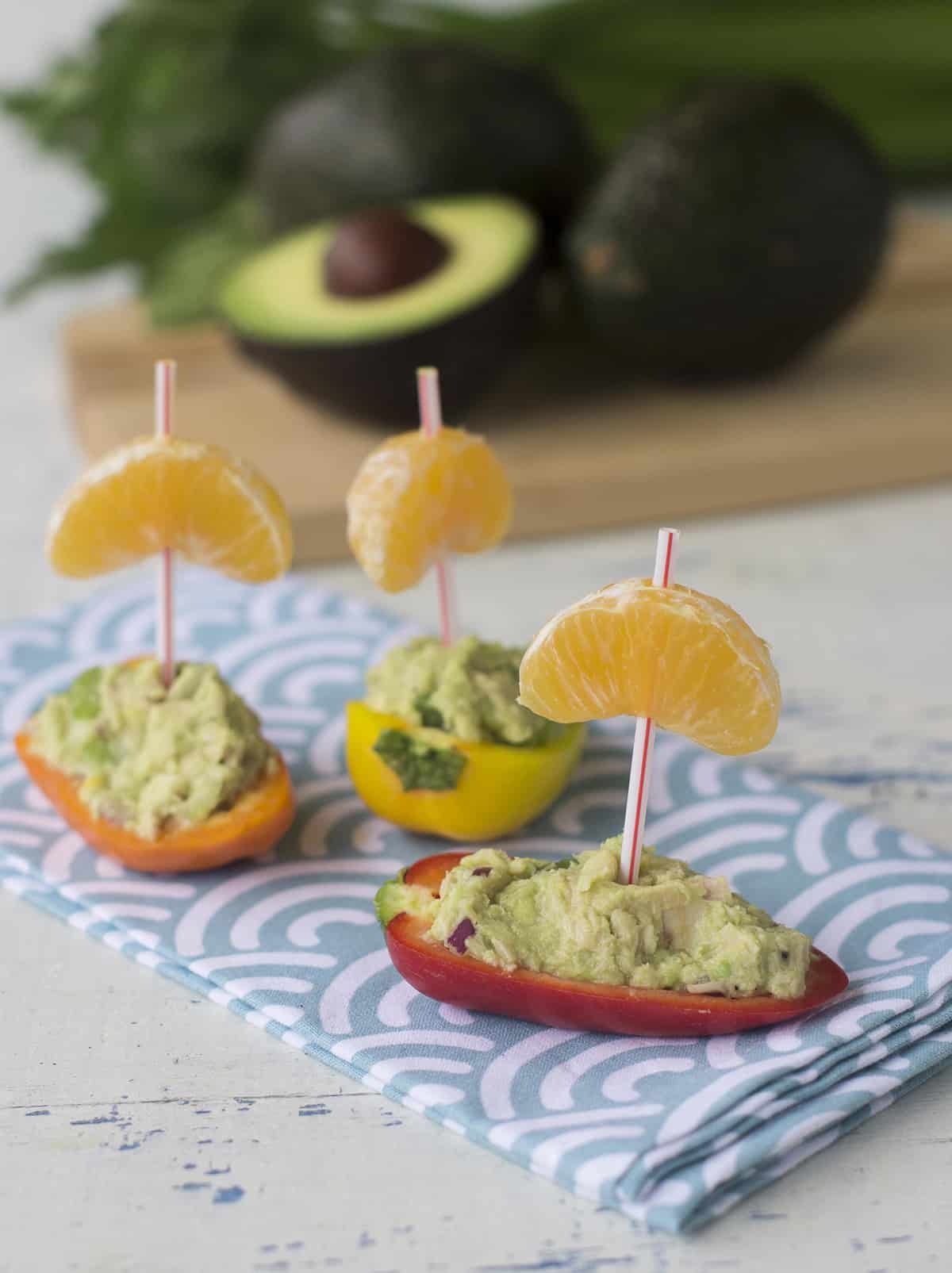 More recipes to try:
Smashed Chickpea Salad Stuffed Mini Sweet Peppers