Easy Beef Empanadas – Lunchbox Friendly & Veggie Packed
These lunchbox-friendly empanadas are packed with lean ground beef, veggies, and cheese for a meal kids can't resist! Get the family in the kitchen, and make a batch on Sunday for easy lunchboxes all week.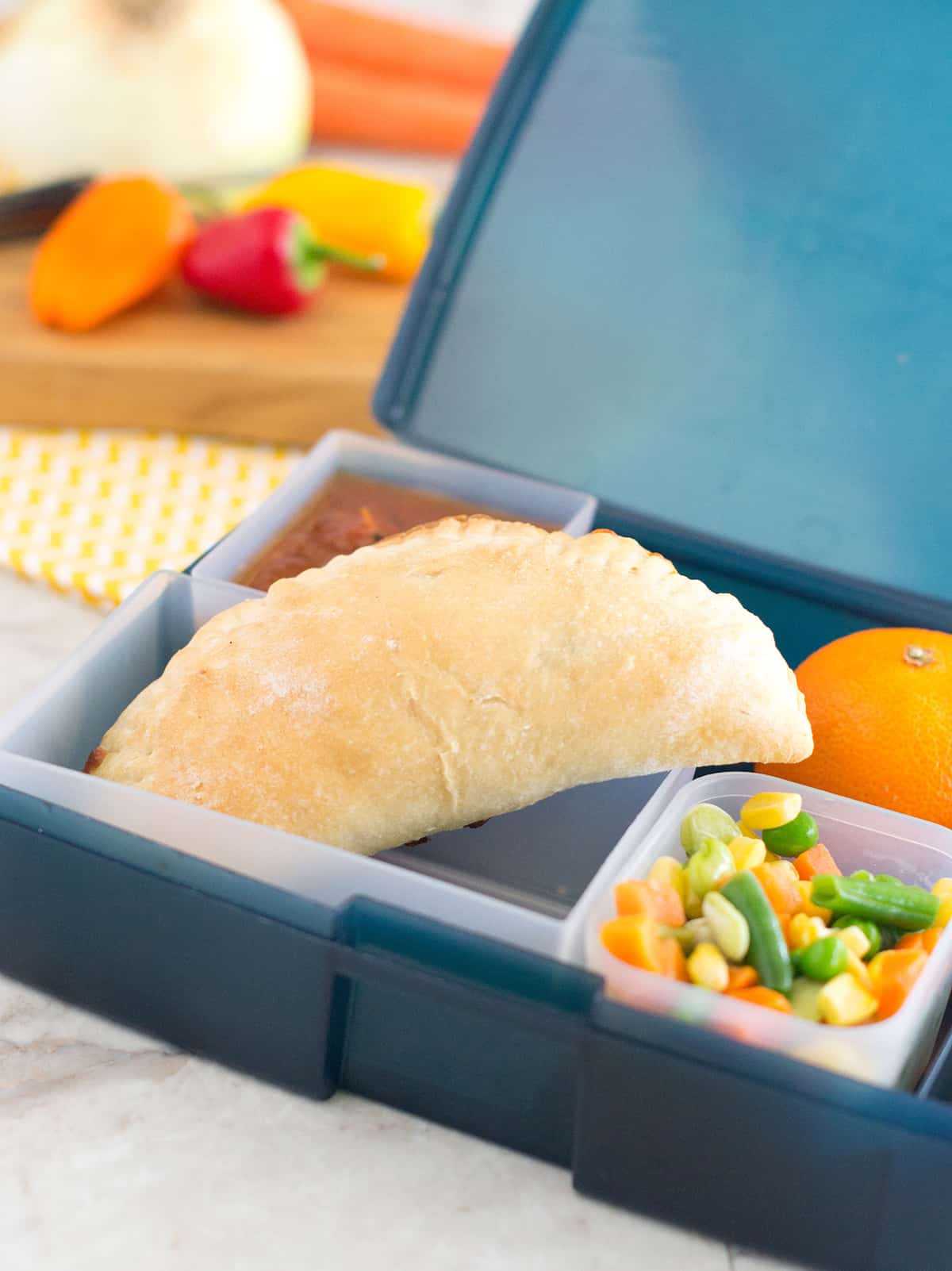 Homemade Beef Empanadas
Empanadas are a favorite in my family, and we're always coming up with new sweet and savory hand pie combinations. Some of our best attempts include Apple, Ham & Cheddar, Turkey Cranberry, and Apple Pie. (See full list at the end of this post!)
Not only are homemade beef empanadas super versatile, but they're perfect for school lunches! These easy lunchbox empanadas are perfect for packing in a good mix of protein and veggies into one handheld meal.
Nutrition Tip: Lean ground beef provides 10 essential nutrients including protein, zinc, iron, and B vitamins.
Key Ingredients
The best part of this homemade empanadas recipe is that it's so easy to make and only requires a few ingredients you probably have on-hand or can easily find at the grocery store. Here's what you'll need:
Lean Ground Beef: Look for 93/7% lean ground beef to cut down on saturated fat, or opt for ground turkey breast or chicken, if you prefer. You could also easily make these vegetarian by omitting the meat entirely!
Veggies: This recipe calls for a mix of carrots, onions, and peppers. Other veggies like mushrooms, celery, cauliflower (florets or rice), and spinach would also be great additions. Just don't add too many and risk making the cooked dough soggy as it sits in the fridge.
Seasonings: We're keeping things simple as far as seasonings go with cumin, salt, and pepper, but feel free to add your favorites. Oregano and paprika would be delicious additions!
Whole Wheat Pizza Dough: We like the fresh pizza dough our local grocery store sells in the deli section, but a packaged or frozen (and thawed) pizza dough works well, too.
Cheese: You can't have tasty empanadas without cheese! We like a Mexican blend, but go with your kids' preference. Nothing too spicy.
How to Make Empanadas
Cook the ground beef, veggies and seasonings in a skillet until meat is cooked through and veggies are tender.
Roll out your pizza dough on a floured surface and cut into rounds.
Fill rounds with filling, fold over and press with a fork to seal.
Bake to golden perfection, and enjoy!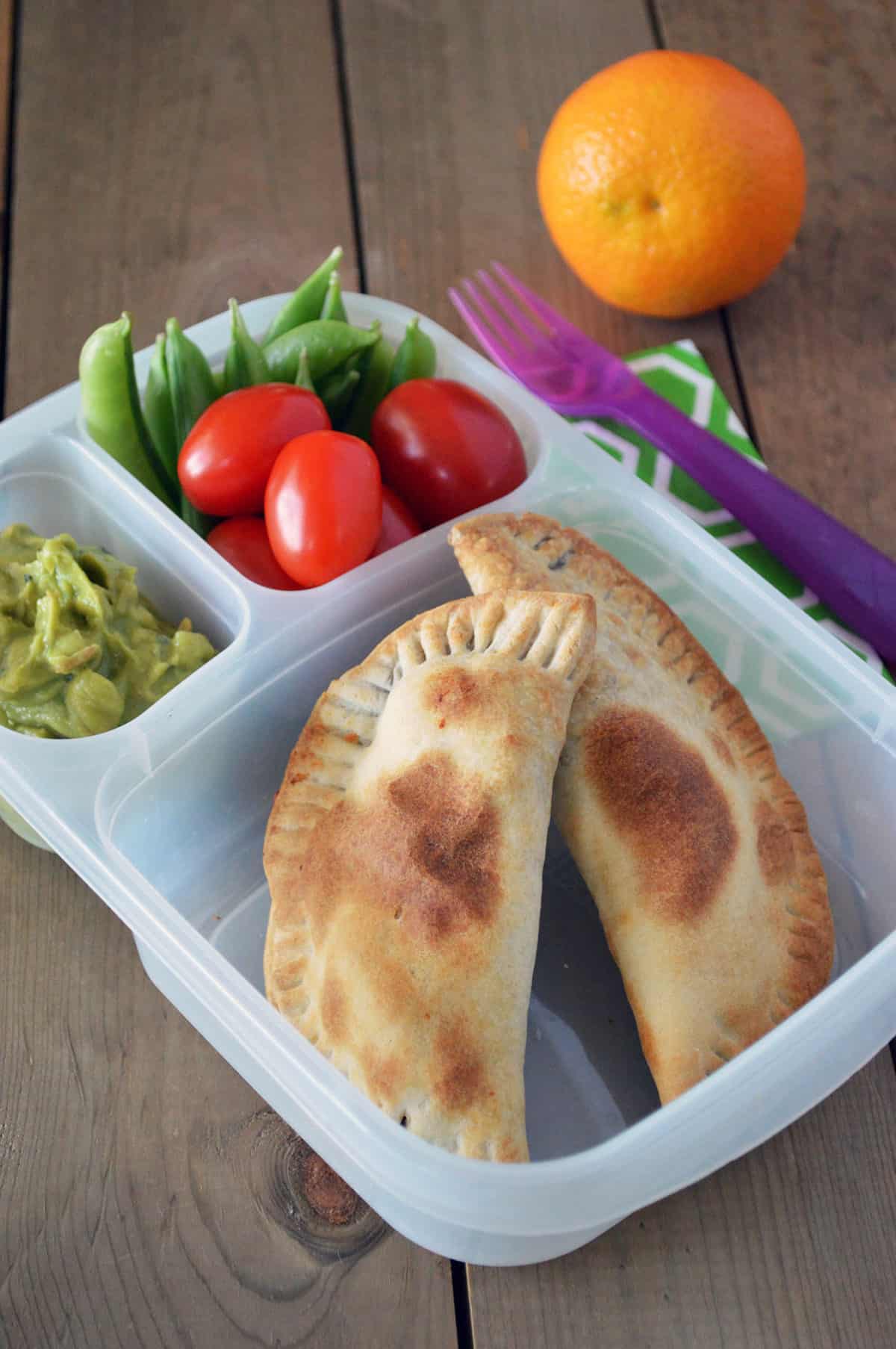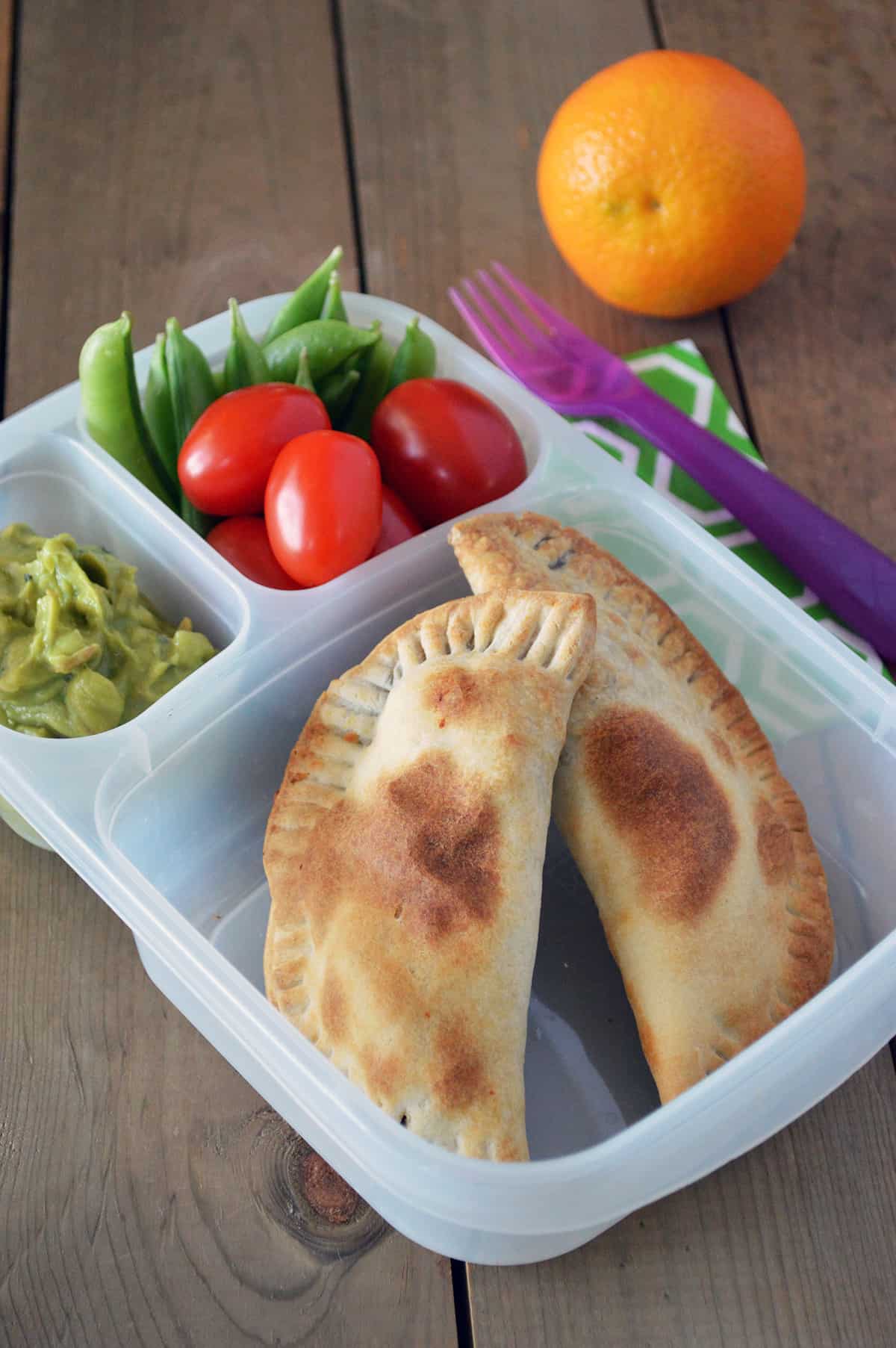 What To Serve with Empanadas
Serve these lunchbox empanadas with your kid's favorite dip like salsa, guacamole, hummus, or ranch; some fresh veggies like baby carrots, fresh green beans or snap peas, and celery sticks; some fresh fruit like berries or an easy-peel orange; and some water or milk.
Storage, Freezing, and Reheating Instructions
Store cooled leftovers in an airtight container in the refrigerator for up to 1 week, or freeze for up to 3 months.
Freeze cooled, cooked empanadas in a single layer on small baking sheet or plate and then freeze. This prevents empanadas from sticking together. Once they're totally frozen, you can toss them all in a freezer-safe container or plastic bag and grab one anytime you need it!
Reheat frozen empanadas by letting them thaw in the fridge overnight or on the counter for a couple hours until no longer frozen. Then, pop in your air fryer at 400 degrees for 10 minutes or in a 350-degree oven for the same amount of time, or until warmed through. This will make them crispy again. You can microwave them until they're heated through, but they'll probably be soggy.
Variations
Make vegetarian empanadas by swapping the beef for hearty substitutions like cooked chickpeas, cooked potatoes, lentils, quinoa, or fried plantains.
Slice them in half when packing your child's lunchbox so they can handle them more easily and take a better bite.
Make them vegan by omitting the beef or swapping for some of the options listed above and using compliant pizza dough and cheese!
Cut a smiley face into the empanadas by carving out the shapes for two eyes and a mouth when packing them for the lunchbox. Your kiddo will love this fun surprise!
Add more veggies! The sky is the limit when it comes to homemade empanadas, especially with this simple lunchbox empanadas recipe. Veggies like cauliflower, zucchini, squash, tomatoes, and mushrooms would be great additions!
More Kid-Friendly Empanada Recipes To Try
If you and your family love homemade empanadas as much as we do, then you've got to try these sweet and savory empanada recipes:
How do you #PowerYourLunchbox? Show us your healthy lunchboxes on Instagram using #PowerYourLunchbox.
Looking for more lunchbox solutions?
Kid-Friendly Lunchbox Empanadas
These lunchbox-friendly empanadas are packed with lean ground beef, veggies, and cheese for a meal kids can't resist! Get the family in the kitchen, and make a batch on Sunday for easy lunchboxes all week.
Ingredients
1 tablespoon olive oil
1/2 pound lean ground beef
1/4 cup shredded carrots
1/4 small sweet onion finely chopped
3 mini sweet peppers finely chopped
1 teaspoon cumin
1/2 teaspoon salt
1/4 teaspoon pepper
1 pound whole wheat pizza dough you can also use frozen empanada discs found at the grocer in the freezer section
1/2 cup shredded low-fat mozzarella cheese
2 tablespoons salsa
1 cup mixed frozen vegetables cooked
1 clementine as a side if desired
Instructions
Preheat oven to 350F. Spray baking sheet with nonstick cooking spray and set aside.

Heat oil in large skillet over medium heat. Add ground beef, carrots, onion, peppers, cumin, salt and pepper, and cook 7-10 minutes, or until cooked through. Drain and set aside.

Dust counter lightly with flour and roll out dough to ¼-inch thick. Using a small to mid-size bowl (5-inches in diameter) to cut out circles of dough. Repeat process until all dough has been used.

Fill dough with ¼ cup beef and sprinkle with cheese. Fold dough over filling to create a pocket, pressing down on sides to seal.

Bake 15-20 minutes, or until golden brown. Remove from oven and let cool.

Serve with salsa for dipping, veggies and Crispy Green for added fruit.
Nutrition
Calories: 294kcalCarbohydrates: 41gProtein: 17gFat: 9gSaturated Fat: 2gPolyunsaturated Fat: 1gMonounsaturated Fat: 3gTrans Fat: 1gCholesterol: 29mgSodium: 651mgPotassium: 309mgFiber: 5gSugar: 3gVitamin A: 2945IUVitamin C: 28mgCalcium: 99mgIron: 2mg