Apple, Ham & Cheddar Empanadas with Autumn Glory® Apples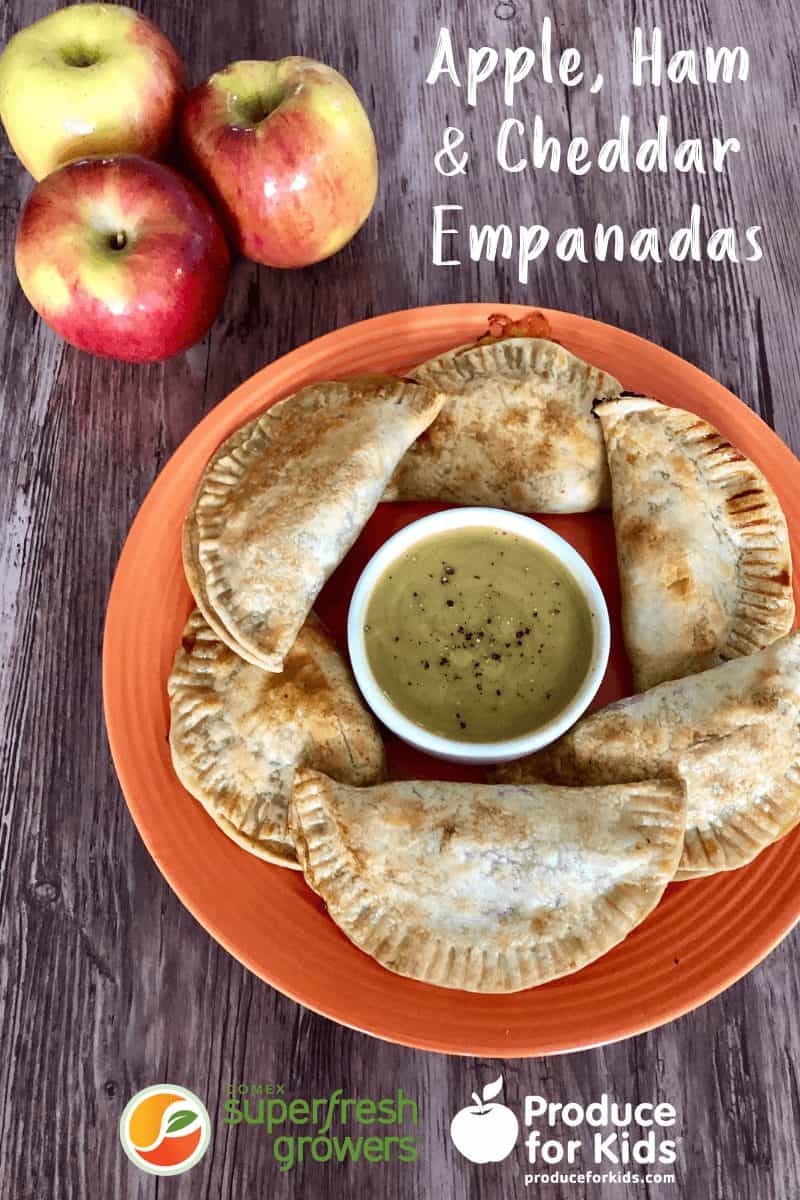 Disclosure: This post is sponsored by Superfresh Growers®. All opinions are our own.
Today's post is from our mini Chef, Mia Muniz. You may recognize Mia from many of the Produce for Kids videos, but she always works behind the scenes helping us create healthy, delicious and kid-friendly recipes!
Enter below for a chance to win a $50 VISA gift card + 12 pack of Autumn Glory Apples from Superfresh Growers!
---
Hello, Mia here!
Last year, my mom and I started experimenting with empanadas after a trip to visit family in Miami. Empanadas are a Spanish or Latin American pastry turnover with a variety of savory ingredients and are usually baked or fried.
During our trip, we visited a breakfast restaurant there that offered an entire case filled with varieties of scrumptious empanadas and we were instantly inspired.
When we arrived home from Miami, we did some research on how to easily make the doughy discs that enclose the savory goodness. As 2018 convenience would have it, we found a frozen version in our local grocery store that saved us the time in making our own homemade dough. Although, if you are a dough making expert, make your own discs by rolling out your dough and using a bowl or glass to make a perfect circle.
My mom works in the world of healthy-eating so we went on a quest to make delicious but healthy versions of empanadas we had tasted. It was super fun to see how creative we could be in the combinations and was really surprised when combinations turned out way better than expected.
A few years ago, I was introduced to Autumn Glory Apples from Superfresh Growers and I was hooked. They have a sweet taste with hints of cinnamon and caramel. Perfect for kids! When the season was kicking off again this year, I had an idea for an empanada recipe using these tasty apples.
We used ham, cheddar cheese and sliced apples for the filing. I love ham and cheese together and thought adding the apples would give it the perfect flavor match up. We used my mom's air fryer, which gave them the crispy-all-over goodness. If you don't have an air fryer, don't worry. They're just a good baked in the oven.
Ham, Apple & Cheddar Empanadas with Autumn Glory Apples
Prep Time: 30 minutes
Serves 10
Ingredients:
10 pre-made frozen empanada discs, thawed
5 slices deli low-sodium ham, rolled, cut in half
5 slices low-fat Cheddar cheese, cut in half
2 Autumn Glory® apples, sliced
1 egg white, whisked in bowl
3 Tbsp. Dijon mustard
2 Tbsp. honey
1/8 tsp. pepper
Directions:
Lay empanada discs on flat surface. Layer with ham, cheese and apples in center. Fold dough over and seal with fork. Lightly brush with egg whites.
Air Fryer: Spray air fryer basket with nonstick cooking spray. Add empanadas, a few at a time, and cook on 350F for 8 minutes, or until golden brown.
Oven: Lay empanadas on parchment-lined baking sheet. Bake in preheated 350F oven 20-25 minutes, or until golden brown.
Mix mustard, honey and pepper together in small bowl for dipping.
---
Make sure to visit SuperfreshGrowers.com to learn more about Autumn Glory apples and look for them in a grocery store near you. You can also follow Superfresh Growers on Facebook, Instagram, Twitter, Pinterest and YouTube for year-round delicious ideas.
---