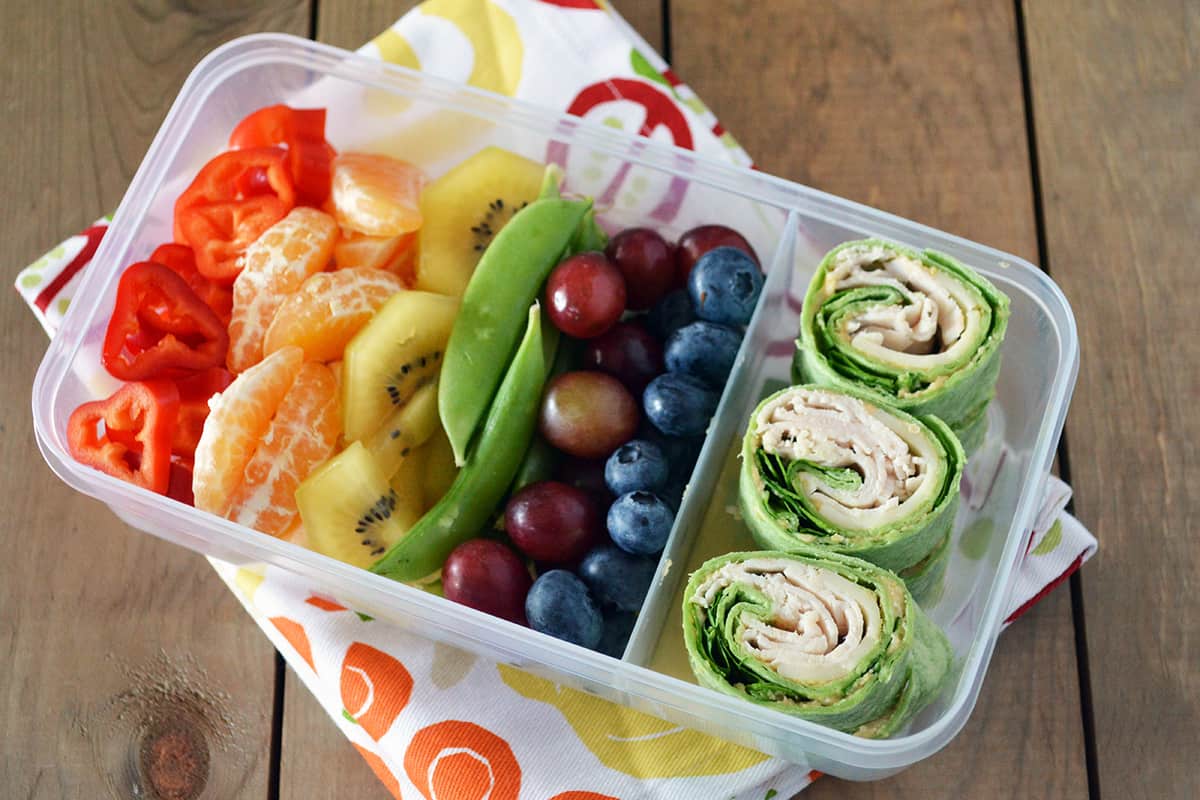 We all know the saying, "Eat a Rainbow!" and with this lunchbox, your kiddos will be! This rainbow lunchbox pairs a variety of fruits and veggies with simple pinwheels filled with hummus, turkey and spinach.
The good news is everything is customizable! Swap out the colors of the rainbow with your kid's favorite or switch up the pinwheels with whatever you have on hand.
Here's what's inside:
Red: Red mini sweet peppers (other options: tomatoes, red apple slices, strawberries, raspberries or watermelon)
Orange: Bee Sweet Citrus mandarins (other options: apricots, orange bell pepper slices, cantaloupe, carrots and sweet potatoes)
Yellow: Zespri™ SunGold™ kiwi (other options: bananas, mango or pears)
Green: Sugar snap peas (other options: green kiwi, green beans, honeydew melon, cucumbers, celery, broccoli and avocado)
Purple: Grapes (other options: plums, figs, purple carrots)
Blue: Blueberries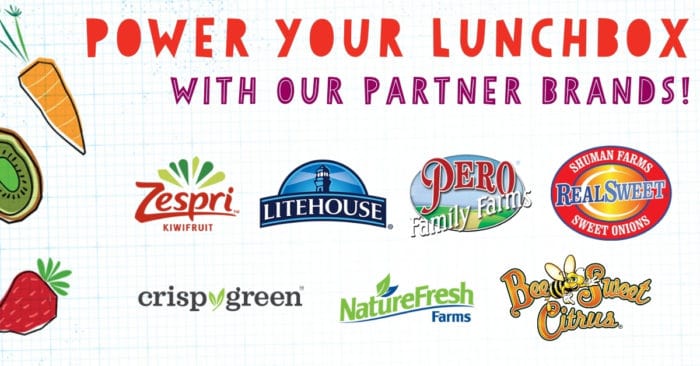 How do you #PowerYourLunchbox? Show us your healthy lunchboxes on Instagram using #PowerYourLunchbox.
Looking for more lunchbox ideas? We've got you covered with 70+ ideas including make-ahead ideas, non-sandwich lunches, ideas for repurposing leftovers, and vegetarian, nut-free and gluten-free recipes.
Or check out all of our back-to-school content on our blog. A few of our most popular posts include: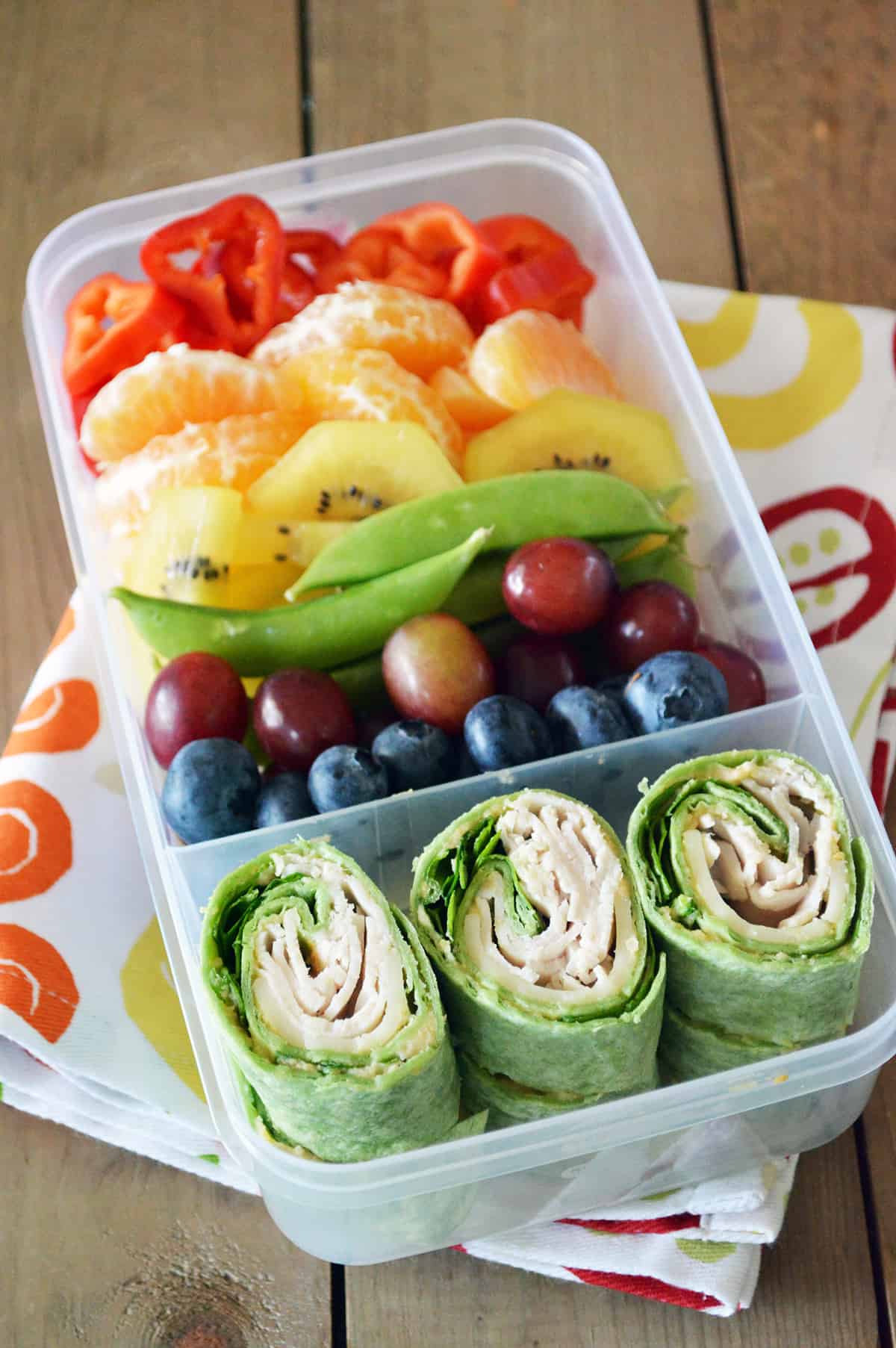 Rainbow Bento Box
We all know the saying, "Eat a Rainbow!" and with this lunchbox, your kiddos will be!
Yield: 2 servings
Prep Time: 15 minutes
Total Time: 15 minutes
Ingredients
2 red mini sweet peppers, sliced
1 Bee Sweet Citrus mandarin, peeled, segmented
1 Zespri™ SunGold™ kiwifruit, sliced
1/2 cup sugar snap peas
1/4 cup blueberries
1/2 cup red seedless grapes
1 large spinach wrap
2 ounces low-sodium deli-sliced turkey
1/2 cup baby spinach, chopped
1 tablespoon hummus
1 slice provolone cheese
Instructions
Assemble lunchboxes with peppers, mandarin, SunGold kiwi, snap peas, blueberries and grapes.
Lay wrap on flat surface. Spread with hummus and top with cheese, turkey and spinach. Roll up tightly and slice into 1-inch thick rounds. Add half to each lunchbox.
Nutrition Information:
Yield: 2
Amount Per Serving:
Calories: 258
Total Fat: 4g
Cholesterol: 13mg
Sodium: 497mg
Carbohydrates: 44g
Fiber: 6g
Sugar: 20g
Protein: 11g