This Rainbow Bento Lunchbox pairs a variety of fruits and veggies with simple pinwheels filled with hummus, turkey, and spinach. Easy, fun, and delicious!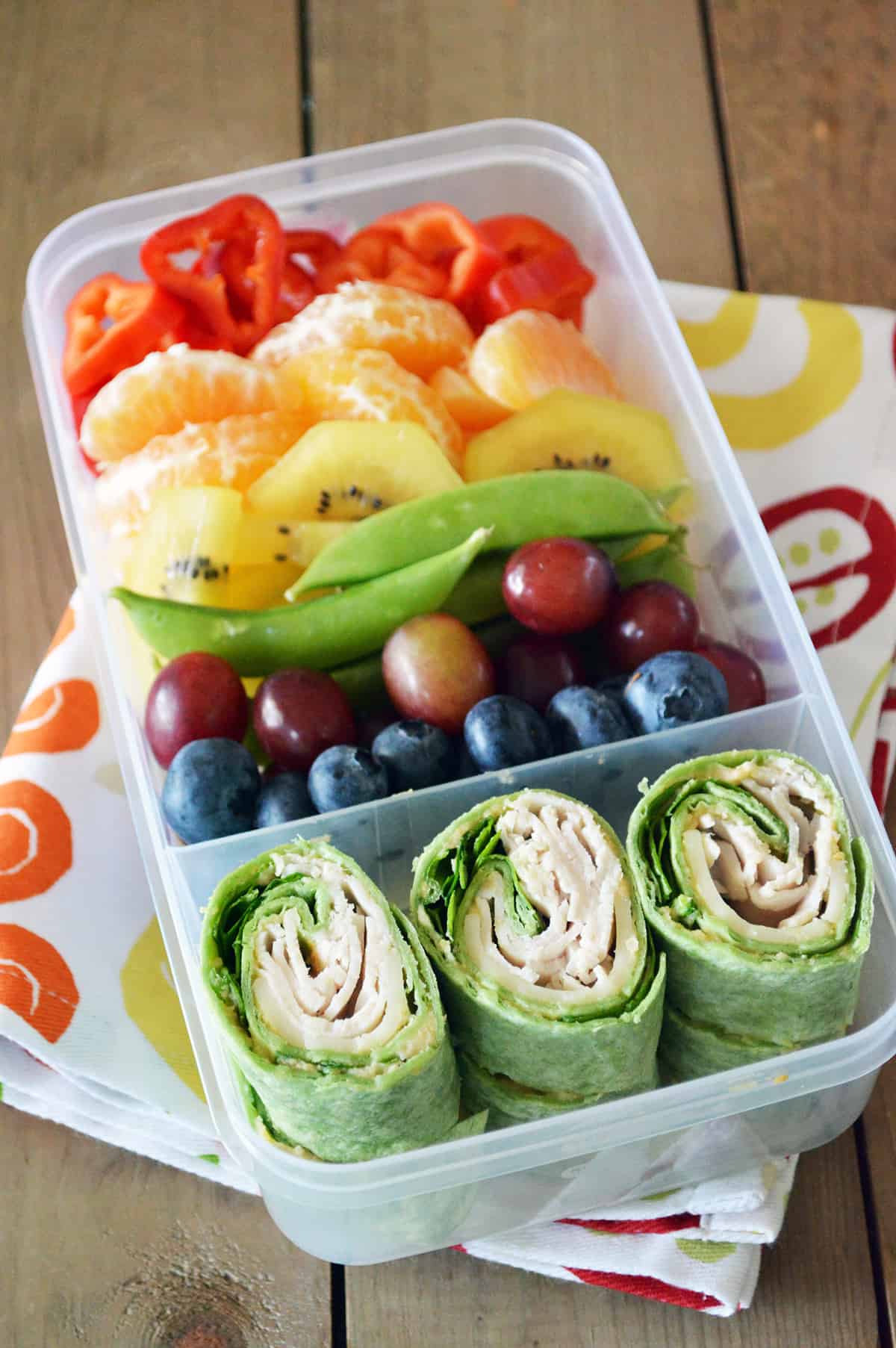 Homemade Rainbow Bento Lunchbox
We all know the saying, "Eat a Rainbow!" And with this homemade Rainbow Bento Lunchbox, your kiddos will be.
This star of this lunchbox-friendly meal is that it's customizable. We packed red sweet peppers, orange slices, yellow kiwis, green sugar snap peas, red seedless grapes, and blueberries, but you can swap those for your kid's favorite colorful fruits and veggies.
We also made pinwheels with spinach tortillas, turkey, and hummus, but you can switch up the pinwheels with whatever you have on hand.
Here's What's Inside
Red: Red mini sweet peppers (Other red options: tomatoes, red apple slices, strawberries, raspberries, or watermelon)
Orange: Mandarin orange slices (Other options: apricots, orange bell pepper slices, cantaloupe, carrots, and roasted sweet potatoes)
Yellow: Golden kiwi (Other options: bananas, mango, pineapple, or sliced pears)
Green: Sugar snap peas (Other options: green kiwi, green beans, honeydew melon, cucumbers, celery, broccoli, and avocado)
Purple: Grapes (Other options: figs, purple carrots, roasted purple sweet potatoes)
Blue: Blueberries (Other options: blackberries, plums, or blue tomato slices)
You can also add a dip like Ranch, hummus, or yogurt to encourage kids to eat more fruits and veggies at lunchtime.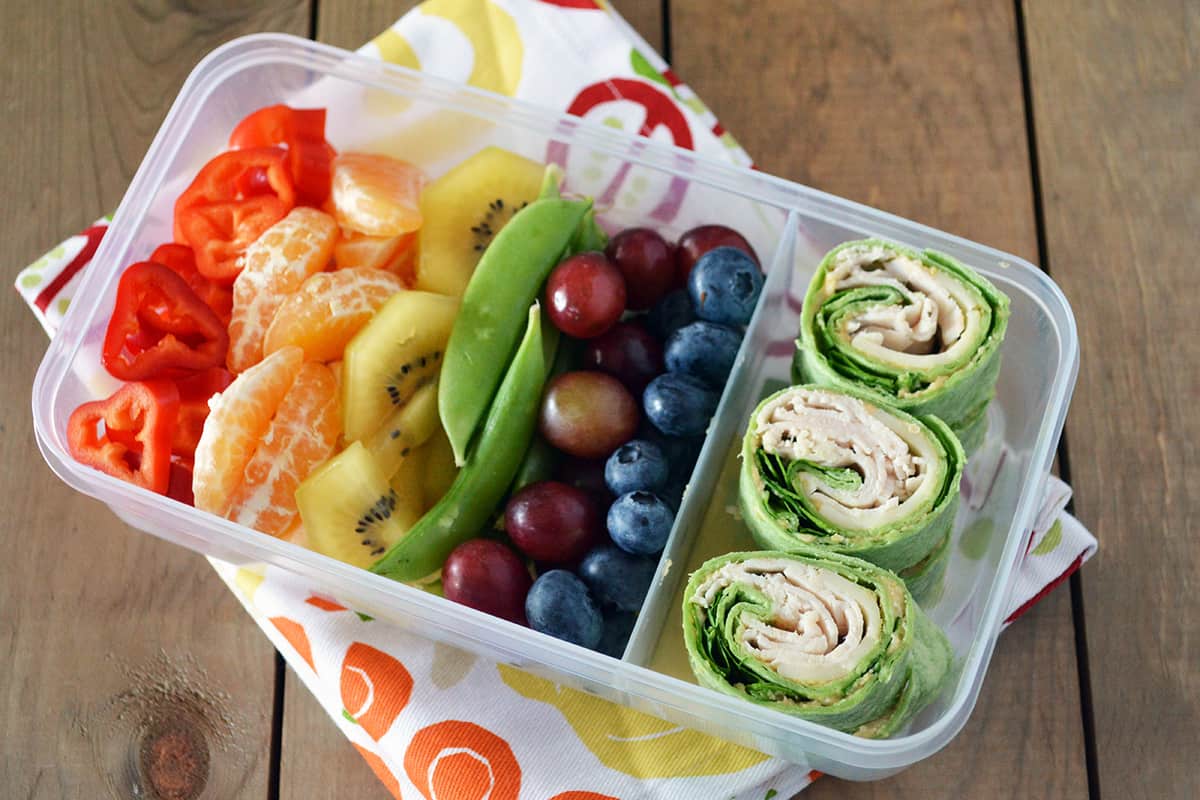 How To Pack This Rainbow Bento Lunchbox
The appeal of bento-style lunches and lunchboxes is that they're appealing! The idea is to entice your child to eat their lunch by making it pretty and organized. (Even Instagram-worthy!) This Rainbow Bento Lunchbox does just that.
Stack the colorful fruits and veggies side by side in rainbow order, starting with warm reds, oranges, and yellows and ending with cool greens, purples, and blues. Then prepare the turkey and hummus wraps, roll and slice to make pinwheels, then pack in a separate section or container.
We like sectioned, Bento-style lunchboxes like what's pictured below, but you could also pack in separate containers.
Also, don't forget the ice pack to keep the pinwheels, fruits, and veggies cool until lunchtime!
Concerned about lunchbox safety? Check out our 5 tips for packing safe lunches!
More Recipes To Try
If your kids liked this Rainbow Bento Lunchbox, then they'll love these other fun lunchbox ideas: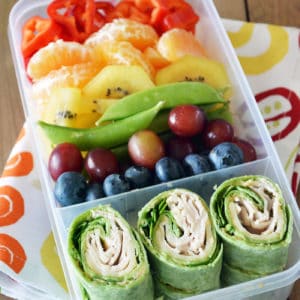 Rainbow Bento Box
We all know the saying, "Eat a Rainbow!" and with this lunchbox, your kiddos will be!
Ingredients
2 red mini sweet peppers sliced
1 mandarin peeled, segmented
1 kiwi sliced
1/2 cup sugar snap peas
1/4 cup blueberries
1/2 cup red seedless grapes
1 large spinach wrap
2 ounces low-sodium deli-sliced turkey
1/2 cup baby spinach chopped
1 tablespoon hummus
1 slice provolone cheese
Instructions
Assemble lunchboxes with peppers, mandarin, SunGold kiwi, snap peas, blueberries and grapes.

Lay wrap on flat surface. Spread with hummus and top with cheese, turkey and spinach. Roll up tightly and slice into 1-inch thick rounds. Add half to each lunchbox.
Nutrition
Calories: 309kcalCarbohydrates: 51gProtein: 14gFat: 8gSaturated Fat: 3gPolyunsaturated Fat: 1gMonounsaturated Fat: 1gTrans Fat: 0.01gCholesterol: 20mgSodium: 586mgPotassium: 726mgFiber: 8gSugar: 24gVitamin A: 5205IUVitamin C: 218mgCalcium: 217mgIron: 4mg