25 Healthy Vegetarian Plant-Based Recipes
Whether you're going full vegetarian or just looking for more plant-based meals to add to your menu, here are 25 of my family's favorite meatless recipes.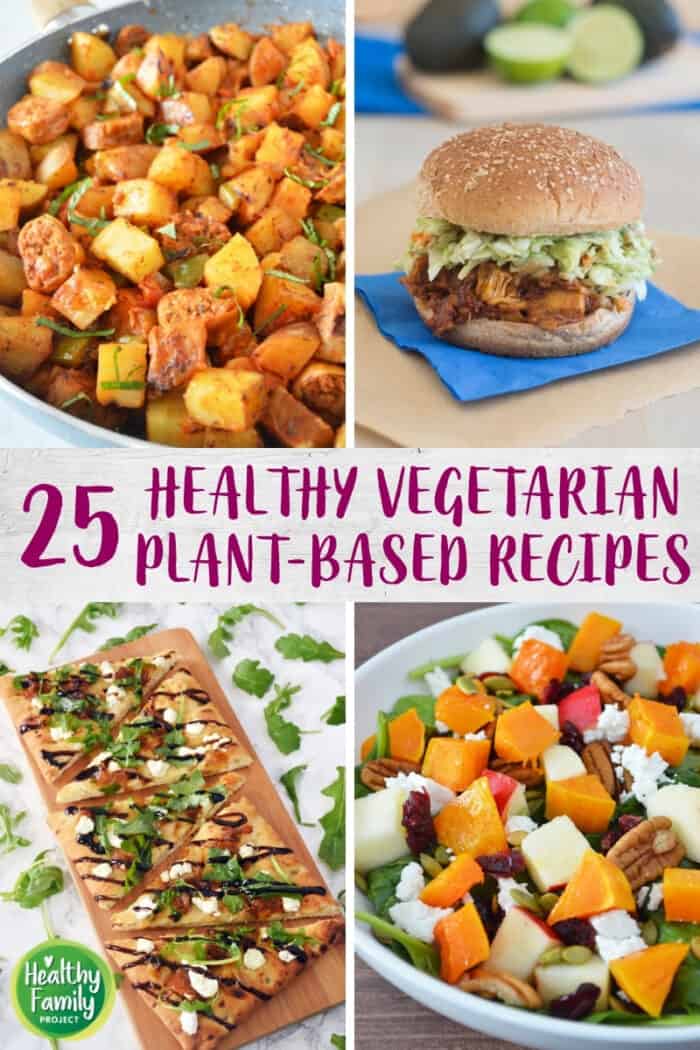 Raise your hand if you've heard the term "plant-based"? It's not just a marketing term, but a movement toward eating more foods from plants. We all know that a diet rich in fruits and vegetables is key to a healthy lifestyle, and many families are looking to also reduce the amount of meat in their diets.
Enter the plant-based movement.
What foods can you eat on a plant-based diet?
Contrary to popular belief, plant-based doesn't necessarily mean a strictly vegan or vegetarian diet. It's sometimes referred to as a flexitarian diet.
It means that your diet consists mainly of foods derived from plants, including fruits, vegetables, grains, nuts, seeds and beans/legumes. Meat, eggs and dairy can still be consumed, usually in limited quantities.
The bottom line, a plant-based diet is flexible. No foods are completely off-limits!
What are the benefits of a plant-based diet?
There are definitely health benefits to a plant-based diet, including a diet low in saturated fat, rich in fiber, vitamins, minerals and antioxidants (from all those fruits and veggies!). This can lead to a lower risk of conditions like heart disease, hypertension and diabetes.
Of course, always talk to your doctor before making any dietary changes to discuss how it might affect you.
Plant-based diets are also more sustainable, as it takes less natural resources like water and land use. It can also help lower pollution and slow deforestation.
Will I get enough protein with a plant-based diet?
We get this question a lot. The short answer, yes! Protein isn't only found in meat and dairy products, there are plenty of plant-based sources of protein including beans, legumes, nuts and seeds.
Our registered dietitian, Sally, dives deeper into this question and shares 20 meat and nut-free sources of protein here.
25 Healthy Vegetarian Plant-Based Recipes