No-Waste Broccoli Veggie Nuggets
These bite-sized veggie nuggets are a simple way to get more veggies onto your child's plate.
If you're like me, I tend to cut broccoli as close to the florets as possible, so I don't have to listen to my kids complain about the stalky part of the broccoli, which they don't care for.
I hate to admit it, but I tend to toss that part of the broccoli away. However, in more recent times, I started freezing leftover veggie scraps to use at a later date in homemade broth.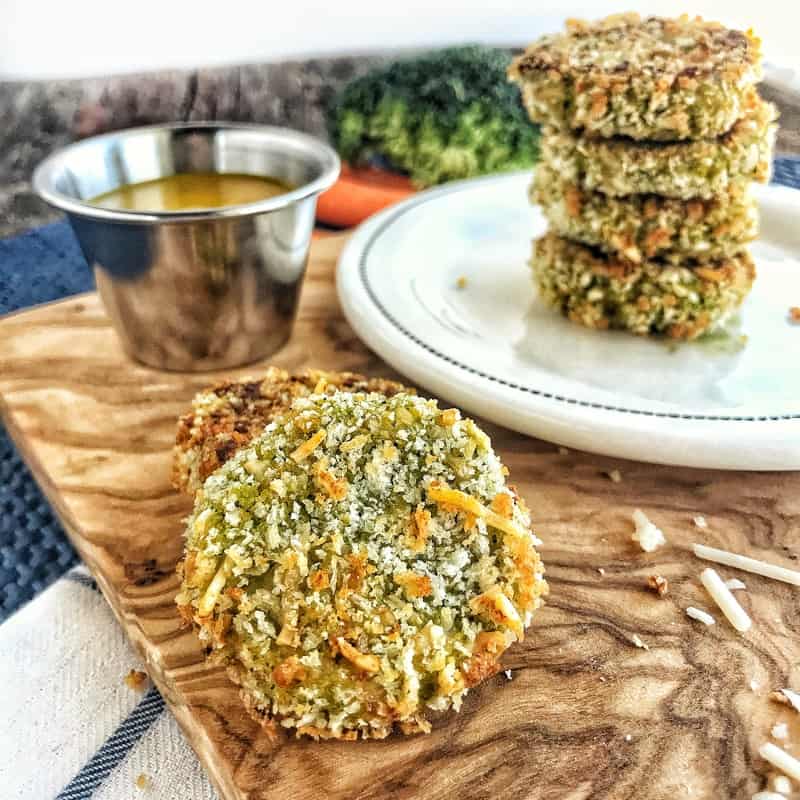 But now I have another way to utilize this nutritious part of a head of broccoli all without anyone even realizing…
Nutrition Tip: Just a half-cup serving of broccoli has as much vitamin C as half an orange! Broccoli has a bit of calcium and protein in it too.
So, which is healthier – the florets or the stalk?
Answer: Both! All parts are good for you. Broccoli contains vitamin C, potassium, B vitamins, along with calcium and iron, which are contained equally in both parts.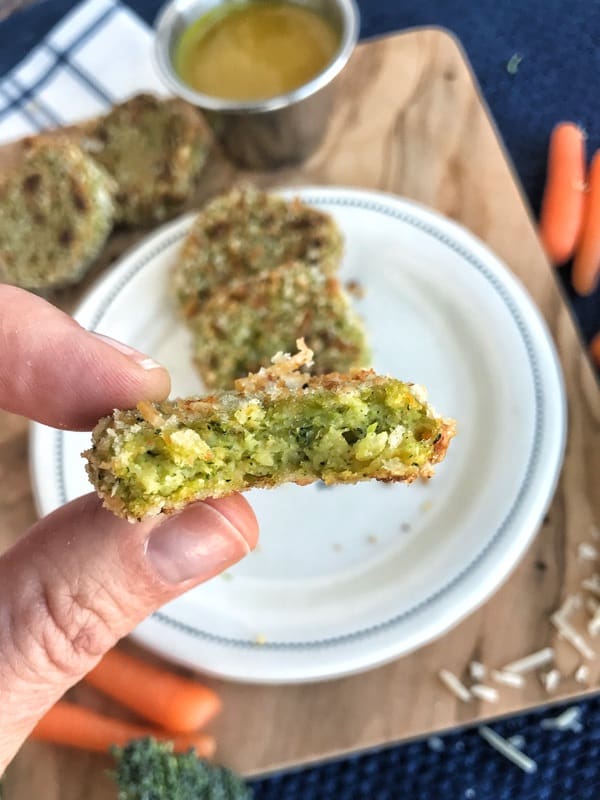 If you plan to use the whole stem on the broccoli, the outside layer should be peeled, removing the fibrous outside layer. Here's how:
After removing the florets, but off the bottom inch of the stalk.
Use a veggie peeler to remove the outer layer from the stalk. Save those scraps for your homemade veggie stock!
These veggie nuggets taste amazing, come together quickly, and make enough to freeze for later. Serve with your favorite dipping sauce!
No-Waste Broccoli Veggie Nuggets
These no-waste, bite-sized veggie nuggets are a simple way to get more veggies onto your child's plate. Don't discard those broccoli stems! Turn them into these easy veggie nuggets for a treat your kids will love. Grab your favorite dipping sauce and enjoy!
Ingredients
1 medium head broccoli stem and florets, chopped
1 cup baby carrots
3 large eggs
1 3/4 cup panko breadcrumbs divided
1/2 cup shredded mozzarella cheese
1 teaspoon salt
1/4 teaspoon onion powder
1/4 teaspoon garlic powder
1/2 cup Parmesan cheese divided
Instructions
Preheat oven to 350F.

Add broccoli and carrots to food processor or blender. Blend until well chopped. Add eggs, 1¼ cups panko, mozzarella cheese, salt, onion powder and garlic powder. Blend until well combined, scraping sides as needed. Stir in ¼ cup panko and ¼ cup Parmesan cheese.

In small bowl, mix 1/4 cup panko and 1/4 cup Parmesan cheese.

Roll batter into small 1-inch balls. Roll in panko blend, coating all sides.

Place veggie balls onto parchment-lined baking sheet. Gently push down to form nuggets.

Bake 10 minutes, flip, and bake an additional 2 minutes, or until browned and cooked through.
Nutrition
Calories: 122kcalCarbohydrates: 14gProtein: 7gFat: 4gCholesterol: 65mgSodium: 360mgFiber: 2gSugar: 2g