(Last Updated On: September 1, 2020)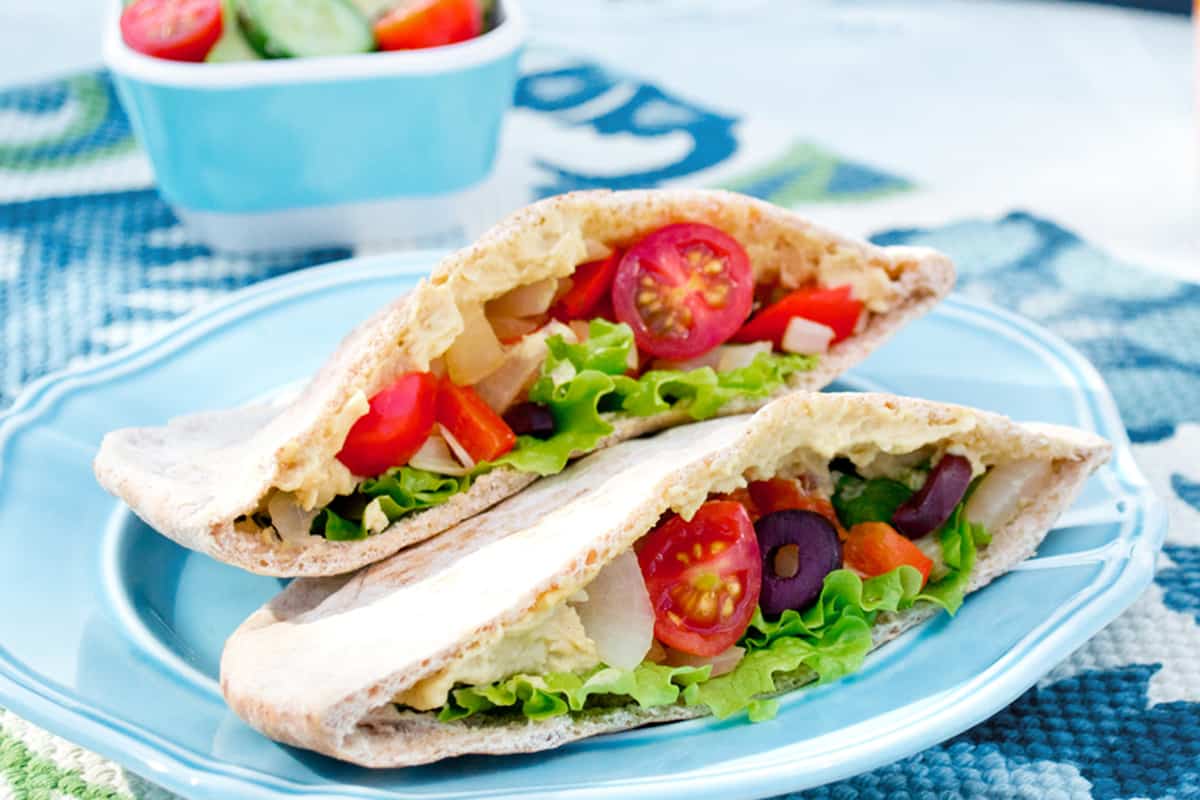 A quick & easy vegan lunch that's perfectly packable for your lunchbox, both warm or cold. Pair with a fresh salad of sliced cucumber, cherry tomatoes and avocado tossed with lemon juice, pepper and salt.
Nutrition Tip: Hummus is an excellent source of fiber, which has multiple health benefits, including helping to foster a healthy digestive system, making us feel full and satisfied, and improving cardiovascular health.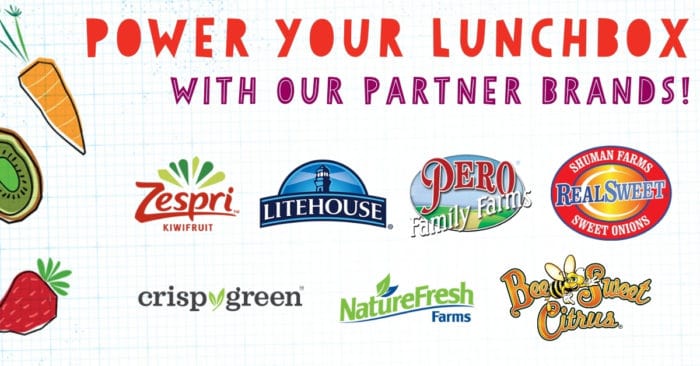 How do you #PowerYourLunchbox? Show us your healthy lunchboxes on Instagram using #PowerYourLunchbox.
Looking for more lunchbox ideas? We've got you covered with 70+ ideas including make-ahead ideas, non-sandwich lunches, ideas for repurposing leftovers, and vegetarian, nut-free and gluten-free recipes.
Or check out all of our back-to-school content on our blog. A few of our most popular posts include: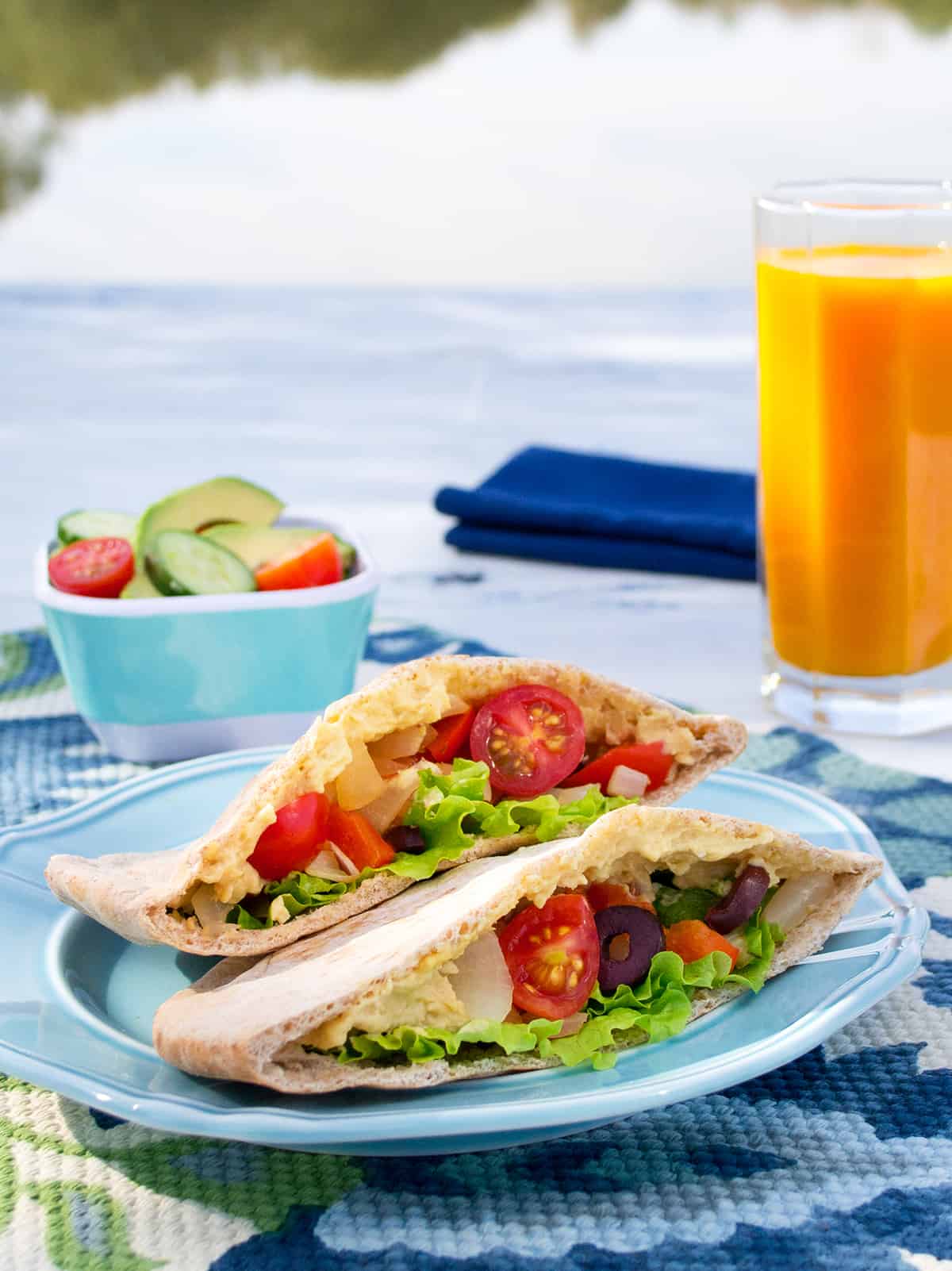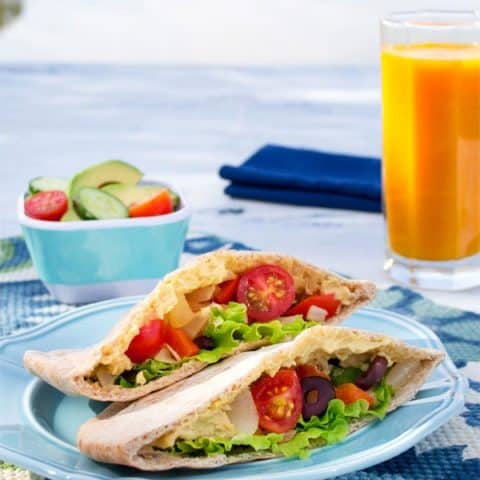 Vegan Greek Pita
Yield: 3
Prep Time: 15 minutes
Total Time: 15 minutes
Ingredients
1 tablespoon olive oil
1 sweet onion, chopped
1 red bell pepper, chopped
1 1/2 tablespoon oregano
3 cloves garlic, minced
3 whole wheat pitas
1/2 cup hummus
6 leaves romaine lettuce
1/4 cup chopped tomatoes
1/4 cup pitted Kalamata olives, chopped
Instructions
Heat oil in large skillet on medium heat. Add onion, pepper, oregano and garlic. Cook 5 minutes or until onions are translucent.
Warm pitas (optional) in microwave or stovetop.
Slice each pita in half, making six pockets. Spread hummus on inside of pitas. Fill evenly with pepper mixture, Romaine, tomatoes and olives.
Nutrition Information:
Yield: 3
Amount Per Serving:
Calories: 231
Total Fat: 8.79g
Sodium: 314mg
Carbohydrates: 32.39g
Fiber: 6.57g
Protein: 7.15g