Southwestern Pasta Salad Bento Box
This southwestern pasta salad is ideal for making the night before. Pack in lunchboxes with a few healthy sides for a nutritious and filling lunch!
Nutrition Tip: Compared to lean meats, the protein found in black beans contain zero to little saturated fat and cholesterol.
How do you #PowerYourLunchbox? Show us your healthy lunchboxes on Instagram using #PowerYourLunchbox.
Looking for more lunchbox solutions?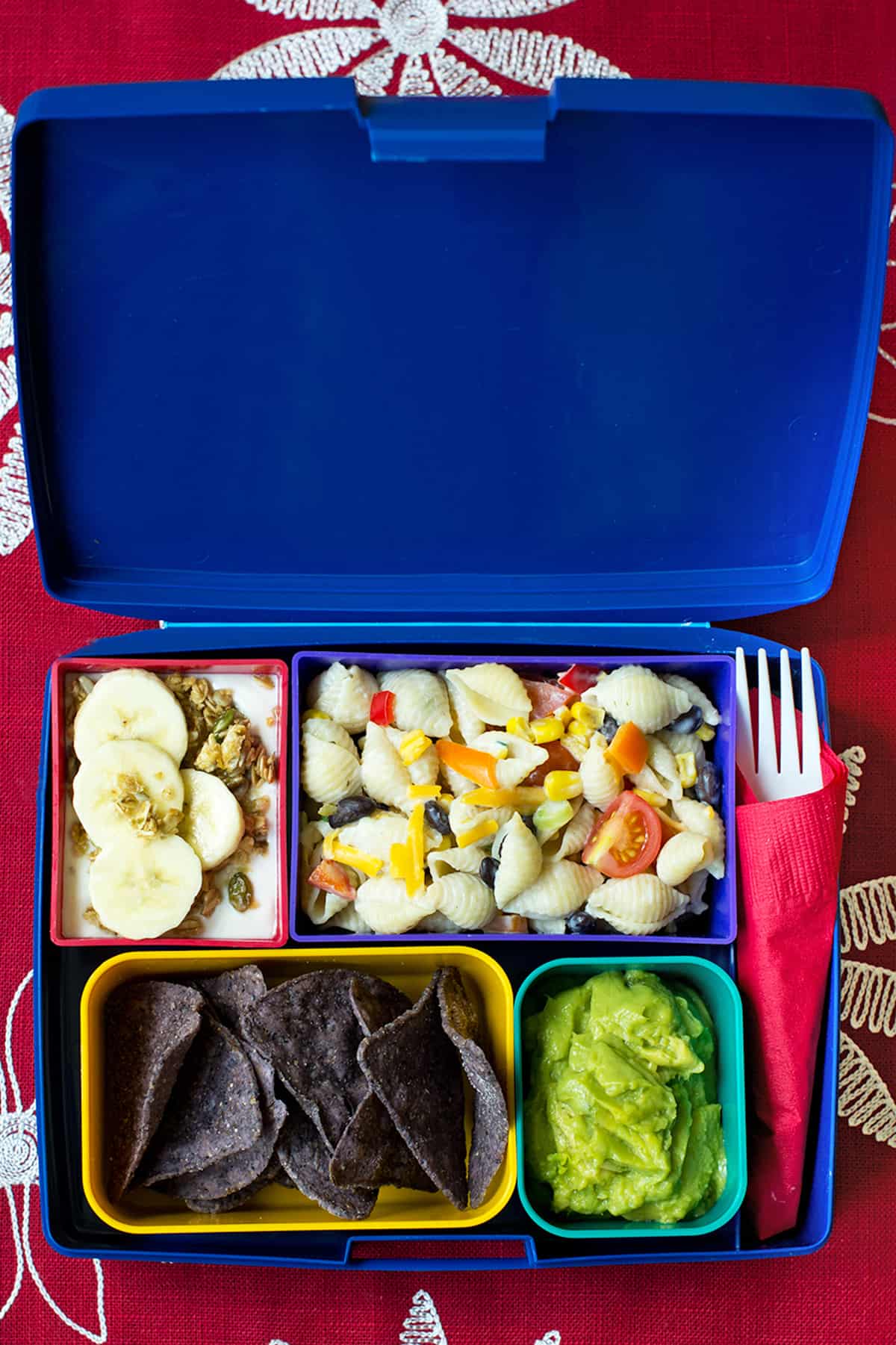 Southwestern Pasta Salad Bento Box
Yield: 8
Prep Time: 15 minutes
Total Time: 15 minutes
Ingredients
1 (12 oz.) box whole wheat mini shells
1 (15 oz.) can reduced-sodium black beans, drained, rinsed
1 (15 oz.) can no-salt-added corn, drained, rinsed
1 cup quartered cherry tomatoes
6 mini sweet peppers, diced
1 green onion, thinly sliced
1/2 cup shredded lowfat Cheddar cheese
1/2 cup yogurt Ranch dressing
1 ounce blue tortilla chips
2 tablespoons Wholly Guacamole® mini
1/2 cup Greek yogurt
1/2 banana, sliced
1 tablespoon granola
Instructions
Cook pasta according to package directions. Drain and let cool.
Mix pasta, beans, corn, tomatoes, peppers, onion, cheese and Ranch in large bowl.
Add tortilla chips, guacamole and yogurt topped with bananas and granola to lunchbox.
Nutrition Information:
Yield: 8
Amount Per Serving:
Calories: 404
Total Fat: 5.85g
Sodium: 76mg
Carbohydrates: 74.15g
Fiber: 13.48g
Sugar: 6.71g
Protein: 17.29g