Easy Pita Pizza Bento Box
Everyone loves pizza! And your kids will love opening their lunchbox and seeing this easy pita pizza in their bento box. Parents will love that these pita pizzas are ready in just 10 minutes!
Does your family love pizzas as much as mine does? Join the bento box craze with this easy Pita Pizza Bento Box. The adults and kids will have fun creating veggie-packed pizzas that they'll actually eat at lunchtime! These pizzas are great as an after school snack or as the main meal. Better yet, they will please the whole family since they are so customizable!
Some people think that pizzas are an unhealthy option, but they don't have to be! Loaded with the right ingredients, pizza can be an awesome meal for a healthy lifestyle. Think about it, tomato sauce, cheese, veggies… pretty good stuff! My family loves making different versions of pizza.
Sometimes we make these Vegetarian Pizzas and my kids absolutely love when we make Pizza Bagel Bites! So this time we wanted to change it up a bit by making them on pitas. We went with whole wheat pitas for an extra dose of nutrition, but regular will do just fine as well. The pitas are a great choice for lunch because they pack well and don't get soggy after hours in the lunch box.
Nutrition Tip: Processed or cooked tomatoes, like tomato sauce, are found to have high levels of the antioxidant Lycopene, which studies have shown helps to reduce the risk of heart disease.
This Easy Pita Pizza Bento Box is a perfect recipe for the kids to make on their own, too. There isn't any cooking required and not too many steps so let them help or make them completely. The kids can get creative and add the toppings that they enjoy. These mini pizzas are also a really great meal prep idea if you like to do that. Make a few for the week for easy grab and go's. Or you could even make a huge batch and freeze them individually for a quick lunch packing option for the future!
Key Ingredients to this Easy Pita Pizza Bento Box
Whole Wheat Pita
Low Sodium Tomato Sauce
Ham
How to assemble this Easy Pita Pizza Bento Box
First start by laying the whole wheat pitas out on a clean surface. Then spoon the tomato sauce on to the pita and spread. Add on the ham, the mushrooms, bell peppers, and fresh tomato. Add whatever other toppings you would like.
Then repeat for as many pizzas as you would like to make!
Place the pita pizza into the bento box or container along with carrots and ranch. (or whatever favorite sides your family likes)
Check out some of our favorite Bento Boxes for easy lunch solutions!
Make sure to PIN IT!
How do you #PowerYourLunchbox? Show us your healthy lunchboxes on Instagram using #PowerYourLunchbox.
Looking for more lunchbox solutions?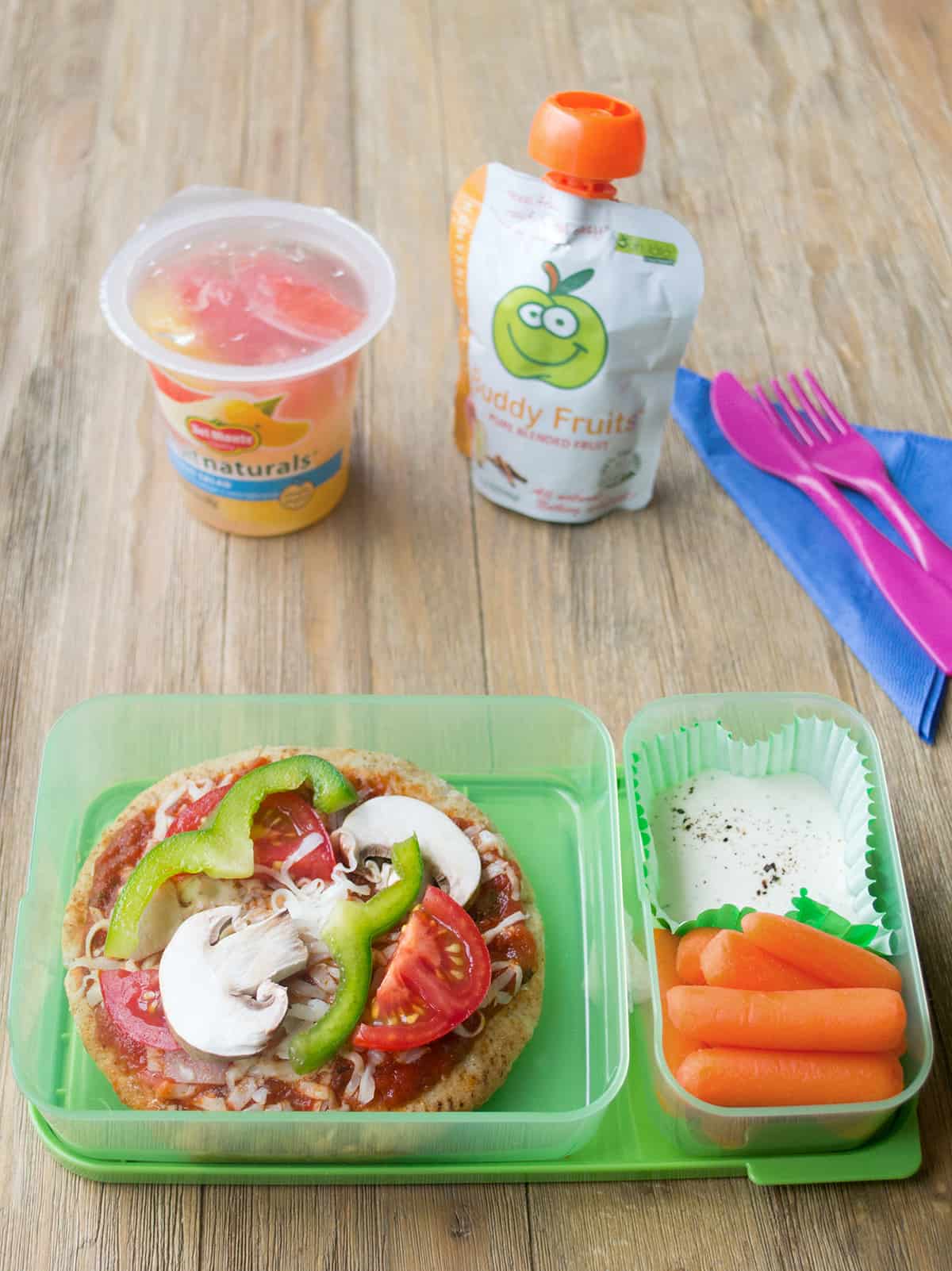 More recipes to try: