Deconstructed BLT Bento Box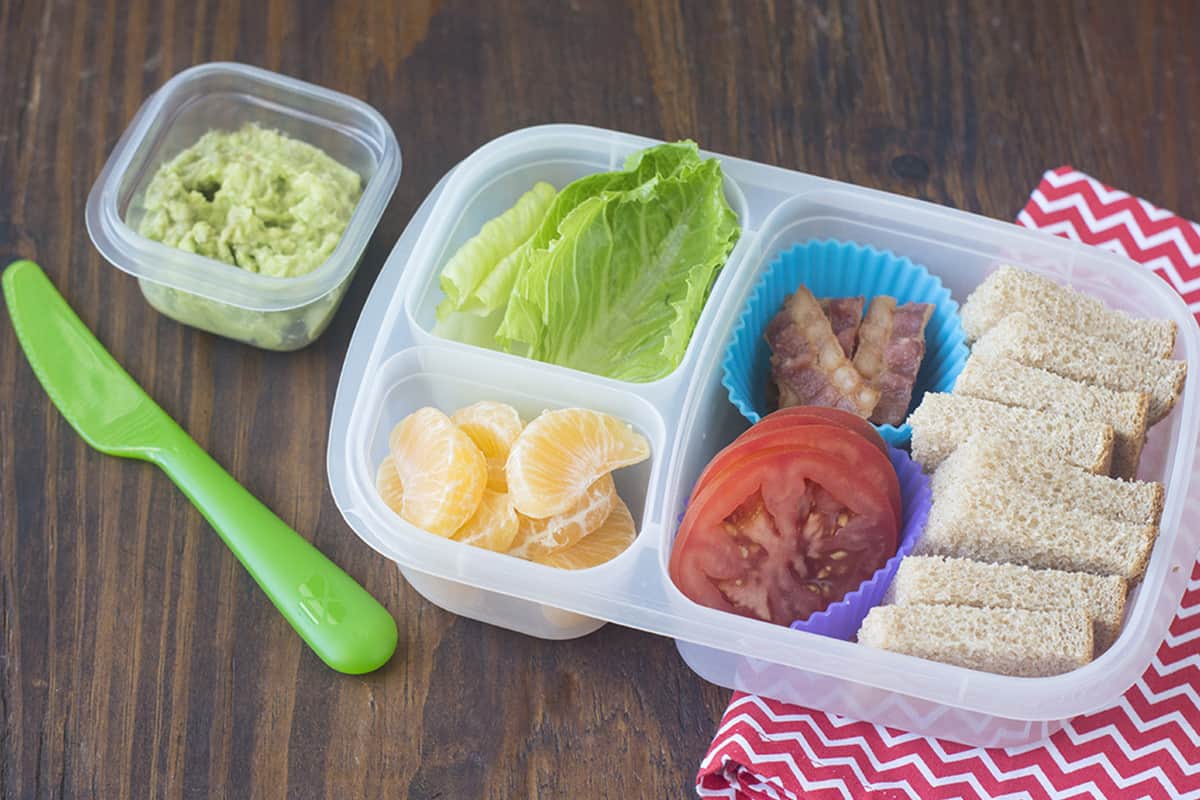 We have a new and easy lunchbox idea for both you and the kids! Check out this Deconstructed BLT Bento Box that is easy to make, delicious, and different! Kids will have fun constructing their very own BLT sandwich at lunchtime. Keeping each item in its own compartment keeps everything fresh until lunchtime and avoids the dreaded soggy sandwich. Instead of mayo, get a dose of good fats by spreading on mashed avocado!
I grew up eating a classic BLT sandwich for dinner with my family. I have always loved them and sometimes we make them for an easy dinner idea at our house now. I wanted to take some to lunch one time but knew that the tomatoes would make the bread soggy. So I got to thinking, and that is how these Deconstructed BLT Bento Boxes came about! And yes they can be somewhat healthy, too. We used whole wheat bread and even used mashed avocado instead of mayo. Bacon is a good source of protein and everything in moderation is okay. Or you could even pack turkey bacon, too.
Want the kids to help make this one? Cook up the bacon and let them do the rest. Have them cut the bread and lettuce and assemble into their lunchbox. They can even mash up the avocado. Are they a little older and can handle a sharp knife? Let them slice the tomatoes, too! However they want to help, let them.
Nutrition Tip: Craving the crunch of bacon? Choose low sodium varieties, which has almost less than 1/2 the amount of sodium as regular bacon.
Key ingredients for this Deconstructed Bento Box
Whole Wheat Bread– you can use what you have at the house but we usually stick with whole wheat or multi grain breads.
Low Sodium Bacon– bacon is not entirely bad. As long as it is enjoyed in moderation there are some benefits to eating it. Especially for kids, bacon contains fats that can help in their brain development. Bacon can also help people who need to get salt into their diet.
Tomatoes– we love tomatoes in our family especially when we have them fresh from the garden. Juicy, sweet, and loaded with many essential vitamins that are great for your skin, can help maintain strong bones, and can even help protect against many cancers.
Lettuce– we used romaine because there's a little more crunch and nutrition. Romaine lettuce usually holds up a little better in the lunchbox, too.
Avocado– instead of mayo, we mashed an avocado for a change up! It was perfect in this recipe and you can feel good about eating it!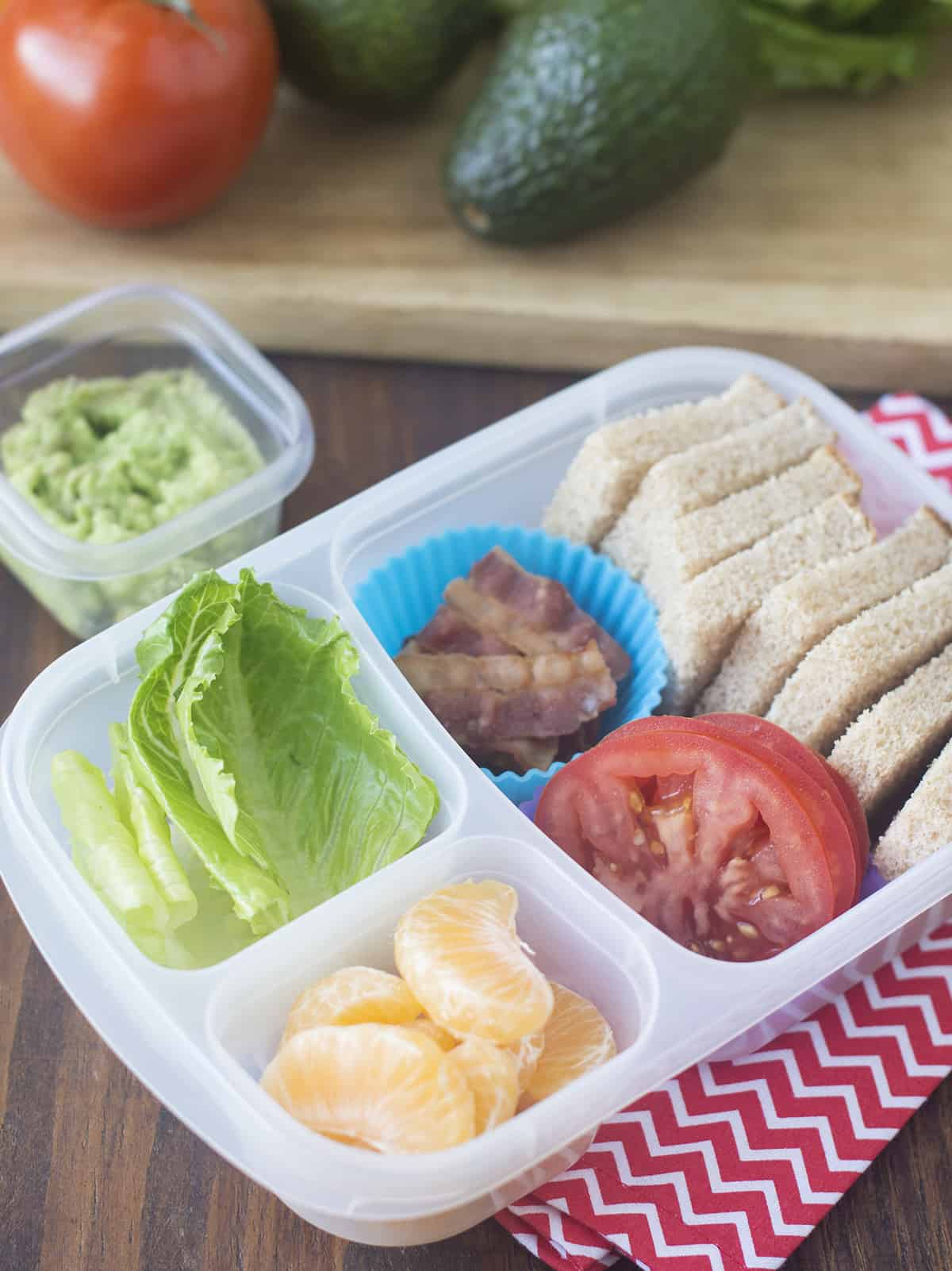 How to Make this Deconstructed BLT Bento Box
First start by cooking the bacon to your liking. You can bake it, pan fry it, or even cook it in the Air Fryer! Let it cool and then cut it into pieces. Then mash up the avocado and lime juice together. Place in small airtight container.
Then grab out the bento box and add the bread, bacon, tomato and lettuce. At lunchtime, spread the mashed avocado on bread and top bacon, lettuce and tomato.
Make sure to pack up everyone's favorite snacks, fruits, and vegetables for a full lunch.
Make sure to PIN IT!
How do you #PowerYourLunchbox? Show us your healthy lunchboxes on Instagram using #PowerYourLunchbox.
Looking for more lunchbox solutions?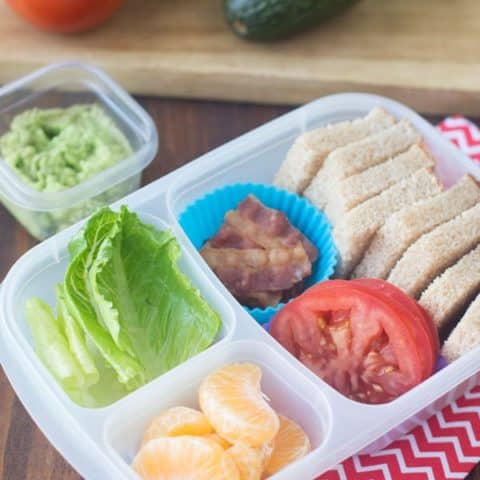 Deconstructed BLT Bento Box
Try this fun spin on a classic BLT Sandwich! Loaded with all the favorites, this bento box will keep all the ingredients fresh for lunch time.
Ingredients
1/3 avocado
1 teaspoon lime juice
2 slices whole wheat bread cut into fourths
2 strips low-sodium bacon cooked, cut into fourths
4 small tomato slices
1/4 cup chopped romaine lettuce
1 clementine peeled, segmented
Instructions
Mash avocado and lime juice together. Place in small airtight container. Add bread, bacon, tomato and lettuce to bento box.

At lunchtime, spread mashed avocado on bread and top bacon, lettuce and tomato.

Serve with clementine.
Nutrition
Calories: 556kcalCarbohydrates: 58gProtein: 19gFat: 30gSaturated Fat: 8gPolyunsaturated Fat: 5gMonounsaturated Fat: 15gTrans Fat: 1gCholesterol: 29mgSodium: 546mgPotassium: 1883mgFiber: 16gSugar: 24gVitamin A: 5240IUVitamin C: 112mgCalcium: 146mgIron: 3mg
More Recipes to Try: