30 Berrytastic Recipes for Summer
This blog post is sponsored by Wish Farms. All opinions are our own.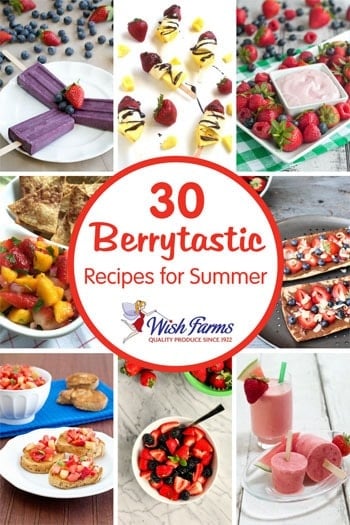 Is anyone else all about the berries during the summer months? My youngest would go into full meltdown mode if we didn't have strawberries on hand at any given moment. While berries are perfect for snacking any time of the day, there are also so many fantastic ways to use them for breakfast, lunch, dinner, snacks and dessert!
Today, we're teaming up with our friends at Wish Farms to bring you 30 berrytastic ways to eat more berries this summer. Did you know Wish Farms has growing regions across the US, Canada and South America that make it possible to grow and harvest strawberries, blueberries and blackberries on a year-round basis? For more information on their growing regions and availability, head over to their website. http://wishfarms.com/how-we-grow/availability-calendar/
Wish Farms also had a kid-approved section on their website filled with kid-approved recipes, fun ideas, health tips and more. It's a great place to find new recipe inspiration for your little berry lovers!
Want more delicious berry recipes from Wish Farms? Sign up to be a berry lover and receive a FREE recipe eBook.
Check out the recipes below for fresh berry recipe inspiration: