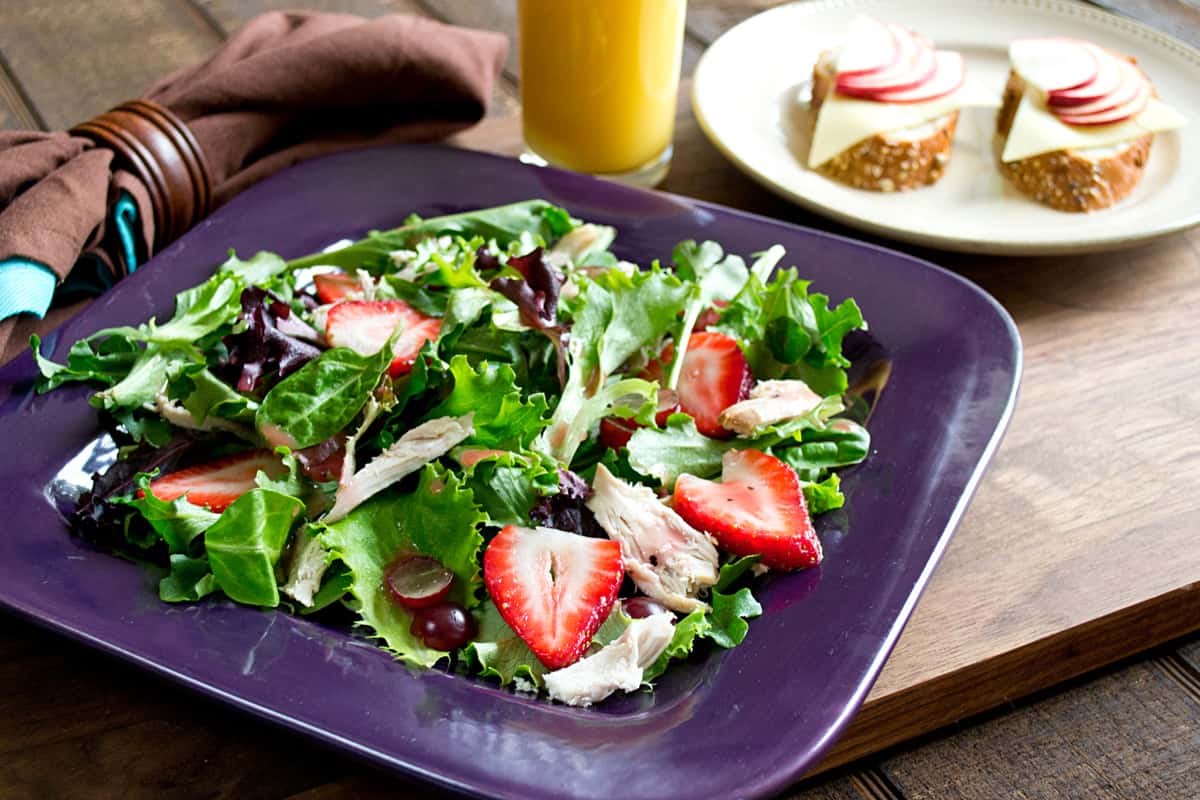 A fresh take on salad; top your favorite greens with fruit and chicken for an easy lunch idea. You can also stuff that delicious fresh summer salad into a pita or wrap for a portable snack.
Nutrition Tip: Wine may get all the credit for being heart-healthy, but plain grapes have the same healthful compounds called polyphenols. Red, green, and black grapes have resveratrol that's linked to possible heart health and anti-cancer benefits.
Why Salads Are a Great Choice for an Easy Lunch
Salads are a great choice for an easy lunch for a few reasons. They are quick and easy to make, you can pack them full of nutrient-rich ingredients, and they are very versatile.
Salads can be made in less than 10 minutes, which makes them ideal for packing on busy weekday mornings. You can also pack them with plenty of healthy ingredients like leafy greens, fruits, and nuts. If you have leftover chicken or beef from the night before, toss that on there too for a serving of protein.
I love that you can add whatever ingredients you like to create a unique dish each time, use whatever berries are in season! I love adding fresh strawberries, blueberries, blackberries and raspberries.
Optional Toppings For Fresh Summer Salads
When it comes to summer salads, the options are endless. From fruits and vegetables to proteins and dressings, there are so many ways to make a salad your own. Here are a few optional toppings that will take your salad from ho-hum to delicious:
Fruits: Add some sweetness to your salad with fresh or dried fruits. Berries, grapes, melon, and citrus fruits are all excellent choices. In this salad we chose strawberries and red seedless grapes, but you can choose any summer fruits your heart desires!
Vegetables: Raw or cooked veggies can liven up any salad. We opted for a spring mix salad because they are grab and go bagged mixes that save even more time. However, if you have a little more time and are feeling like you want a little more crunch, consider adding shredded carrots, diced tomatoes, sliced cucumbers, or roasted or raw peppers.
Proteins: Give your salad a boost of protein with cooked chicken, shrimp, tofu, hard-boiled eggs, or canned beans. In our case we chose rotisserie chicken – again, because it's fast! You can get a whole rotisserie chicken for under $10 at most grocery stores – and they'll handle the cooking for you!
Dressings: Store-bought dressings are convenient, but homemade dressings are even better. If you have a few extra minutes to spare, try this Vidalia Onion Dressing, it's one of our faves!
What if Picky Eaters Don't Like Your Salad Toppings?
It can be hard to find the perfect combination of ingredients that everyone will love, but don't give up hope! Here are a few tips for creating an easy lunch that even the pickiest of eaters will enjoy.
If you're having trouble getting your picky eater to try new things, start with something familiar. Add in some of their favorite fruits or vegetables to the mix. You can also try using different dressings or sauces to top off the salad.
Be sure to test out a few different combinations until you find one that your picky eater loves!
Can You Prep a Salad Ahead of Time?
Yes, but there are a few key things to keep in mind if you do:
– Choose your greens wisely. A mix of greens will last longer than one type of green.
– Your protein of choice will not only add filler and make it more satisfying.
– Don't prepare your salad too far in advance. Three days is the maximum number of days ahead of time we'd recommend.
Pro Lunch Packing Tip: Don't add your dressing until you're ready to eat it! Adding your dressing the night before, or even the morning of can make your lettuce soggy.