Very Berry Cheesecake Dip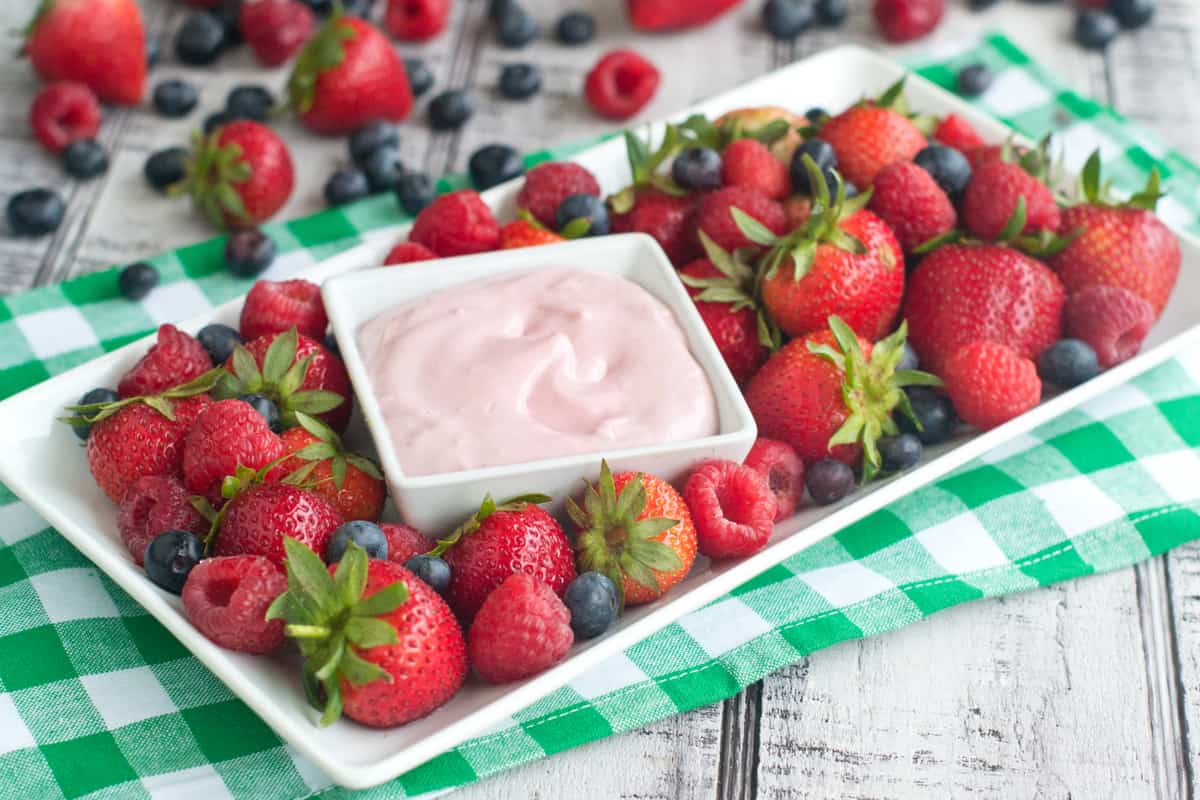 Kids love to dip. Give them this fun berry cheesecake dip made with low-fat cream cheese and berry juice for the perfect fruit dip.
This Very Berry Cheesecake Dip is so good, you'll want to eat it by the spoonful! It's easy to make and only requires a few simple ingredients.
Our very berry cheesecake dip is made with cream cheese, low-fat cream cheese softened, berry juice, zest of lemon, sugar, strawberries, raspberries, and blueberries. It couldn't be easier or more delicious to make! It's also perfect for any occasion. Serve it at your next party or take it to a potluck. It's sure to be a hit!
What Should I Use as Dippers?
So, what should you serve with this delicious dip? Here are a few suggestions:
Fruit Slices
Cookies (we particularly like sugar cookies)
Pretzel Sticks or Twists (look out for Cinnamon Sugar ones!)
Graham Crackers
Even Carrot Sticks
Do I Need Any Special Equipment for this Very Berry Cheesecake Dip?
Nope! Just a mixing bowl, and spoon or spatula to stir it all together.
How Long will the Very Berry Cheesecake Dip Last?
This Very Berry Cheesecake Dip is so good, you may be wondering how long it will last. Luckily, it will stay fresh in the fridge for up to a week! Simply store it in an airtight container and enjoy within seven days.
Can I Double The Recipe?
When you find a dip recipe you love, the natural inclination is to want to make a bigger batch. After all, more dip means more fun, right? But can you simply double the recipe for this Very Berry Cheesecake Dip?
The answer is yes… and no. It all depends on the ingredients and how they interact with each other. For example, doubling the cream cheese in this recipe could lead to a runnier dip. So if you're looking to make a larger batch of this dip, it's best to experiment a bit and add additional ingredients slowly until you get the desired consistency.
Of course, there's always the option of making two separate batches of dip. That way you can be sure to have enough for your party without risking ruining the whole thing by adding too much (or too little) of any one ingredient.
Recipe created by Christine Pittman in partnership with Produce for Kids.
Make sure to PIN IT!
More recipes to try:
Easy Cream Cheese Fruit Dip With Greek Yogurt
Strawberry Watermelon Fruit Slushies