Easy BBQ Chicken Taquitos Lunchbox Idea
Turn leftover shredded chicken into a fun appetizer or lunch idea with these easy BBQ Chicken taquitos. Ready in under 30 minutes these are easy enough for the kids to make! Just toss chicken with BBQ sauce and cheese and roll up in a tortilla and then bake.
As a mom, I am always looking for creative ideas for the kids for lunch. Whether they are at school or at home. The kids definitely get bored of the same things over and over and I like to make sure they are eating healthier options that will also keep them fueled during the day.
These BBQ Chicken Taquitos have protein thanks to the cheese and chicken, and the kids love the addition of BBQ sauce for that tangy flavor.
Key Ingredients in these easy BBQ Chicken Taquitos
Shredded Chicken
Shredded Cheese
Your favorite BBQ sauce
Tortillas
I told you this was an easy recipe!
Why these taquitos are great additions to lunchboxes
They are easily made the night before, in fact, they even freeze well.
They don't have to be warmed up once your child gets to school.
Kids love them! In fact, us parents do too, don't hesitate to make a few extra for you for lunch too.
We love dipping these taquitos into guacamole for some added good-for-you fats and fiber. Pair with your favorite fruits and veggies for a delicious lunchbox! Grapes, mandarins, and pineapple chunks all travel well in lunchboxes. Sliced mini sweet peppers and carrots are perfect for dipping in the guacamole. Add in some tortilla chips for a surprise that the kids will love.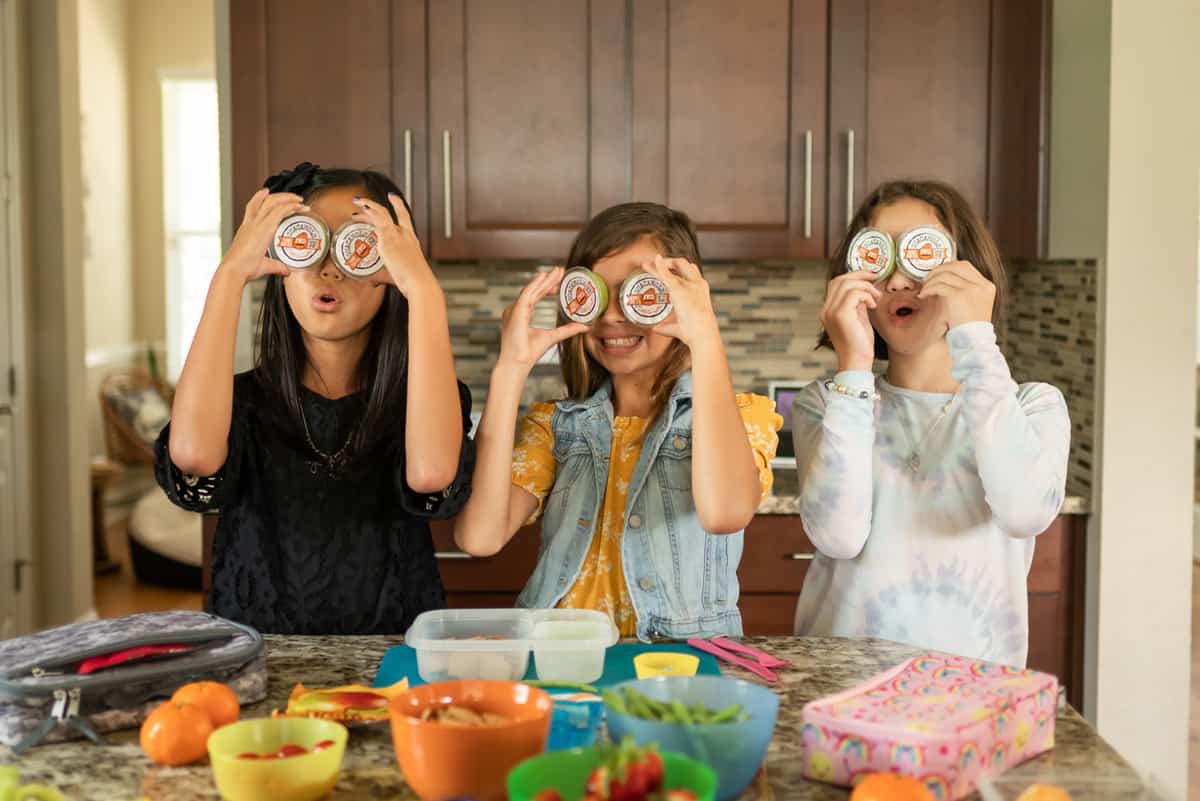 Nutrition Tip: Protein-packed lunches like this one help keep kids fuller longer, so they can focus all afternoon and be fueled for after-school activities.
Leftover rotisserie chicken or this slow cooker shredded chicken are perfect for this recipe to make it quick and easy. Look for a BBQ sauce that's lower in sugar, or make your own (we love this watermelon BBQ sauce!).
How to make these BBQ Chicken Taquitos
You simply mix the chicken, cheese, and BBQ sauce then roll up the tortilla. Once you have then all rolled bake them until they are golden brown, about 15-20 minutes.
How do you #PowerYourLunchbox? Show us your healthy lunchboxes on Instagram using #PowerYourLunchbox.
Looking for more lunchbox solutions?
If you have an easy weeknight dinner idea, these would also be perfect! Again, have the kids help in the kitchen and dinner will be done in less than 30 minutes. I know we all appreciate an easy dinner idea too.
BBQ Chicken Taquitos Lunchbox
Turn leftover shredded chicken into a fun appetizer or lunch idea with these taquitos! Just toss chicken with BBQ sauce and cheese and roll up in a tortilla to bake.
Ingredients
BBQ Chicken Taquitos
2 cups cooked shredded chicken breast
1 cup shredded Cheddar cheese
3 tablespoons BBQ sauce
12 flour tortillas
Lunchbox Sides (per serving)
1 Bee Sweet Citrus® mandarin peeled, segments
1/2 cup green seedless grapes
1 guacamole snack cup
Instructions
Preheat oven to 425F.

Mix chicken, cheese and BBQ sauce in bowl. Add evenly to tortillas, roll up tightly and place on baking sheet.

Bake 15-20 minutes or until golden brown.

Assemble lunchbox with taquitos, mandarin, grapes and guacamole.
Nutrition
Calories: 276kcalCarbohydrates: 31gProtein: 15gFat: 7gCholesterol: 36mgSodium: 361mgFiber: 3gSugar: 14g