Fun St. Patrick's Day Recipes for Kids
Celebrate St. Patrick's Day with these fun and festive recipes the kids and the whole family will enjoy. From Shamrock chips and green foods to rainbow parfaits and traditional Irish dishes.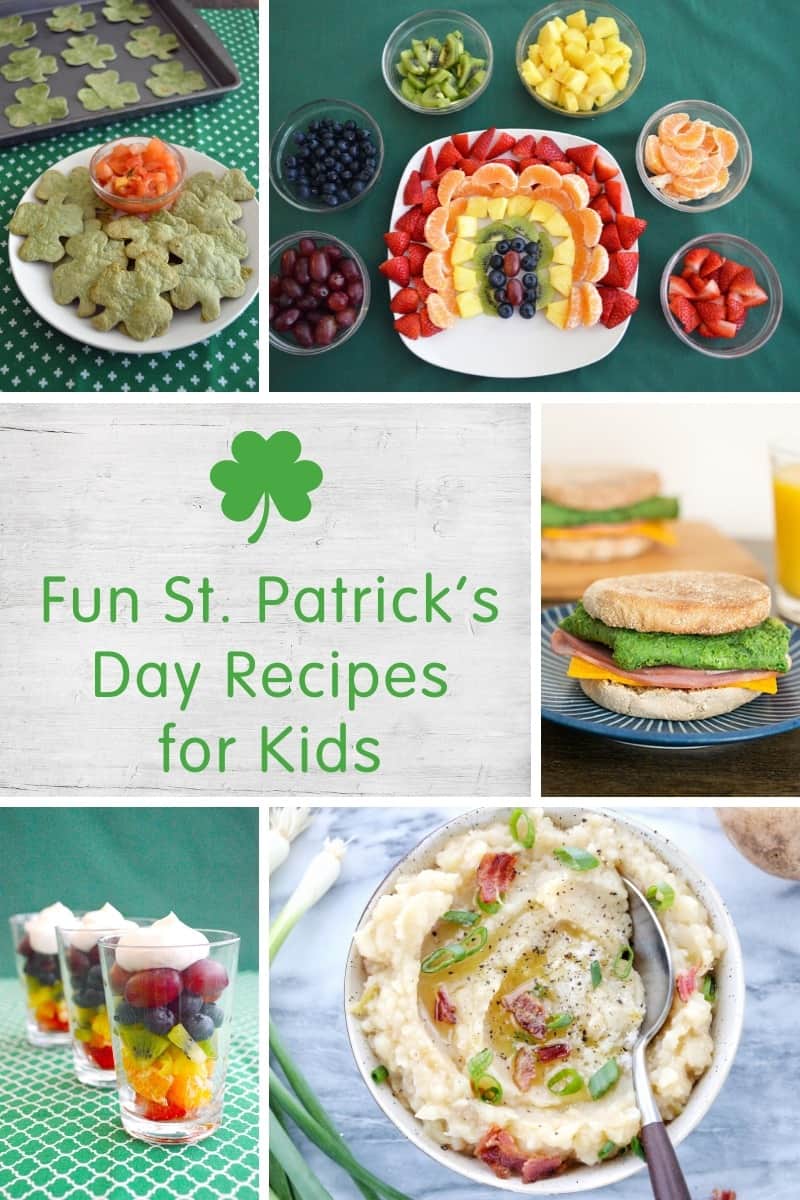 Whether you are Irish or not, everyone is a wee bit of Irish on Saint Patrick's Day! St. Patrick's Day is March 17th and is always a fun holiday to celebrate with family and friends. We wanted to share these Fun St. Patrick's Day Recipes for Kids with you so you and your family can celebrate, too!
My family is Irish, so playing up St. Patrick's Day is always fun for me and our kids. We've done the leprechaun footprints, hunted for four-leaf clovers and made green smoothies to drink. My girls are always careful not to get pinched on St. Patrick's Day, often wearing green to bed the night before "just to be on the safe side." Well, besides the games, we love making fun and festive foods, too!
We have some traditional and some festive Irish inspired recipes to share. Everything from simple rainbow ideas, green breakfast ideas, and all the way to some traditional colcannon. So go ahead and grab something green to wear, add something Irish to your menu, and bring on all the rainbow foods to celebrate!
Naturally Green Foods for St. Patrick's Day
Go Green – without the dye!
There are so many natural green foods to enjoy, you don't need to reach for food coloring to go green. Make a fun all-green snack board or create a dish using as many green foods as you can.
Here are some great options:
Green Grapes
Kiwi
Green Beans
Green Lentils
Apples
Edamame
Cucumbers
Olives
Brussels Sprouts
Celery
Asparagus
Lettuce, or other leafy greens
Sugar Snap Peas
Avocado
Below are some festive ideas to get creative in the kitchen and celebrate St. Patrick's Day with fun food ideas. What's on the menu for your family?
Fun St. Patrick's Day Recipes for Kids
Fun St. Patrick's Day Recipes for Kids
These fun Shamrock-shaped chips and salsa is a great snack for St. Patrick's Day! It's simple – use a shamrock cookie cutter to cut out chips from a spinach tortilla, bake and enjoy!
This Rainbow Fruit Tray will be a hit at St. Patrick's Day celebrations! Easily sub out your favorite fruit of the same color for a customizable snack. Serve alongside a yogurt fruit dip for dipping.
Shepherd's Pie is always a family classic with layers of goodness. This dish is also great to use up your leftovers. We added a twist using mashed cauliflower instead of potatoes – the kids will never know!
Eating a rainbow of fruits and veggies helps ensure your body is getting a complete range of nutrients! These Rainbow Fruit Parfaits make a great addition to breakfast or a fun after-school snack.
No need for butter to make this mac n cheese creamy and delicious! Swap in some good fats by adding avocado for a GREEN mac n cheese.
This Rainbow Buddha Bowl is a great way to easily get more veggies into your family's diet! This bright, fun, and nutrition-packed dinner is super easy to prepare, and even more fun to put together.
Colcannon is a traditional Irish dish made with mashed potatoes and either kale or cabbage. This version is made in the Instant Pot for a quick and easy side dish for St. Patrick's Day.
Eat a rainbow with these rainbow veggie wraps! Packed with spinach, mini sweet peppers, carrots and beets with a drizzle of Ranch for a tasty lunch.
Enjoy the goodness of a green smoothie in a fun, frozen treat! Kids won't even know they're eating veggies.
We all know the saying, "Eat a Rainbow!" and with this lunchbox, your kiddos will be!
Green smoothies have been all the rage in recent years, and with good cause – they're a great way to sneak in extra nutrients from healthy greens such as spinach. 
You've heard the expression – Eat a Rainbow! Now you can with this easy rainbow fruit salad. With an eye-catching array of colors and a simple honey citrus dressing, this summer side dish is perfect for cookouts, parties, holidays and more.
Get kids to eat their veggies with this fun and tasty green eggs and ham recipe! This healthy breakfast sandwich is ready in under 10 minutes and perfect for celebrating St. Patrick's Day.
These Baked Mashed Potatoes loaded with cheese, broccoli, baked into delicious mashed potato bites that have kids happily eating their vegetables for dinner!
Make sure to Pin It!