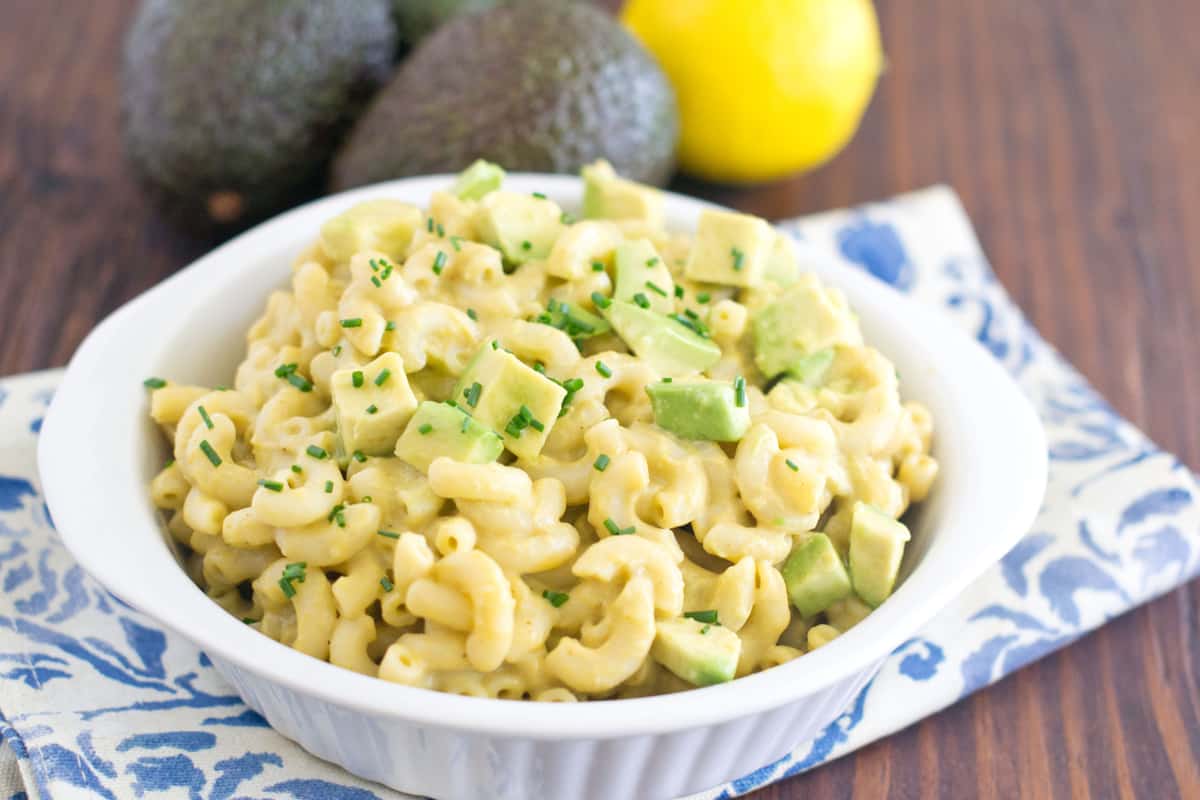 No need for butter to make this mac n cheese creamy and delicious! Swap in some good fats by adding avocado. Pump up the protein by adding canned tuna or grilled chicken.
Nutrition Tip: Avocados are one of the few fruits that provide "good" or "healthy" fats, called monounsaturated fats.
Avocado Mac n Cheese is a quick and easy dish that has lots of healthy fats and is low in calories and carbs. The avocado is one of the few fruits that contains healthy fats and is a great source of monounsaturated fats, a type of healthy fat.
Traditional Mac n Cheese vs Avocado Mac n Cheese
Avocado Mac n Cheese Recipe is a healthy, low-calorie alternative to traditional mac and cheese. Avocados are rich in all the good stuff that you need for good health. Unlike traditional mac n cheese which is lacking in nutrition, high in calories, and rarely leaves you satisfied.
This recipe only requires 15 minutes to prepare. It has no added sugar and only ten ingredients.
This low-calorie recipe is easy to customize to your preferences and tastes delicious. It can be served as a side dish or as an entree by adding a little bit of cooked ground turkey or chicken to the dish.
You Won't Believe How Easy Avocado Mac N Cheese is to Make
This easy-to-make avocado mac n cheese recipe is perfect for those trying to eat healthier and cut down on the amount of cheese and milk in their diets. The avocado pasta sauce is creamy, but has a light finish. You can use additional avocado slices or cubes as a topping as well, or you can simply mix more of the green good stuff into the mac and cheese sauce to make it even creamier.
This creamy, healthy mac n cheese recipe is a delicious way to get more fruits and veggies in your diet without sacrificing taste and comfort.
Can I Store The Leftovers?
If you have any leftover avocado mac n cheese after making this recipe, you can store it in the fridge for up to two days. It's best fresh though, and we're betting you will enjoy it so much that there won't be any leftovers!
Healthy Can Be Tasty!
When it comes to favorite foods, we all have our guilty pleasures. Whether it's a slice of cake, a heaping bowl of pasta, or a juicy burger, sometimes it's hard to resist. But just because a food is delicious, doesn't mean it has to be bad for you. By making simple swaps, you can enjoy your favorite meals without the guilt.
Here are a few more easy swaps that will help you lighten up your favorite dishes:
Swap white flour for whole wheat flour: This swap will give your dish more fiber and nutrients.
Swap full-fat dairy for low-fat dairy: You'll save calories and saturated fat without sacrificing taste.
Swap sugar for healthier sweeteners like honey: This swap will help cut calories without compromising flavor.
And, swap out traditional pasta for whole-wheat pasta!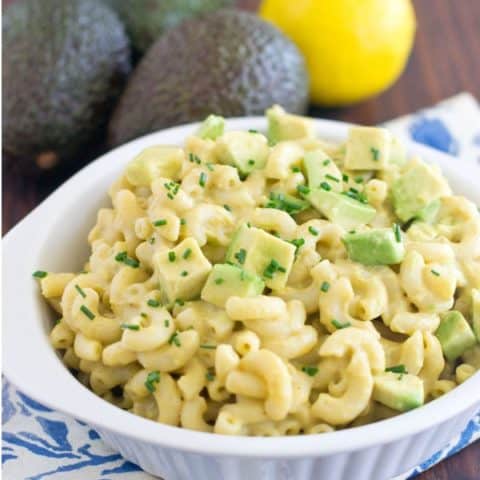 Avocado Mac n Cheese
No need for butter to make this mac n cheese creamy and delicious! Swap in some good fats by adding avocado.
Ingredients
1 pound whole-wheat elbow macaroni cooked according to package directions
1 1/2 cups 1% milk
3 cloves garlic chopped
1/2 teaspoon chili powder
1/2 teaspoon salt
1/4 teaspoon pepper
2 avocados halved, pitted
2 cups shredded sharp cheddar cheese
1 tablespoon plus ½ tablespoon lemon juice, divided
2 tablespoons chopped chives (optional)
Instructions
Combine milk, garlic, chili powder, salt and pepper in microwave-safe bowl. Microwave on HIGH in 1 minute intervals until hot.

Place 1½ of avocados and 1 Tbsp. lemon juice into blender and pulse. Add cheese and hot milk, and blend until smooth. Chop remaining ½ avocado and toss with the remaining ½ Tbsp. lemon juice.

Mix avocado sauce with pasta. Serve topped with chopped avocado and chives, if using.
Nutrition
Calories: 553kcalCarbohydrates: 67gProtein: 23gFat: 24gSaturated Fat: 9gPolyunsaturated Fat: 2gMonounsaturated Fat: 10gCholesterol: 41mgSodium: 477mgPotassium: 626mgFiber: 5gSugar: 4gVitamin A: 685IUVitamin C: 9mgCalcium: 384mgIron: 3mg
More recipes to try:
Creamy Chicken Avocado Alfredo Pasta