These green smoothie pops are a perfect healthy snack for the whole family. Prepped in just 10 minutes, this is an easy treat!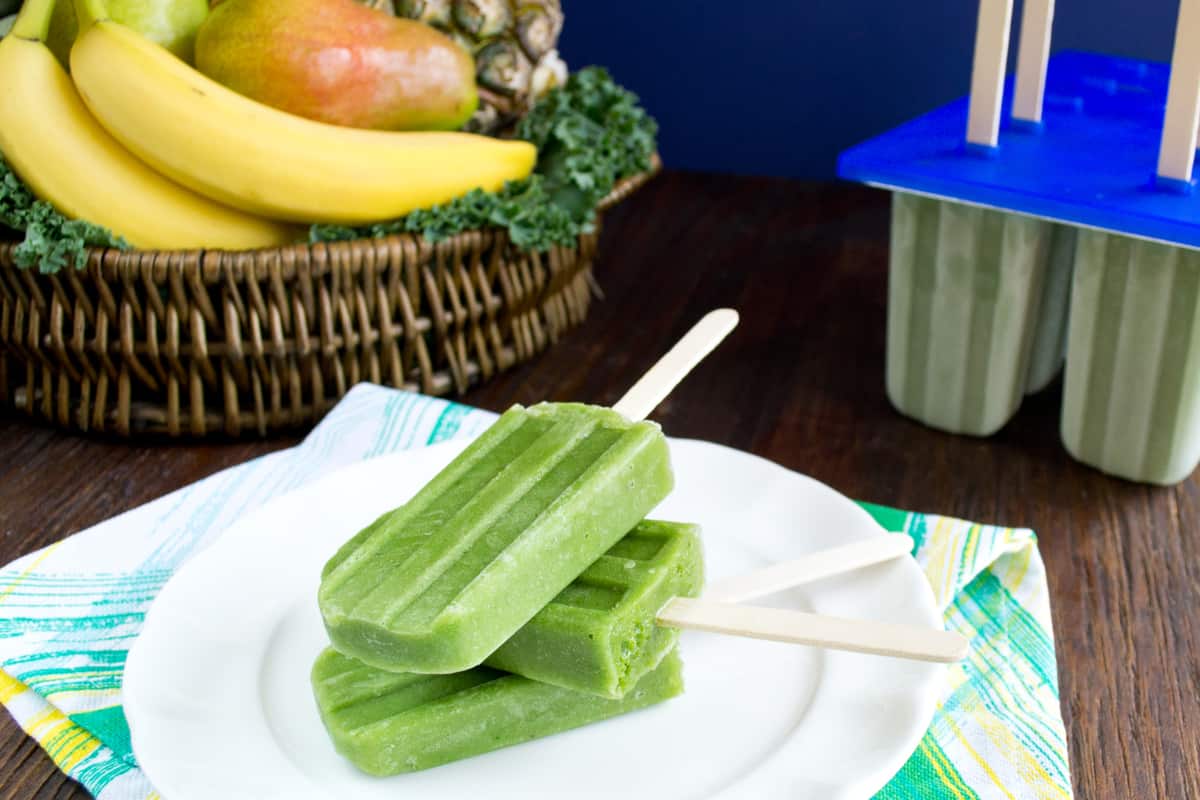 Enjoy the goodness of a green smoothie in a fun, frozen treat! Kids won't even know they're eating veggies. These green smoothie pops are a perfect healthy snack for summertime.
Green smoothie pops are a delicious and healthy alternative to sugary popsicles. Made with just a few simple ingredients, they are perfect for satisfying your sweet tooth without all the sugar. Packed with vitamins and antioxidants, green smoothie pops are also a great way to boost your immune system.
Benefits of Eating Pears
These healthy snacks are packed with nutrients and are perfect for on-the-go snacking.
Pears are a good source of fiber, which can help to keep you feeling full and satisfied after eating. Fiber is also important for maintaining a healthy digestive system.
Pears are a good source of antioxidants, which can help to protect your cells from damage and promote a healthy immune system.
The vitamins and minerals found in pears can help to support overall health and well-being. Pears are high in Vitamin C, which is important for supporting the health of your skin and eyesight.
Benefits of Eating Bananas
Bananas are not only a delicious and convenient snack, but they also offer a variety of health benefits. For example, bananas can help you regulate blood sugar levels, as well as help improve your digestion and heart health. They're also a good source of vitamins and minerals, including potassium, vitamin C, and dietary fiber.
Bananas also add to the natural sweetness of these green smoothie frozen treats.
Why We Added Pineapples In Our Green Smoothie Pops
Pineapples add a natural sweetness to smoothie popsicles, which helps hides the veggies for the kids 😉 Pineapples are a good source of vitamins and minerals, including vitamin C, which can help boost your immune system. They are low in calories and fat and contain an enzyme called bromelain, which has been shown to have anti-inflammatory properties.
Can You Use Spinach Instead of Kale in Smoothie Pops?
Absolutely, you can! Spinach is a great alternative to kale in green smoothie pops. It is an excellent source of iron, which is essential for carrying oxygen to our cells. Spinach is also packed with vitamins A, C, and K, as well as fiber and folic acid.
Spinach is a great option that will give your pops a little something extra. Just make sure you are using FRESH spinach!
Can I Add Other Fruits and Veggies to My Frozen Smoothie Pops?
Sure! Experiment as much as you would like. Just keep in mind with every change you could change the color, taste, and consistency. But we're all for experimenting with more ways to get healthy foods in your diet! Be sure to get the kids involved!
Agave Nectar vs. Sugar
Agave nectar is lower on the glycemic index than sugar. It's also a natural sweetener, so you can feel better about adding that natural sweetness to our frozen treats instead of adding sugar.
Ok, lets make some sweet and healthy treats shall we?!
More recipes to try: