14 Healthy After School Snacks Under 5 Ingredients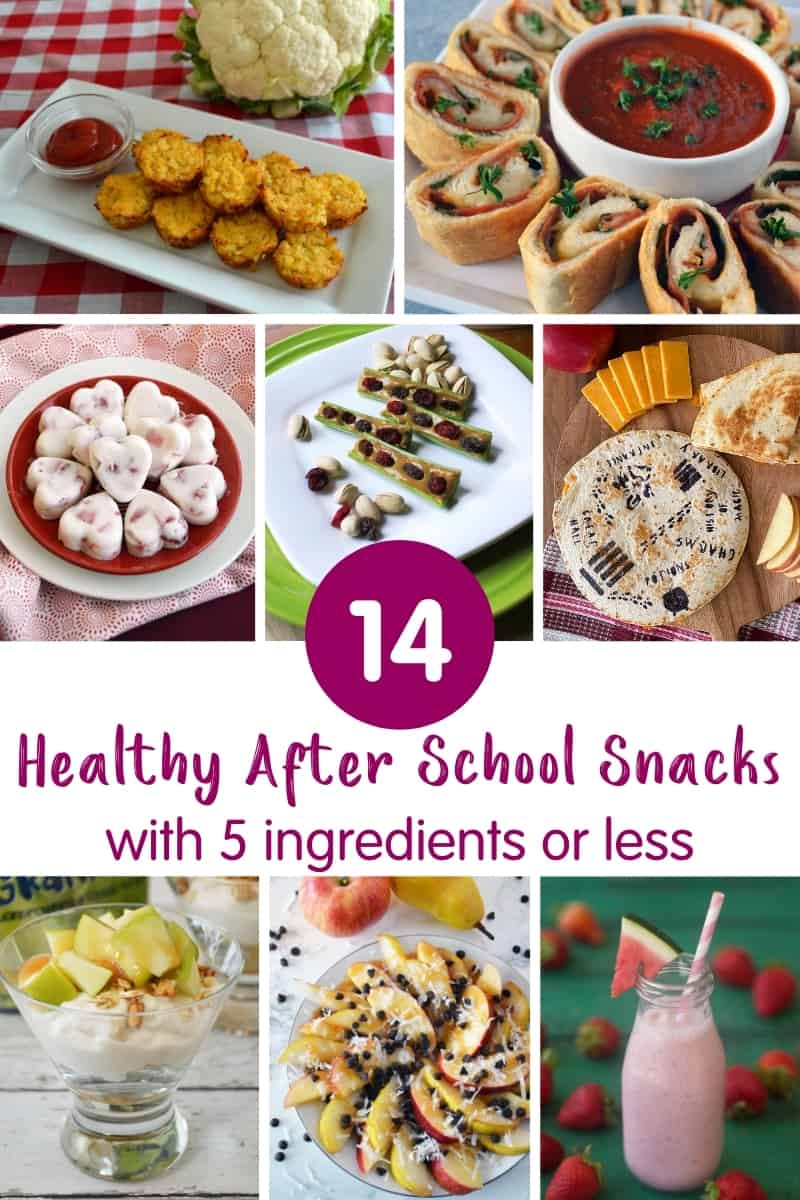 Keep hunger at bay until dinnertime with these easy after-school snacks for kids – that have just 5 ingredients or less!
The kids get home from school and the inevitable happens – they're hungry. For my boys, we're often heading off to hockey practice or another after school activity, so I'm always looking for ways to keep them energized.
These after-school snacks are balanced with protein, fiber, and vitamins to keep even the hungriest kids satisfied until dinner. Plus, kids can assemble most of these snacks on their own.
Here are some tips for mastering after-school snacks:
Involve the kids.
Including kids in snack decisions helps them not only feel more involved in the choices, but it often means they are more likely to eat what is available. We like to sit down together and go through magazines or cookbooks for ideas.
I also like to share ideas I've found online or pinned to Pinterest, and let my kids create their own idea boards so it's easy to refer to when it comes time to shop. This Ants & Friends on a Log is sure to be a hit with all ages!
Set up a snack station in the refrigerator and pantry.
A drawer, bin or shelf that is set aside with parent-approved snack options makes it easy for kids to help themselves to an after school snack. Fill the station with healthy options like fruits, cut-up vegetables or nuts. Kids can simply grab-and-go.
These No-Bake Granola Bites are easy to whip up and have on hand anytime.
Don't forget to hydrate!
At the start of the week, you can fill up reusable bottles with water, milk or no-sugar-added 100% fruit juice. When the kids come home from school thirsty, drinks will be cold and ready for enjoying. Try this Very Berry Peach Lemonade for a refreshing treat!
Stock Up and Cut Up.
Stocking up on fresh fruits and vegetables will make it easier when trying to make a healthy choice after school. Take it one step further and peel, cut or chop veggies (and some fruits) all at once.
Store in the refrigerator in food storage containers for the whole week. Plus, you'll even have a head start on adding them to salads for dinner!
Prep snacks ahead of time for the freezer too.
Next time you make muffins, like these Apple Pumpkin Muffins, consider making a double batch and store some in the freezer. Warmed up easily in the microwave, they make a great snack.
Another idea is to combine chopped fruit and yogurt in a bag for a smoothie kit. Just dump the contents in a blender, add milk or juice of choice, and blend for a delicious and nutritious snack idea. Try this Fruity Pumpkin Smoothie for a sweet treat after school.
Don't forget to add snacks to the meal plan.
When most people make a meal plan, they primarily focus on what's for dinner. By adding snacks to the meal plan—and having it written out to post on the refrigerator or another reminder spot–everyone will know more easily what's available and that helps ensure healthy choices are being made.
Looking for more after-school snack inspiration? Check out our kid chefs, Mia and Charli, assembling a few of their favorite snacks!
Do your kids have a favorite after-school snack they always ask for? Let us know in the comments below!
After-School Snacks with 5 Ingredients or Less
These quick and easy Pepperoni Pizza Rolls are made with a few simple ingredients and ready to eat in just 15 minutes.
Kids will go crazy for these cheesy cauliflower tots! Plus, you can get your kids in the kitchen helping to mix these up.
Homemade guacamole is easier than you think! It takes just a few ingredients to turn avocados into a delicious dip to eat with chips or top tacos, burgers and more.

Smoothies are always a hit with kids, and this recipe is no exception! Watermelon and strawberries combine for a tasty treat without being too sweet.
Kids will love being able to top a "log" with "ants" and other "friends." Use a few chocolate chips for a sweet treat.
These simple caramel apple parfaits need only 4 ingredients and are perfect for a healthy snack or breakfast that ids can easily assemble themselves!
These apple and cheddar quesadillas are the perfect sweet and savory combo. They're so easy to make and are perfect for a quick snack or to serve alongside a vegetable for dinner.
These bite-sized strawberry & yogurt bites are a sweet and delicious treat.
Not all salsas need to be tomato based. This black bean and corn salsa is perfect any time of the year. Grab your chips and dip!
Enjoy a fresh, tropical taste with this simple, protein-packed snack. Creamy vanilla Greek yogurt, juicy oranges and coconut combine to create a refreshing treat.
A crunchy, frozen treat that kids will love to eat! These banana popsicles are a perfect make-ahead recipe idea for an after school snack and are a healthy treat for summer.
These simple 5-ingredient apple donuts will be a hit with kids! Easily turn apple slices into "donuts" and top with your favorite toppings for a healthy snack or dessert.
Pizza gets a gluten-free, veggie-packed spin here! Let kids fill their own mushrooms and turn snack time into a fun learning experience in the kitchen.
Thinly slice apples and pears, drizzled with caramel dip and sprinkled with shredded coconut and mini chocolate chips.