We encourage eating with your hands in this fun take on the traditional turkey sandwich. This turkey wrap gets an extra punch of nutrition with the addition of guacamole and veggies like cucumber, tomato, and carrots.
Nutrition Tip: Avocados are one of the only fruits that contain heart-healthy monounsaturated fat (the good-for-you fat) that helps boost good (HDL) cholesterol and lowers bad (LDL) cholesterol.
How do you #PowerYourLunchbox? Show us your healthy lunchboxes on Instagram using #PowerYourLunchbox.
Looking for more lunchbox solutions?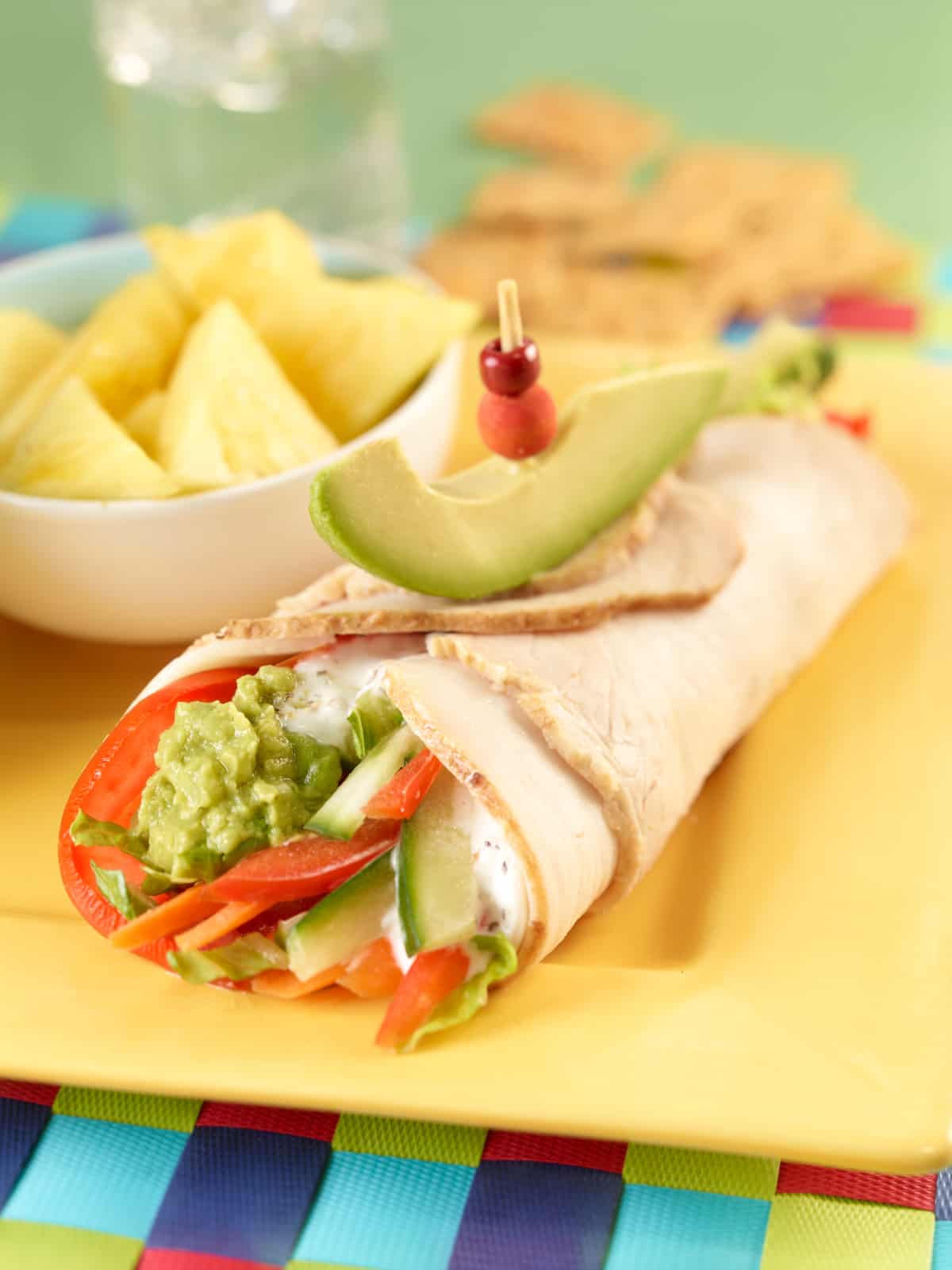 Tasty Turkey Wrap
Ingredients
1/2 pound thick sliced low-sodium turkey
4 slices provolone cheese
4 teaspoons light Ranch dressing
1/2 cup carrots, peeled, thinly sliced
1 tomato, sliced
1 cup shredded lettuce
1/2 cucumber, thinly sliced
1 red bell pepper, seeded, sliced
1 avocado, mashed
Instructions
Lay turkey slices flat on plate. Place cheese on top.
Spread with 1 tsp. dressing. Add carrots, tomato, lettuce, cucumbers, pepper and avocado.
Roll up and secure with toothpick.
Nutrition Information:
Yield: 4
Amount Per Serving:
Calories: 430
Total Fat: 18.83g
Cholesterol: 45mg
Sodium: 511mg
Carbohydrates: 42.57g
Fiber: 8.60g
Protein: 22.63g