Fun Holiday Snacks for Kids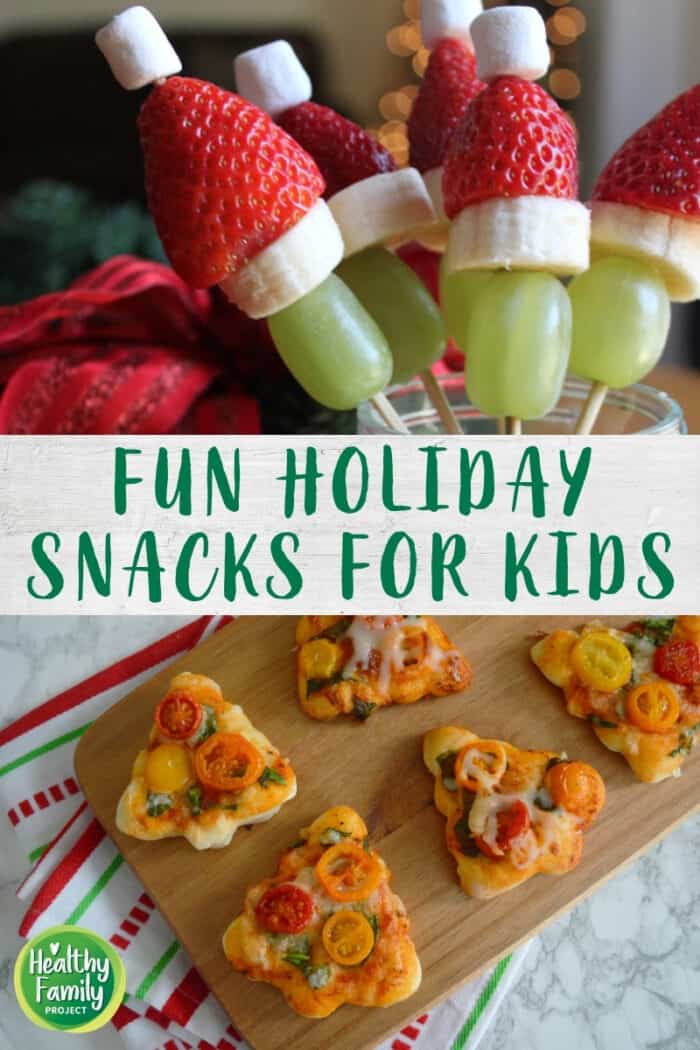 Celebrate the holiday season with one (or all!) of these fun, festive holiday snacks for kids! From Grinch Kebobs to Fruit Christmas Trees, they're the perfect way to celebrate.
One of my favorite things to do during the Christmas season is to snuggle up with my boys and watch one of the many Christmas specials on TV. We have so many favorites!
Of course, a steaming cup of hot chocolate is the best treat while watching these shows, but my boys also love to create festive snacks to match what we're watching.
Whether your family is team Rudolph or Team Grinch, there's a snack here for you. These fun holiday snacks can easily be assembled by kids and enjoyed as a family while watching your favorite holiday movie.
Looking for more healthy treats? Our Peanut Butter Drizzled Popcorn, with green pistachios and red dried cherries, is the perfect way to dress-up popcorn for Christmas.
Don't forget about a festive snack board too. Here's are some holiday snack board ideas to add flair to movie night.
Fun Holiday Snacks for Kids
These adorable Grinch fruit kabobs are a fun and healthy holiday snack to make with your kids!
Move over Christmas cookies, let kids get creative for the holiday season with this fun Christmas tree pizza recipe.
Who doesn't love a fun themed snack for the holidays? These snowman fruit kabobs are perfect for movie night, a holiday party or a fun dessert or snack!
This fun Christmas tree fruit platter can't help but bring a smile to your littles ones faces! Not only will it brighten up your holiday spread, it's easy to make and delicious to eat!
Celebrate Hanukkah, the Festival of Lights, with this fun menorah made using fresh fruits and vegetables. 
The ultimate holiday snack board! This colorful board features the perfect mix of fresh fruit, festive snacks, cheese, and crackers.
Decorations aren't the only way to make your holiday party festive! Serve this Christmas tree veggie tray for some added holiday spirit and a yummy snack.
Rudolph the Red-Nosed Reindeer had a very shiny nose…and it's a bright red tomato! Pair this yummy grilled cheese with tomato soup for a comforting meal.
Adds lots of colors, flavors, and textures to your holiday table by assembling this family-size snack board!
Serve an extra special breakfast with this holiday avocado toast! Use pomegranate arils to create a fun shape or let kids create their own.