Baked Apples Stuffed With Rice and Pecans
These savory baked apples are prepped in just 15 minutes. If you are looking for a delicious side dish this fall, these Baked Apples Stuffed With Rice and Pecans are it!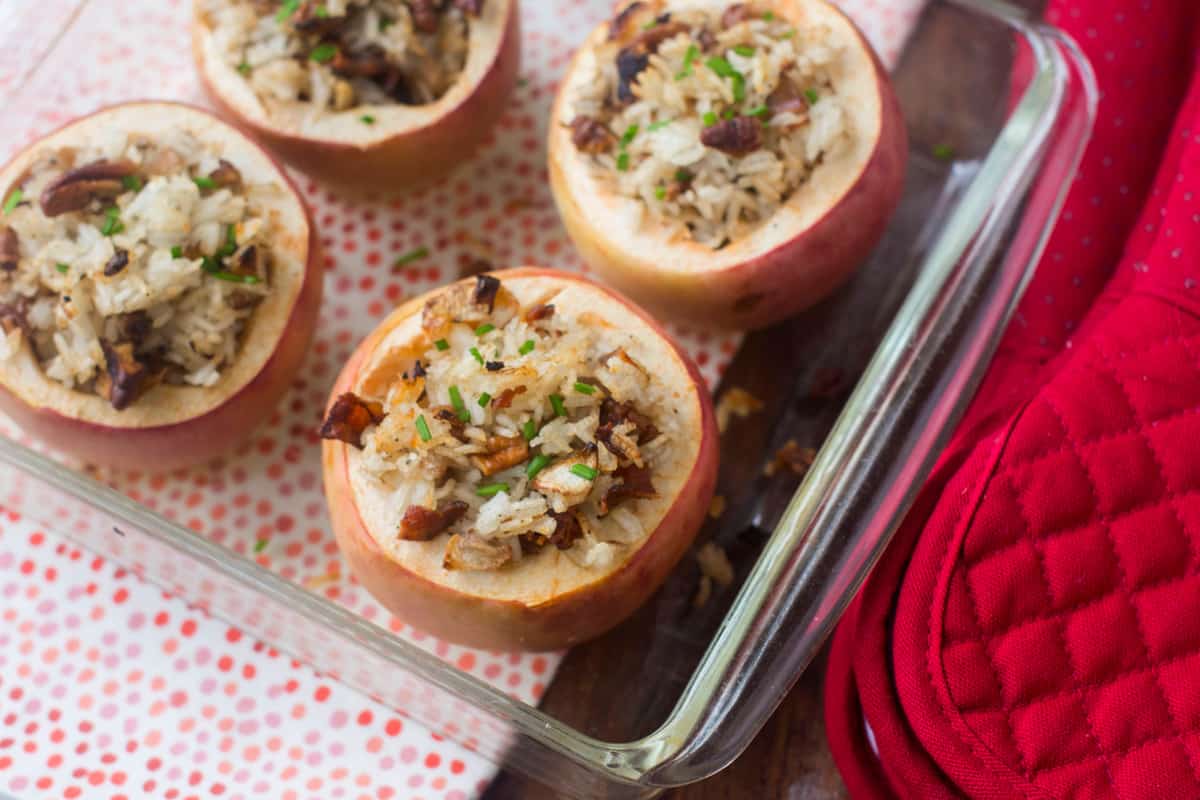 I love fall and the abundance of apples that it brings. I remember going to the apple orchard when I was a kid, we would get a cup of hot apple cider and a donut then go and pick bushels of apples. While, we would definitely just eat apples for a snack, I remember my mom making homemade applesauce and then trying to figure out other ways to incorporate apples into mealtime so they wouldn't go to waste. While we don't go apple picking here in Florida, I do indeed love buying apples from the grocery store when they are in season. And I love finding creative ways to use apples in meals.
Apples for breakfast? Yes! So many options! Here are a few of my favorite breakfasts that use apples:
Apples for lunch? Absolutely! Try them on top of your favorite salad or in an empanada.
Apples for dessert, well that's an easy one! We love these mini apple pie empanadas, apple puff pastries, and you can never go wrong with apple dessert nachos.
But apples with dinner? That's one you may not think about. Until you try these Baked Apples Stuffed with Rice and Pecans.
These Baked Apples Stuffed with Rice and Pecans are so easy to make that you can easily serve them as a side for a weeknight meal, or the meal itself! They are also perfect to add to your holiday table. Stuffed apples are always fun to serve, everyone loves to be able to eat their serving bowl 😉 Especially when it's as delicious as an apple!
Key Ingredients
Apples – Opt for larger apples that are firm for easier preparation.
Rice
Pecans
Bacon
Onion
With just 5 ingredients and about 15 minutes of prep time, these savory baked apples are the perfect fall side dish.
Nutrition Tip: Pecans are one of the most fiber-rich nuts with three grams per serving–as much as a slice of whole-wheat bread. They're also high in heart-healthy monounsaturated fat.
Can you make these stuffed apples in the slow cooker?
Yep! Prepare as listed below in the recipe and place in the slow cooker for 4 hours on low. The apples will be soft to the touch when ready. If you are worried about them drying out, you can put a small tab of butter on the top of them.
Savory Baked Stuffed Apples with Rice and Pecans
Combining fall favorites like apples and pecans, this delicious side dish is sure to add a sparkle to the dinner table.
Ingredients
2 slices bacon
1 small onion chopped
1/2 cup chopped pecans
3 cups cooked white rice
6 large apples
Instructions
Preheat oven to 350F.

Heat skillet over medium heat. Add bacon and cook 3-5 minutes, or until crisp. Remove from skillet. Add onion and cook 4-5 minutes, or until softened.

Chop bacon and add to skillet. Stir in rice and heat through. Season with salt and pepper, if desired.

Cut top ⅓ off each apple. Use a melon baller or spoon to scoop out flesh, leaving ¼ to ½-inch around edges. Fill with rice.

Place apples in baking dish and bake 30 minutes, or until tender.
Notes
Leave out the bacon for a vegetartian option.
Nutrition
Calories: 270kcalCarbohydrates: 50gProtein: 4gFat: 7gSaturated Fat: 1gPolyunsaturated Fat: 2gMonounsaturated Fat: 4gCholesterol: 1mgSodium: 4mgPotassium: 286mgFiber: 6gSugar: 20gVitamin A: 104IUVitamin C: 10mgCalcium: 29mgIron: 1mg