Apple Crisp Breakfast Bars
Take your breakfast on-the-go with these apple crisp breakfast bars packed with Autumn Glory apples, whole grains and a touch of sweetness. Just layer your ingredients and bake for a healthy, delicious way to start the day.
Disclosure: This recipe is sponsored by Superfresh Growers®. All opinions are our own.
With my girls on different schedules, mornings are pretty chaotic. My oldest (Mia) is out the door at 7am, which is about the time my youngest (Charli) is waking up, so Mia usually whips up a smoothie or grab something she can take and eat before heading off the school.
Having something healthy on hand that she can grab is always a win-win for me. With these breakfast bars, my girls can even make them themselves. We have a video to prove it 😉
It's that time of year again – Autumn Glory apples are back in season! We've worked with our friends at Superfresh Growers for years to share the tastiness of this apple with you.
In the past, we've gone the savory route with empanadas and quesadillas but decided to take a sweet spin this time. Enter these delicious breakfast bars.
Here's what you'll need:
Autumn Glory apples: These seriously-delicious apples bring hints of cinnamon and caramel. We like to keep the skin on for extra nutrients. Chop finely for these bars.
Quick oats: Look for instant or quick/quick-cooking plain oats
Flour: Good ole' all-purpose flour, or sub for your favorite flour.
Maple Syrup: to add a touch (but not too much!) sweetness. You can also use honey or agave nectar.
Butter: Soften at room temperature before prepping the recipe.
Pantry Staples: Egg, cinnamon, cornstarch and salt to tie it all together.
When making this recipe, make sure to line your baking dish with parchment paper. Parchment paper will make it easy to lift your bars right out of the pan – no sticking!
The key to this recipe is layering your ingredients. Start with a solid base of oats and flour, held together with maple syrup, butter and eggs. Add to your pan and press down firmly to form an even layer.
Then mix your apples with maple syrup, cinnamon and cornstarch and layer on top. Look at all those beautiful apples!
Lastly, add the reserved oat topping on top for the perfect bite. This will get baked to a golden brown.
Once you remove the bars from the oven, let them cool completely before lifting out of the baking dish and cutting into squares. I know – it's tempting to dig in but trust me on this.
Store in an airtight container in the refrigerator for up to 1 week. We actually preferred them cold out of the fridge, but you could also warm them up a bit if you prefer and top with a little Greek yogurt. Yum!
Recipe Modifications:
To make gluten-free: Look for gluten-free-certified oats and swap the all-purpose flour for your favorite gluten-free flour.
To make vegan: Swap butter for melted coconut oil and the egg for a flax egg.
To made dairy-free: Swap butter for melted coconut oil.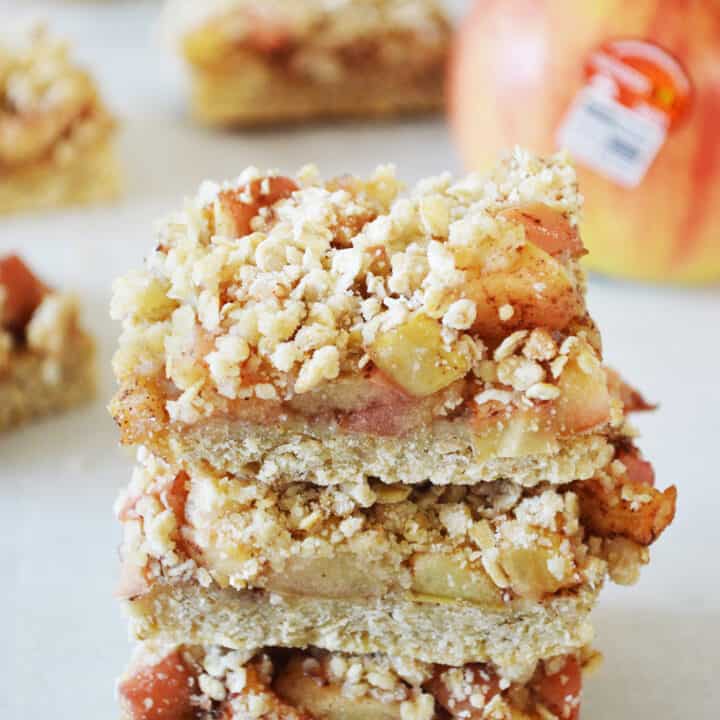 Apple Crisp Breakfast Bars
Take your breakfast on-the-go with these apple crisp breakfast bars. Just layer your ingredients and bake for a healthy, delicious way to start the day.
Yield: 9 servings
Prep Time: 10 minutes
Cook Time: 50 minutes
Total Time: 1 hour
Ingredients
1 cup quick oats
1 cup all purpose flour
¼ tsp. salt
¼ cup (plus 2 Tbsp.) maple syrup, divided
4 Tbsp. unsalted butter, at room temperature
1 large egg
2 Autumn Glory® apples, chopped
1 tsp. cinnamon
1 tsp. cornstarch
Instructions
Preheat oven to 350F. Line 8x8-inch baking dish with parchment paper. Set aside.
Mix oats, flour and salt in large bowl. Add ¼ cup maple syrup and butter and mix well (should resemble a course texture). Reserve ½ cup for topping.
Scramble egg in small bowl and add to oats. Mix well until a sticky dough forms.
Add dough to prepared baking dish. Press evenly into pan with hands until flat.
Mix apples, 2 Tbsp. maple syrup, cinnamon and corn starch. Pour on top of dough and spread out evenly. Top with reserved oats.
Bake 40-50 minutes, or until golden brown. Remove from oven and let cool at least 30 minutes. Once cooled completely, lift parchment paper out of baking dish and cut into squares.
Recommended Products
As an Amazon Associate and member of other affiliate programs, we may earn a commission from qualifying purchases.
Nutrition Information:
Yield: 9
Serving Size: 1 bar
Amount Per Serving:
Calories: 227
Total Fat: 7g
Saturated Fat: 4g
Trans Fat: 0g
Unsaturated Fat: 3g
Cholesterol: 34mg
Sodium: 74mg
Carbohydrates: 36g
Fiber: 3g
Sugar: 12g
Protein: 5g