Mini Zucchini Bread Muffins
In the summer months, zucchini grows like a weed in my garden, they are one of the easiest vegetables to grow. There is just one small problem with having all this zucchini. I struggle to get my family to eat it. Baked, sautéed or roasted it doesn't seem to matter.
However, I have found one way to get them to eat it – baked in muffins. That means this time of the year I am making a lot of zucchini muffins! That's okay though because they freeze well and are the perfect grab-and-go snack. When I don't have time to bake, I simply shred the zucchini and freeze it measured out for later use.
While my family doesn't love zucchini…yet… I do. My favorite way to eat this easy-to-grow veggie? Sliced raw and dipped in hummus. If you've never tried zucchini raw, I highly recommend it!
What exactly is zucchini? Zucchini is classified as a summer squash, which are squashes that are harvested before their rinds harden (such as pumpkins and acorn squash). Zucchini comes in green, yellow and speckled colors. They are often mistaken for yellow squash, which is a different vegetable. The easiest way to tell the difference is to look at the shape. Zucchini of any variety looks like a cylinder from end-to-end, whereas yellow squash usually has a tapered neck, either straight or crooked.
Fun Zucchini Facts:
While zucchini is served as a vegetable, it's actually a fruit because it comes from a flower.
Zucchini flower blossoms are edible and are typically served fried or stuffed.
The world's largest zucchini on record was 69 1/2 inches long and weighed 65 lbs. Bernard Lavery of Plymouth Devon, UK, grew the large veggie. However, biggest is not best in the case of the zucchini. The tastiest zucchini are small-to-medium in size.
Zucchini is low in calories and is packed with potassium, it has more potassium than a banana.
1 medium zucchini has over 50% of your daily vitamin C needs!
Much of the antioxidant content is found in the zucchini's skin. Make sure to keep the skin on when preparing this veggie!
Zucchinis can be eaten raw, roasted, grilled, sautéed, broiled or steamed.
For more information on zucchini, visit the Produce Tips page.
This fun mini muffin recipe is perfect for back to school. It's so delicious no one will ever know it's made with a veggie! These muffins are also a great way to introduce your family to whole grains, as it uses all whole-wheat flour. You can learn more about whole grains and why they are important for your family in my blog post found here.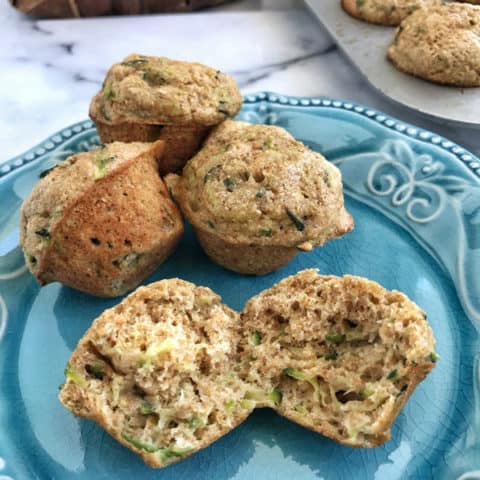 Mini Zucchini Bread Muffins
Mini Zucchini Bread Muffins are the perfect after-school snack. Made with whole wheat flour, applesauce rather than oil, and a veggie, they are a healthy snack any time of the day. They also freeze well and are the perfect grab-and-go snack.
Ingredients
3 1/4 cups whole wheat flour
1 teaspoon baking soda
1 teaspoon baking powder
1 teaspoon salt
3 large eggs
1 cup unsweetened applesauce
1/4 cup sugar
1/4 cup brown sugar
3 teaspoon vanilla extract
2 cups shredded zucchini drained
Instructions
Preheat oven to 400°F. Spray 12-cup muffin tin with nonstick cooking spray. Set aside.

Mix flour, baking soda, baking powder and salt in medium bowl.

Mix eggs, applesauce, granulated sugar, brown sugar and vanilla together in separate large bowl.

Stir dry ingredients into wet ingredients. Fold in zucchini.

Pour batter into prepared muffin tin and bake 10 minutes, or until toothpick inserted in center comes out clean.

Remove from oven and let cool 5 minutes before removing from muffin tin.
Nutrition
Calories: 181kcalCarbohydrates: 36gProtein: 6gFat: 2gCholesterol: 47mgSodium: 319mgFiber: 4gSugar: 12g