Kid-Friendly Apple Quesadillas with Autumn Glory® Apples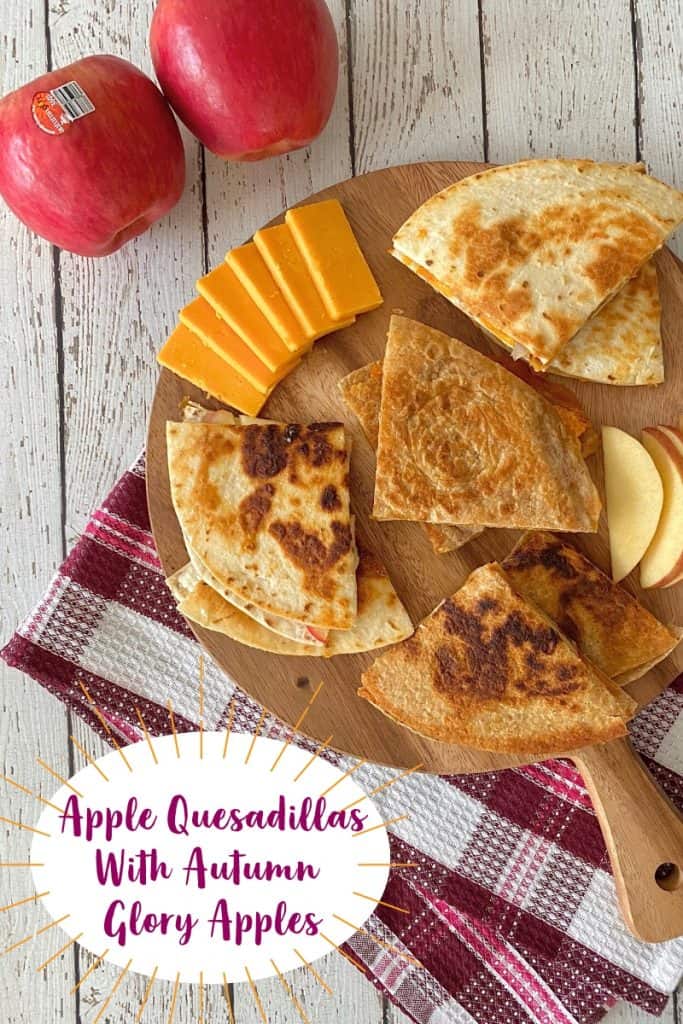 Disclosure: This post is sponsored by Superfresh Growers®. All opinions are our own.
Today's post is from our junior Chef, Mia Muniz. You may recognize Mia from many of the Produce for Kids videos, but she always works behind the scenes helping us create healthy, delicious and kid-friendly recipes!
Hello, Mia here!
In my years as an official Produce for Kids junior chef, I've spent a lot of time in the kitchen trying new foods and experimenting with different flavor combinations. I've become more adventurous over the years and have helped my mom come up with fun, new recipe ideas for the Produce for Kids recipe bank.
These past few months have been really busy for me in between chorus, dance, tennis, school plays, the list goes on! When I get home from school, I need a hearty snack that will keep me going through homework and after school activities. That's where quesadillas come in!
Once I got the hang of making them on my own (it's all about nailing the flip!), they became my go-to snack to whip up after a long day at school. Most days, I split them with my sister, Charli, and they're hearty enough to keep us going without spoiling dinner.
What I love most about quesadillas is that you really can't go wrong with the filling. I open the fridge, check out what leftovers are available, and start assembling. After making ham, cheddar, and Autumn Glory apple empanadas last year and loving them, I knew I had to try that combo in a quesadilla.
But why stop there?! Chef Charli and I came up with 6 quesadilla combos featuring Autumn Glory Apples. These quesadillas are so tasty and packed with healthy ingredients.
6 Healthy Quesadilla Combos
Autumn Glory Apples + Ham + Cheddar
Peanut Butter + Jelly + Autumn Glory Apples
Chicken + Cheddar + Autumn Glory Apples + Sweet Onions
Honey + Goat Cheese + Autumn Glory Apples
Autumn Glory Apples + Bacon + Cheddar
Autumn Glory Apples + Cheddar
Autumn Glory apples have a sweet taste with hints of cinnamon and caramel. They work well in sweet and savory dishes so the possibilities are truly endless! Not to mention, these quesadillas are ready in no time making them perfect for busy school nights.
If you want to go the extra mile, stock up on edible markers and have fun creating cool designs with your kids. I've been obsessed with Harry Potter for years now! My aunt Leslie recently surprised me with a really fun Hogwarts map stencil that she made using her Cricut. No cricut? Check out some fun premade stencils on Amazon.
Don't forget to check out the latest Food Rx episode with Jessica of Eat Your Way to Wellness! Jess shares lots of apple health benefits, plus healthy snack ideas for kids.
Make sure to visit SuperfreshGrowers.com to learn more about Autumn Glory apples and look for them in a grocery store near you. You can also follow Superfresh Growers on Facebook, Instagram, Twitter, Pinterest and YouTube for year-round delicious ideas.