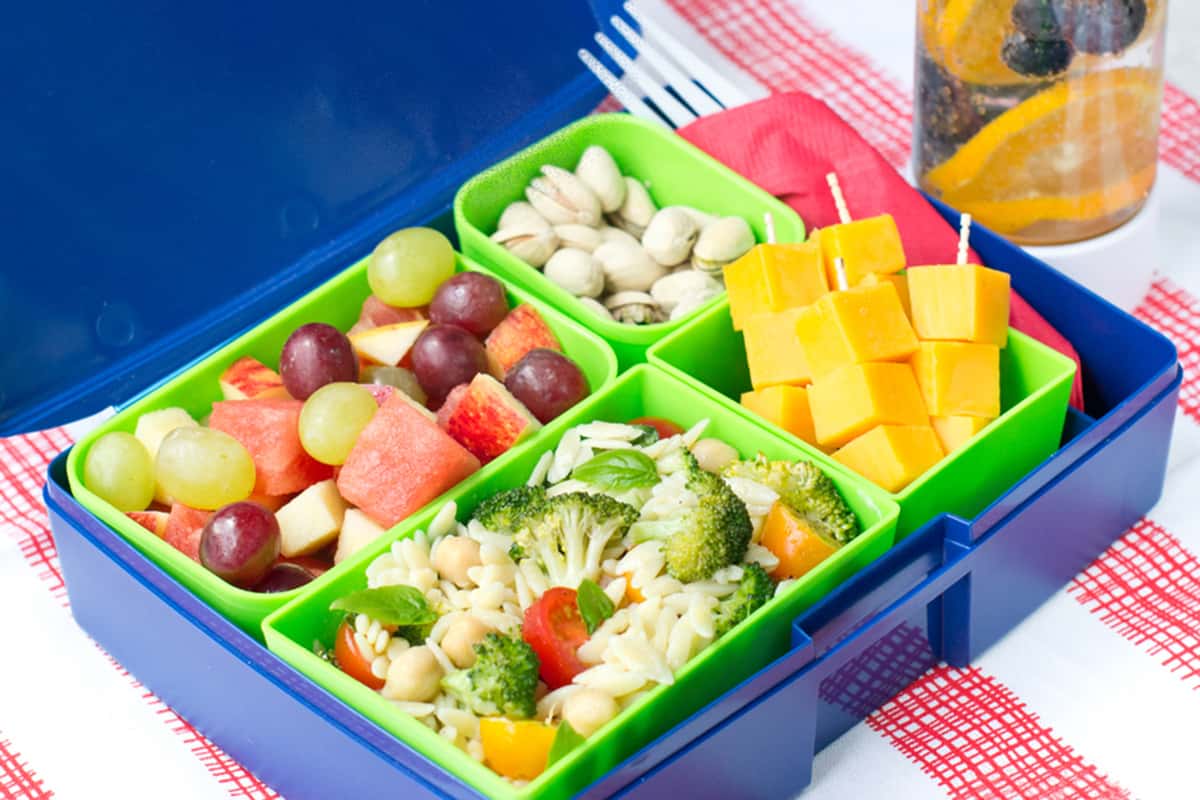 This Italian orzo pasta salad can be made ahead up to three days in advance and keeps well, making it a great option for lunchboxes, picnics and travel.
We love making pasta salads as an easy lunch option, a side dish for dinner or to bring along on picnics. This easy orzo pasta salad recipe has only 7 ingredients and is ready in less than 15 minutes. It doesn't get much easier than that!
You can add 2 tablespoons of chopped kalamata olives for a little tang or sprinkle with 2 tablespoons crumbled feta for a creamier dish. Feel free to get a little creative, and if you do, come back and tell us what you made and how you liked it! We are also looking for easy pasta salad recipes that the whole family will love.
Nutrition Tip: Cherry tomatoes are filled with antioxidants, such as lycopene and beta-carotene, which are linked to reducing the risk of certain types of cancers.
How do you #PowerYourLunchbox? Show us your healthy lunchboxes on Instagram using #PowerYourLunchbox.
Looking for more lunchbox solutions?
What Makes This Italian Orzo Pasta Salad Healthy?
I'm glad you asked! This Italian Orzo Pasta Salad not only tastes incredible, but it also has several healthy components that make it a nutritious choice for you and your family. Here are a few reasons why this salad is a great addition to a healthy lifestyle:
Abundance of Vegetables
This pasta salad is packed with veggies like chopped broccoli florets and halved yellow and red cherry tomatoes. The cherry tomatoes in this salad are rich in antioxidants, particularly lycopene and beta-carotene. These antioxidants have been linked to reducing the risk of certain types of cancers and promoting overall health. Bottom line – the colorful vegetables in this pasta salad are rich in essential vitamins, minerals, and dietary fiber, which contribute to overall well-being.
Low-Sodium Garbanzo Beans
Garbanzo beans, also known as chickpeas, are a fantastic source of plant-based protein and dietary fiber. They add a satisfying texture to the salad while keeping you feeling full and satisfied.
Nutrient-Rich Basil
The addition of fresh basil not only adds a burst of flavor but also provides essential nutrients like vitamin K, vitamin A, and antioxidants. Basil has been associated with various health benefits, including anti-inflammatory properties.
Grated Parmesan Cheese
While the Parmesan cheese in this recipe adds a delicious cheesy flavor, it also provides a good amount of calcium and protein. Just remember to use it in moderation to keep the overall dish balanced.
Olive Oil and Vinegar Dressing
The dressing for this pasta salad uses olive oil, which is a heart-healthy fat. Olive oil contains monounsaturated fats that can help reduce the risk of heart disease. It also adds a wonderful richness to the dish.
Italian Orzo Pasta Salad Meal Prep Ideas
Here are some meal prep ideas you can use with this recipe:
1. Make-Ahead Lunches: Prepare the Italian Orzo Pasta Salad in advance and divide it into individual meal prep containers. This way, you'll have ready-to-go lunches for the week. Pair each container with a protein source like grilled chicken, tofu, or canned tuna for a well-rounded meal.
2. Picnic Perfect: Pack the pasta salad in a portable container or mason jars for a delightful picnic. It's an ideal dish to enjoy outdoors, whether you're heading to the park, beach, or a family outing. Just grab a blanket and some refreshing beverages, and you're all set for a tasty and hassle-free picnic experience. Try pairing it with our Spicy Queso Burgers!
3. Family Dinner Side: This pasta salad makes a fantastic side dish for family dinners. Prepare it ahead of time, refrigerate, and simply serve it alongside grilled meats, roasted vegetables, or your favorite main course. It adds a burst of flavors and textures to the meal while providing a nutritious accompaniment.
4. Potluck Pleaser: If you're attending a potluck or hosting a gathering, the Italian Orzo Pasta Salad is a crowd-pleasing dish that can be prepared in advance. Double the recipe to ensure you have enough to share with friends and family. It's a refreshing and satisfying option that complements a variety of other dishes.
Related: Check out this list of healthy picnic-friendly recipes.
5. Travel-Friendly Option: If you're going on a road trip or traveling, pack the pasta salad in airtight containers or resealable bags. It will stay fresh and delicious, making it an ideal on-the-go meal. Whether you're flying, driving, or taking a train, this pasta salad is a convenient and healthy option to keep you nourished during your journey.
6. Office Lunches: Take the Italian Orzo Pasta Salad to work for a flavorful and nutritious lunch. Store it in a portable container and refrigerate it until lunchtime. You can enjoy it cold or quickly heat it in the microwave if preferred. It's a refreshing change from the usual sandwich or salad and will keep you satisfied throughout the day.
Remember, when meal prepping, you can portion out the ingredients separately and assemble the salad just before serving to maintain its freshness. This allows for easy customization and ensures the salad stays crisp and delicious. With these meal prep ideas, you can enjoy the convenience and versatility of the Italian Orzo Pasta Salad throughout the week, saving time and ensuring you have a nourishing meal at your fingertips.
Let's make this pasta salad!
Italian Orzo Pasta Salad
Ingredients
3/4 cup orzo
3/4 cup chopped broccoli florets chopped
3/4 cup halved yellow and red cherry tomatoes halved
2/3 cup low-sodium garbanzo beans drained, rinsed
2 sprigs basil chopped
1/4 cup grated Parmesan cheese
2 tablespoons olive oil and vinegar dressing
Instructions
Cook orzo according to package directions. Drain and do not rinse. Pour into large mixing bowl.

Prepare ice bath by placing a few cubes of ice with water in medium bowl.

Place broccoli in covered microwaveable dish with 1 Tbsp. water. Microwave on HIGH 30 seconds. Drain and transfer to ice bath for 30 seconds. Drain and add to orzo.

Add tomatoes, garbanzo beans, basil, cheese, and dressing to orzo and broccoli. Toss and season with pepper as desired. Serve at room temperature or slightly chilled.
Nutrition
Calories: 342kcalCarbohydrates: 24.33gProtein: 18.82gFat: 19.73gSodium: 184mgFiber: 5.71gSugar: 9.39g
Do you like making pasta salad at home? Have you ever used orzo pasta in making pasta salads?