The school year is just around the corner and we have been whipping out new ideas to keep lunch interesting! This Fruity PB&J Sandwich takes the classic to a whole new level! Thinly sliced strawberries and kiwi replace jelly and you can use whichever peanut or nut butter you prefer, or go nut-free with an alternative like soy or Sunbutter. I enjoyed this personally for a snack and the kids loved it in their lunchboxes!
We are always looking for new and easy lunch ideas that packs well. This Fruity PB&J Sandwich holds up well and was tasty and different. The kids had fun making these sandwiches, too. This is an easy sandwich recipe that they assembled themselves. I sliced up the fruit and the kids made their sandwich and assembled their lunchboxes themselves. We love when the kids can help in the kitchen because they have fun with it and get more excited about what they are eating. I also love the idea of this sandwich because I know they are getting their fruit intake and protein in for the day!
Nutrition Tip: Using fresh strawberries and kiwis in place of jelly means a healthy dose of vitamin C for immunity, plus extra fiber.
Packing our own lunches in our house is super important to us! We try not to buy too much junk food and pack as many fruits and vegetables as we can! That is why this fruit filled peanut butter and jelly sandwich is perfect. Especially if you have kids that don't like to eat their fruit the way it is.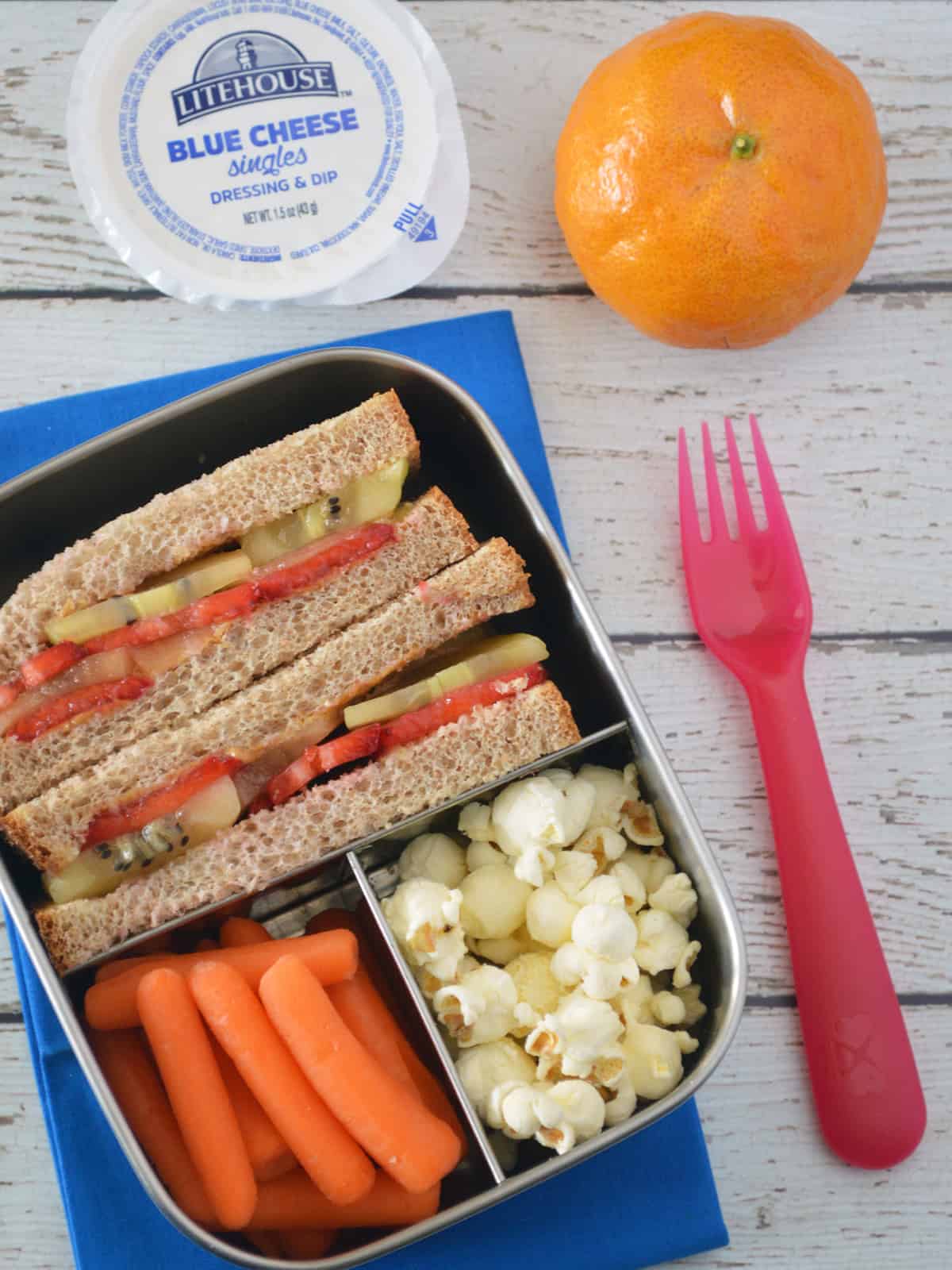 Key Ingredients for this Fruity PB&J Sandwich
Whole Wheat Bread– we always stick with whole grains and whole wheat breads for our sandwiches. They are less processed have more nutritional value.
Peanut Butter– we used peanut butter in this recipe but you can use your favorite nut butters or even alternatives if your family is nut free. Loaded with protein and oh so yummy!
Strawberries– sliced berries takes this sandwich to a whole new level. Strawberries are loaded with Vitamin C, are great for your heart, and are high in fiber.
Kiwi– we sliced up kiwi to add to this fun PB&J and let me tell you, it makes it so much better! Kiwi is high in antioxidants, has many essential Vitamins, and are loaded in potassium.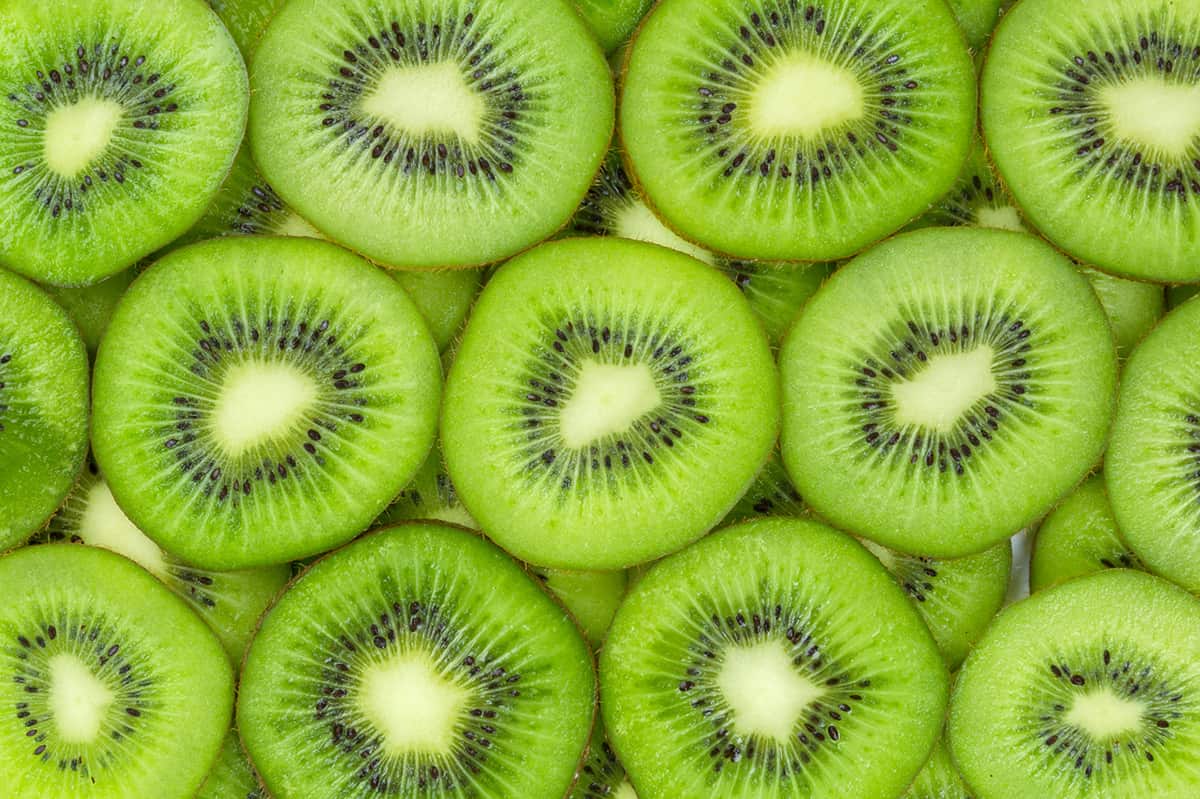 How to make this Fruity PB&J Sandwich
First slice up your kiwi and strawberries. Then let the kids spread on the peanut butter (or butter of choice) onto the whole wheat bread. Then add the sliced fruit and the other half of the bread.
Slice it in half and place into your lunch box with your favorite sides.
Complete this lunchbox with veggies and Litehouse® Blue cheese or Ranch for dipping, popcorn for snacking and a sweet mandarin orange for dessert!
Make sure to PIN IT!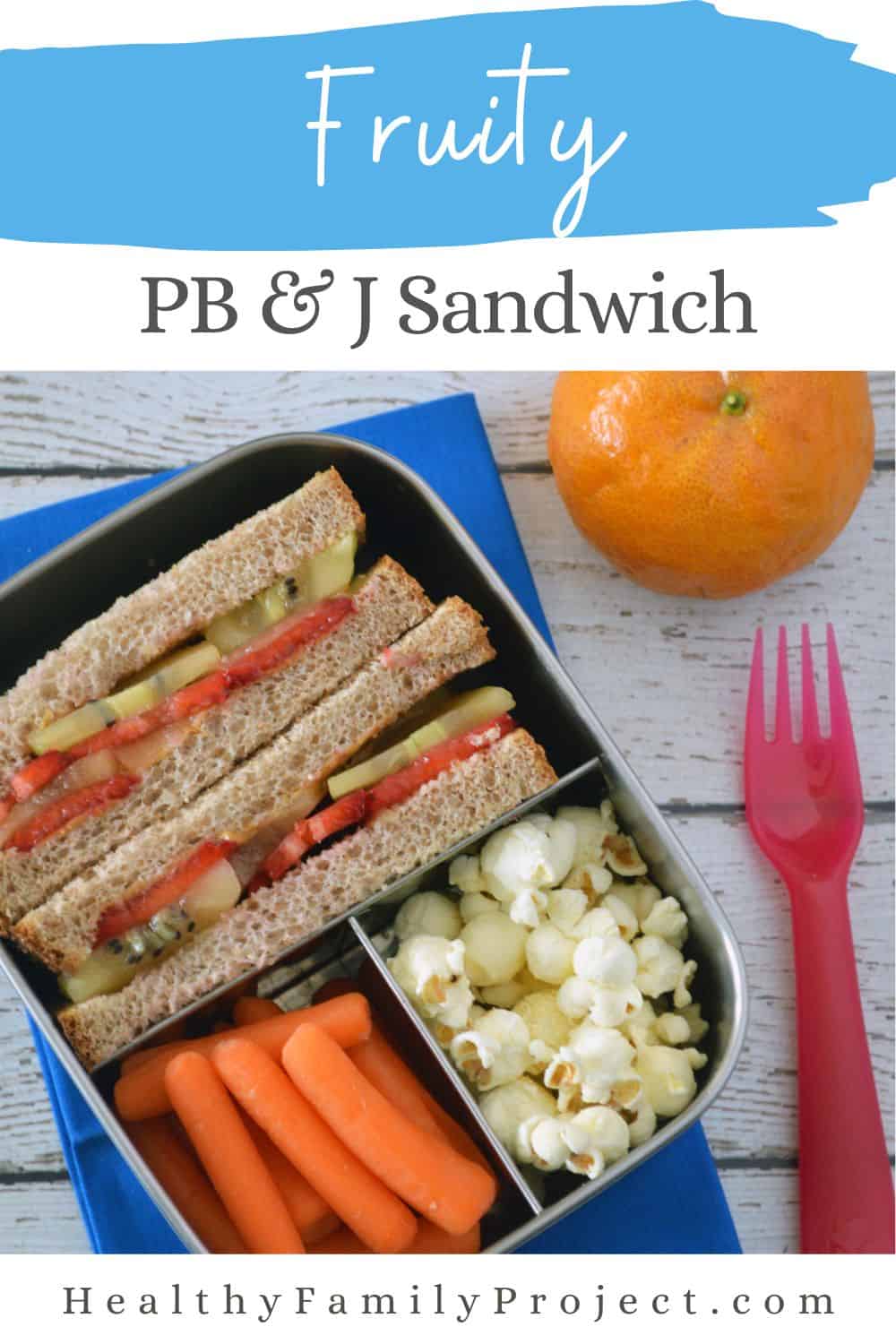 How do you #PowerYourLunchbox? Show us your healthy lunchboxes on Instagram using #PowerYourLunchbox.
Looking for more lunchbox solutions?
Fruity PB&J Sandwich
Kick your regular PB&J up a notch with this fruit-filled version! Thinly sliced strawberries and kiwi replace jelly and you can use whichever peanut or nut butter you prefer.
Ingredients
2 slices whole wheat bread
2 tablespoons peanut almond or soy butter
1/2 Zespri™ SunGold™ Kiwifruit peeled, thinly sliced
1 strawberry thinly sliced
1/2 cup baby carrots
1/2 cup air-popped popcorn
1 Bee Sweet Citrus® mandarin
1 1.5 oz. Litehouse® Blue Cheese dip cup
Instructions
Spread peanut butter on one side of each slice of bread. Top with strawberry and kiwi slices. Cut in half and place in lunchbox.

Add carrots, popcorn, mandarin and dip to lunchbox.
Nutrition
Calories: 351kcalCarbohydrates: 55gProtein: 12gFat: 10gSodium: 413mgFiber: 8gSugar: 19g
More recipes to try: