Braised Chicken Thighs with Winter Vegetables
Craving a warm, comforting dinner? This one-pot braised chicken and winter vegetable meal will fill you right up. Wholesome veggies like butternut squash, potatoes and onions add tons of flavors to this easy chicken dish.
Home cooking doesn't have to be difficult. After a long day of work, sometimes it's tough to make your way to the kitchen to cook dinner, but with a little meal planning and some simple recipes, it definitely can be done!
Nutrition Tip: Just one cup of butternut squash nourishes the body with the recommended daily intake of vitamin A! Vitamin A is beneficial for your immune system, as it helps the body prevent illness and disease.
My favorite recipes tend to be those made in the slow cooker, sheet pan suppers, and one-pot meals. Easy to prep and easy to clean up, which is just my style.
This Braised Chicken Thighs with Winter Vegetables recipe is so simple you won't believe it. It's a one-pan wonder starting with the chicken being seared in a Dutch oven or large pot.
After the chicken is browned, you'll soften the vegetables, add broth and seasonings. Let your stove do the work and after 20 minutes later you've got a pot full of tender chicken and veggies and an incredibly flavorful sauce from the braising liquid.
I like to serve mine over rice, but you can skip that part if you'd like. Sprinkle the chicken with a bit more fresh oregano and dinner is served.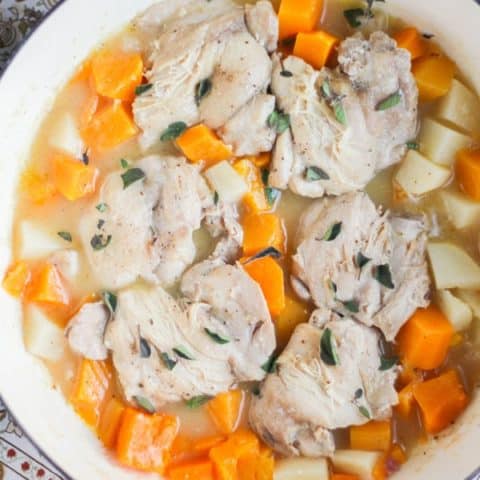 Braised Chicken Thighs with Winter Vegetables
This Braised Chicken Thighs with Winter Vegetables recipe is so simple you won't believe it.
Yield: 6 servings
Prep Time: 10 minutes
Cook Time: 35 minutes
Total Time: 45 minutes
Ingredients
1/4 cup all-purpose flour
6 boneless, skinless chicken thighs
2 tablespoons olive oil, divided
1 cup diced sweet onions
2 cups peeled, cubed butternut squash
2 cups peeled, cubed russet potatoes
1 clove garlic, minced
1/2 cup low-sodium chicken broth
1 teaspoon chopped fresh oregano
1/2 teaspoon salt
1/4 teaspoon pepper
Instructions
Place flour on plate and lightly dredge chicken in flour.
Heat 1 Tbsp. oil in a large skillet over medium-high heat. Add chicken and cook 3-4 minutes, flip and cook additional 3-4 minutes, or until brown on both sides. Remove from the pan and set aside.
Heat the remaining 1 Tbsp. skillet in pot. Add onion and cook 5 minutes, or until softened. Add squash, potatoes and garlic and cook 5 minutes. Stir in broth, oregano, salt and pepper. Add chicken back to pan, tucking it into vegetables. Bring to a boil, reduce the heat to low and simmer, covered, 20 minutes, or until the chicken is cooked through. Sprinkle with additional chopped oregano, if desired.
Nutrition Information:
Yield: 6
Amount Per Serving:
Calories: 308
Total Fat: 9g
Cholesterol: 79mg
Sodium: 324mg
Carbohydrates: 35g
Fiber: 4g
Sugar: 3g
Protein: 22g