Yuca is a root vegetable also known as cassava and is very common in the Cuban cuisine. For this Yuca Salad, the yuca is boiled and mixed with olives, onion, cilantro and a tasty vinaigrette dressing. This dish can be served hot or cold and pairs well with turkey or pork for a delicious meal.
Recipe created by Adriana of Adriana's Best Recipes.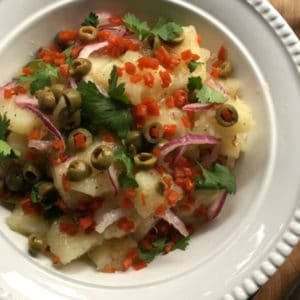 Yuca Salad
Ingredients
1 package frozen yuca
1 lime juiced
1 lemon juiced
1/2 cup olive oil
1/2 teaspoon sazón Latino
1/2 cup cut Spanish olives with pimentos
1/2 red onion thinly sliced
1/2 cup chopped cilantro
Instructions
Add yuca and 6 cups water to large pot. Heat over medium-high heat, covered, and cook 25-30 minutes, or until yuca is tender. Drain and cut into bite-sized pieces.

Whisk together lime juice, lemon juice, oil and sazón Latino.

Pour dressing over yuca. Add olives and onions. Mix well. Garnish with cilantro.
Nutrition
Calories: 283kcalCarbohydrates: 35gProtein: 1gFat: 16gSodium: 216mgFiber: 2gSugar: 1g